MRRL Hall of Fame
MARVIN GAYE
Details

Category: Inductees
Created: Thursday, 29 September 2011 20:54
Written by Gary Johnson
Marvin Gaye was Motown's most important male star in the 1960s. He was born in Washington D.C. in 1939, the son of a minister. By the age of three, Marvin was singing in his father's small church and soon after started learning to play the piano by ear. Marvin's relationship with his father was very complex and unhappy. In fact, his first forays into nonreligious singing during junior high were in defiance of his father who did not approve of any music that did not praise God.
The style of secular music that first inspired Marvin was doo-wop. He loved the harmonies of early groups like the Orioles, the Five Keys, the Capris, the Cadillacs, the Drifters, and Lee Andrews and The Hearts. Gaye was also touched by the lyrics of doo-wop songs which spoke to his own feelings of loneliness and unrequited love. Marvin and his friends would sing in school hallways and on the playground and soon learned that their harmonizing attracted girls.
Marvin quit school after the 11th grade and enlisted in the Air Force. It was a disastrous experience as Gaye failed to adjust to the regimentation and rebelled against his commanding officers by failing to follow orders. He was eventually given an honorable discharge and sent home after less than a year in the service.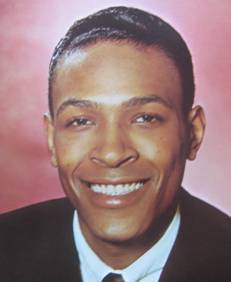 Marvin Gaye 1961
When Gaye returned to Washington D.C. in 1957, he formed his own doo-wop group named the Marquees. The group played sock hops, school assemblies, and even appeared on a local television show.
The Marquees' big break came when they were introduced to Bo Diddley. Bo took a liking to the young singers and produced a single, "Wyatt Earp/Hey, Little School Girl", on the Okeh label.
The single failed commercially, but in 1958 the group was heard by one of Marvin's idols, Harvey Fuqua. Fuqua was unhappy with the members of his singing group, the Moonglows, and recruited Marvin and the rest of the Marquees to be replacements.
Marvin can be heard clearly on the introduction of the "new" Moonglows' recording of "Twelve Months Of The Year". Marvin then sang his first lead vocal on "Mama Loocie". Both songs were recorded on the Chess label in 1959.
Harvey Fuqua felt that Marvin could be a successful solo artist and after he decided to pursue some new musical opportunities in Detroit, Harvey took Gaye with him. Marvin was signed to Berry Gordy Jr.'s Motown label in 1961. He married Gordy's sister Anna soon after.
Marvin first job at the label was as a session drummer. He played on many songs by the Miracles and was the drummer on Motown's first # 1 hit, "Please Mr. Postman", by the Marvelettes.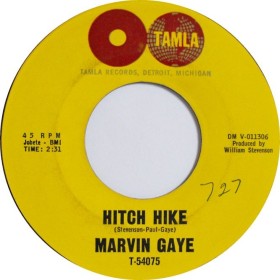 Gaye's 1st Top 40 hit
Gaye's own recording career didn't catch on until his 5th single, "Hitch Hike", reached the Top 40 in 1963. The danceable R&B song featured Martha & The Vandellas as uncredited background vocalists. This started an incredible run of 29 charting hits for Marvin during the next 5 years including the Top Ten smashes; "Pride And Joy", "How Sweet It Is To Be Loved By You", "I'll Be Doggone", and "Ain't That Peculiar".
Marvin was also extremely successful as a duet partner with a variety of Motown's female singers. The first of these singles was the two-sided smash with Mary Wells, "What's The Matter With You Baby/Try It Baby", in 1964. This was followed by "It Takes Two" with Kim Weston.
Gaye eventually found the ideal singing partner in Tammi Terrell. Together they recorded the classic hits: "Ain't No Mountain High Enough", "Your Precious Love", "Ain't Nothing Like The Real Thing", and "You're All I Need To Get By".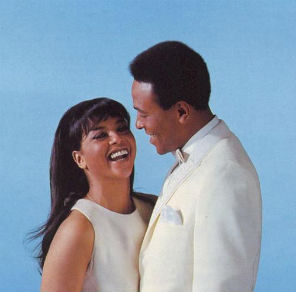 Tammi Terrell and Marvin Gaye
Marvin Gaye's 1968 hit, "I Heard It Through The Grapevine", was one of Motown's biggest selling records of all time. He continued his string of Top Ten solo singles in 1969 with "Too Busy thinking About My Baby" and "That's The Way Love Is".
In 1970, however, his favorite singing partner, Tammi Terrell collapsed in his arms onstage. She would die shortly thereafter of a brain tumor. Marvin was deeply affected by her illness and would spend several months in seclusion after her death. When he decided to return to work Gaye was ready to chart a new musical path.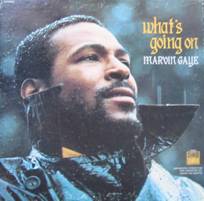 "What's Going On" LP
"What's Going On" was the first song idea Marvin had for his new album. The song had already been partially written by the Four Tops' Obie Benson. Gaye got the title from a friend who said to him, "Hey, what's going on?" Marvin used both his brother Frankie's war experiences in Vietnam and the 1967 Detroit riots as inspiration for a new musical direction for himself and for Motown.
Gaye even asked two of his friends who played for the Detroit Lions, Mel Farr and Lem Barney, to sing backup on the song. Fellow Detroiter Eli Fountaine played the song's memorable opening saxophone solo.
The "What's Going On" album was the highlight of Marvin Gaye's career, and one of the best albums ever. It spoke honestly and painfully of the problems of big-city life from a black man's perspective. "What's Going On" appealed to millions of young people, both black and white, who were disillusioned with the Vietnam War, racism, and the pollution of the environment.
Besides the title cut, Marvin had Top Ten singles with two of the album's other songs, "Mercy Mercy Me (The Ecology)" and "Inner City Blues (Make Me Wanna Holler)". "What's Going On" was also the last great Motown album recorded in Detroit before the label moved to Los Angeles.
In 1972, Gaye wrote the soundtrack music for the film Trouble Man. The next year, he produced another # 1 hit single with "Let's Get It On".
Despite his steady stream of hits for Motown, Marvin was not happy. His fourteen-year marriage to Berry Gordy's sister, Anna, ended in an expensive divorce settlement.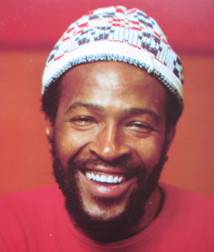 Marvin Gaye 1970'sHis second marriage to Janis Hunter also did not work out.
These difficulties in his personal life along with severe income tax problems and his escalating use of cocaine caused Marvin to move to Europe in 1980. It would be three years before he returned to the United States.
After over twenty years on the label, Marvin Gaye left Motown in 1982 to sign with Columbia Records. It was there that he recorded his last album, "Midnight Love", and its hit single, "Sexual Healing". The song won Marvin a Grammy in 1983 for Best R&B Vocal Performance.
By 1984, he was living in his parents' home while struggling with depression and drug abuse. Gaye and his father often quarreled. They had an uneasy relationship that dated back to Marvin's childhood. Following a Sunday morning shouting match, Marvin Gaye was shot to death by his father in their Los Angeles home.
Gaye's father pleaded no contest to a reduced charge of involuntary manslaughter in September of 1984. Marvin was inducted into the Rock and Roll Hall of Fame three years later.
In 1996, twelve years after his death, Marvin won the Grammy's Lifetime Achievement Award. In 2001, "What's Going On" became a hit again when Artists Against Aids Worldwide released an all-star cover version of the song.
In 2005 Marvin Gaye was inducted into Michigan Rock and Roll Legends Hall of Fame.
In 2007, Marvin became the only artist to have two recordings voted into the Top Ten Legendary Michigan Songs with the induction of "I Heard It Through The Grapevine" and "What's Going On". In 2011, Marvin's duet with Tammi Terrell on "Ain't No Mountain High Enough" was also inducted as a Legendary Michigan Song. "Let's Get It On" was voted a Legendary Michigan Song in 2013 and "Mercy Mercy Me (The Ecology)" in 2017. Marvin's duet with Tammi Terrell on "You're All I Need To Get By" was inducted in 2019.
MRRL Hall of Fame: https://www.michiganrockandrolllegends.com/mrrl-hall-of-fame
Dr. J. Recommends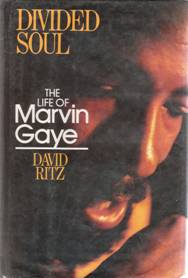 "Marvin Gaye: The Master 1961 – 1984", Motown. 4 CD Box Set. This is a terrific collection that covers every aspect of Marvin Gaye's career.
"What's Going On", Motown CD. This is one of the great albums of all time. There is a deluxe 2 CD edition now available
From The Bookshelf
Divided Soul: The Life Of Marvin Gaye by David Ritz. This is one of the best musical biographies ever, an intimate portrait of a charming but tortured artist who seemed to be at war with himself.
Mercy Mercy Me: The Art, Loves And Demons Of Marvin Gaye by Michael Eric Dyson. Basic Civitas Books. 2004. This is not really a biography, but rather what the author calls a "biocriticism" of Marvin Gaye's music and life. An interesting read if you are very familiar with Gaye's music.