MRRL Hall of Fame
MICHAEL KATON
Details

Category: Inductees
Created: Sunday, 01 June 2014 09:58
Written by Gary Johnson
The Boogie Man From Hell is both a clever and accurate billing inasmuch as Michael Katon is one of Michigan's leading proponents of a style of guitar-driven, energetic rock and roll that is heavily influenced by the blues. Katon's blistering guitar, growling vocals, and cleverly written original tunes have garnered praise for the Hell, Michigan, native not only among blues enthusiasts, but also fans of hard rock and even heavy metal.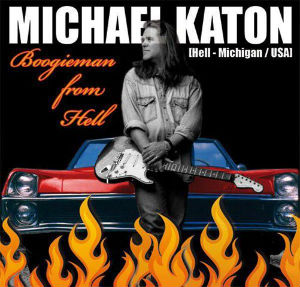 "Boogieman From Hell"
Hell, Michigan, which could probably be described as a 'wide spot in the road', is a small hamlet of houses and businesses near a state recreation area in Livingston County, about 15 miles northwest of Ann Arbor. Michael Katon has lived with his wife, Susan, in a home on one of the small lakes in the area since 1985. His house contains the studio where he has recorded much of the material that he has issued on the 16 albums released on his own Wild Ass record label during the past 30 years.
Katon was born at the University Hospital in Ann Arbor in 1953, and lived all of his early life in Ypsilanti, Michigan. His first year was spent in a small rental home in Pittsfield Village, the same housing development where Iggy Pop grew up. When he was two-years-old his father, Fred, bought a house on the east side of Ypsilanti and moved the family there.
Fred Katon was a World War II vet who had fought in Europe and then worked at a number of different jobs in Ypsilanti. During the war, his mother Jane was one of the thousands of American women who produced munitions and war supplies to help the American war effort. She installed sights on the guns for the tanks that were being produced at the River Rouge plant in Detroit. After the war, Jane taught art in the elementary schools in the nearby Belleville school district.
When Michael was just an infant, his father used to take him along when he delivered gasoline and fuel oil to homes in the Ypsilanti area. The city was an auto factory town in the 1950's. Henry Ford had built some of his early factories there and had a dam built on the Huron River to help supply power to his plants. Ford Lake was formed as a result, and the Katon home on Grove Road was located nearby. The wooded area surrounding the lake was a great place for kids to explore, swim, hunt with BB guns, and fish.
Michael Katon was the youngest of three sons and he grew up with music in his home. Fred Katon loved country music and, early on, Michael was exposed to the songs of Johnny Cash, George Jones, and Hank Williams on the family radio. Both of Katon's brothers also played important roles in what was to become Michael's career in music.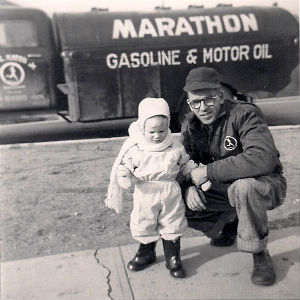 Katon with his father 1950's
Michael originally wanted to be a drummer like his older brother Marty, but his parents had their fill of drumming in the house, and he took up the trumpet at school. He played in the marching band during both his junior high and high school years. Michael found the experience exhilarating, and has fond memories of participating, along with dozens of other schools, at Band Day in the University of Michigan Stadium in Ann Arbor.
His oldest brother, Billy, had left home after he turned 16 and started attending an electronics school in Detroit. While living in downtown Detroit and working at a print shop to pay for his schooling, Billy got into the music of the Motor City and often brought some of his records with him whenever he came back to Ypsilanti for the weekend. He exposed young Michael to early Motown as well as some instrumentals by Duane Eddy and Link Wray that instilled what would become a life-long love of the sound of loud electric guitars. Billy also gave Michael a transistor radio so he could hear the latest AM hits. Michael Katon first heard The Beatles on that very device.
At the same time, Marty Katon, who was seven years Michael's senior, was playing drums in a neighborhood band and was making good money playing on weekends. Inspired by his brother, as well as the popularity of the British Invasion bands, Michael formed his first band in 1965 with two neighborhood friends, Billy Robbins and Vo Hillobuk. Initially, Katon was the tambourine-playing singer, but he was soon urged by the others to buy a guitar. His dad helped him purchase a Harmony acoustic guitar from someone at his work for $20. Michael bought a chord book and mastered A, D, and E which were enough to play "Louie, Louie", the first song he ever learned.
Michael also took some guitar lessons at Carty's Music Store in Ypsilanti. Carty's was located near the unofficial border that separated the black and white sections of town and the store catered to the many southern-born musicians from both races who had come north to work in the auto plants.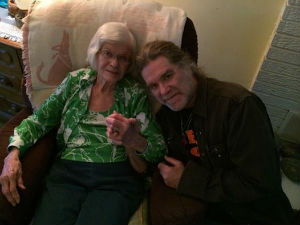 Katon with mother on 92nd birthday
Billy Robbins' mother was a hillbilly singer from Oklahoma and his aunt had sung with country music legend Bob Wills. The basement of the Robbins' home was the young band's main rehearsal space and hangout. Mrs. Robbins had a piano and taught the boys how to play some R&B flavored songs like "Kansas City" and country songs like "Green, Green Grass Of Home" along with a number of older tunes by Hank Williams.
They only had one old Gibson Les Paul amp for the entire band, and they cobbled together microphones from a wire tape recorder. Inexperienced in choosing musical instruments, Michael passed up a chance to buy an old 1959 Sunburst Les Paul and instead bought a new Japanese electric guitar and a microphone with the money he saved from his Ann Arbor News paper route. It's a decision he still regrets to this day. Because they still had two guitars and two microphones plugged into the one amp, Michael saved some more paper route money and bought an Airline amplifier from Montgomery Wards. They were "shittin' in high cotton", as Katon recalls, and ready to rock.
The trio, now calling themselves The Agents, was made up of two guitars, Katon and Robbins, drummer Hillobuk, and no bass. Featuring their specialty song, a cover of Johnny Rivers' "Secret Agent Man", they were prepared to start gigging in 1966. The young band's first job was playing in the summer at the Lake View Swim Club, located in their East Ypsilanti neighborhood.
From there, the band got gigs at the Erickson School teen club, along with junior high and high school dances in Ypsilanti. The band also took jobs out of the area because Billy Robbins was old enough to drive, and they could load their equipment into his Nash Rambler station wagon with a push button transmission.
Katon used to skip school regularly at Ypsilanti's East Junior High and go over to a friend and fellow musician's house in his neighborhood to jam. Michael and his band mates also liked to hang around Carty's, and Katon was able to pick up guitar tips from the other musicians there. He learned how to use a pocket knife as slide from old John Smith, a black Mississippi guitarist who had moved north to Ypsilanti.
Shortly after Katon started playing in The Agents, his older brother, Marty, joined the legendary Prime Movers blues band as their drummer. Both Iggy Pop and Jesse Crawford, who later became semi-famous as a WKNR-FM radio personality and as an MC for the MC5 and Detroit-area music events, preceded him as the band's drummer.
Formed by brothers Michael and Dan Erlewine, The Prime Movers were an Ann Arbor-based blues band that played classic Chicago-style blues. They were blues purists and passed up an opportunity to record for Motown, preferring to play classic blues rather than record songs that were fed to them by the label.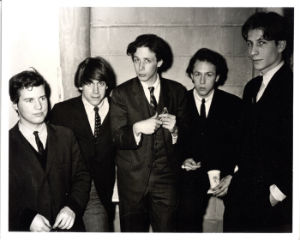 Prime Movers: Dan Erlewine 2nd from right
The Fifth Dimension was an Ann Arbor teen club that also had a blind pig that operated after closing time. The Prime Movers often played there and Marty brought Michael along to their after-hours performances on several occasions. Lead guitarist Dan Erlewine was an important figure in Michael Katon's musical development. He was a great blues guitar player, and Michael would often sit right in front of him watching him play. The band lived in a house on S. Division in Ann Arbor. The blues artists that came to town would often come over to the house because the Prime Movers either opened for them or served as their backing band.
Because of his brother's connection to the Prime Movers, Michael was able to see many of the classic blues artists perform and learn from them. He saw and met Muddy Waters, Howlin' Wolf, Albert Collins, Otis Rush, Albert King, Hound Dog Taylor, and Freddie King.
The Agents were playing things like "Kicks" by Paul Revere & The Raiders, "Gloria" by the Shadows Of Knight along with songs by the Beatles, Stones, Yardbirds, and Kinks. A friend turned Katon on to the Cream and their debut album, "Fresh Cream", and from that point on, Eric Clapton became a big influence.
The Prime Movers had opened for Cream at the Grande Ballroom and Dan Erlewine convinced him to start listening to the blues artists like Muddy Waters, Freddie King, Elmore James, and B.B. King, all of whom had inspired Clapton. As a result, Katon started buying blues records from Carty's and began his move towards a more blues-based guitar style.
Dan Erlewine started building and repairing guitars in 1963. Albert King's famous left-handed Flying V was built by Erlewine in the late 60's and Michael Katon was able to watch him work on it. Erlewine opened his own guitar shop in Ann Arbor in 1969, the year before the Prime Movers broke up. Erlewine had a regular column for 15 years in Guitar Player magazine. In addition, he has written a number of books about guitars and has a DVD series called Dan Erlewine's Guitar Shop that deals with guitar repair, maintenance, and set up.
Katon had a lucrative paper route, and he was able to save enough money to buy some pretty good equipment. In late 1967, he bought a 1958 Fender Telecaster to replace his Japanese model. It once belonged to Bob Seger and was used on his early Hideout recordings. Katon still uses the guitar on parts of all the records he makes today. Unfortunately, he replaced the finish on it using his father's power sander; thereby drastically reducing the value of the former Seger guitar in today's market.
Both Robbins and Hillobuk were in high school but Michael was still in 8th grade when they changed the name of the band to the Bad Lads and started playing Eastern Michigan University fraternity houses and local weddings. On Friday afternoons the frat houses would have T.G.I.F. parties so Michael would dress for school in his band outfit of tight black jeans, pointy shoes, and a vest; and his older band mates would pick him up and drive directly to campus for the gig, making Katon the envy of his fellow students.
The Bad Lads eventually morphed into the Drywater Band and started playing gigs in the Ypsilanti bars. In order to look older Michael grew a little blond peach fuzz and Mrs. Robbins, who operated a beauty shop in her basement, would dye it darker so he would look more like an adult.
There were so many hillbillies working in the auto plants that a lot of the Ypsilanti bars at that time were basically southern honky tonks. The country songs that they learned from Mrs. Robbins came in very handy when playing these bars. Jimmy Reed songs were also popular in the hillbilly bars along and Bill Doggett's 50's instrumental "Honky Tonk". It was a solid dance floor filler if the crowd started to turn on the young band.
This is when Katon started drinking and having problems attending school in the mornings after playing late during the week. Michael got pretty good at forging his report cards but when he was discovered, his father burned his Beatle boots and locked up his guitar.
After he graduated from high school, Katon began playing full-time in the bars. He was playing country rock music at this time, but he would sit in with any band and try to learn to play a variety of styles. His bar band was called Longspur and they played Crosby, Stills, Nash & Young along with some blues and a variety of other things that were popular at the dawn of the 70's.
Katon then decided to take a couple of music courses at Washtenaw Community College and that led to an opportunity to play jazz guitar in a hard core bebop band with a black horn player named Flip Jackson in 1972 and 1973.
Michael left Michigan for California on his own in 1974, looking for that elusive brass ring. He got a job playing guitar in a Top 40 band playing the lounges to keep the wolf from the door. The drummer had a side project called Back Pocket, and Katon recorded a few sides at Sound City in California that appeared on the band's debut album. He also recorded some unreleased sides with blues artist Mighty Mo Rogers.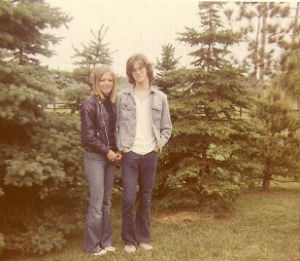 Katon and Susan 1970
Katon's first big opportunity in California came when he learned that singer/songwriter Moon Martin was looking for a guitar player, but Michael lost the gig when he returned to Michigan for a month to marry his wife, the former Susan Gniewek. Katon first met his wife-to-be at a gig at Eastern Michigan University in Ypsilanti in 1970. Susan was attending classes at the college and was at the T.G.I.F. party where Katon played. They have been together ever since.
In 1975, Katon auditioned with Andy Fraser, the original bassist for the English group Free and co-writer of that band's biggest hit, "All Right Now". Fraser was putting together another group after the demise of the his post-Free band, The Sharks. Michael's guitar playing impressed Fraser but the opportunity ultimately fizzled out and Katon took a job playing in a Top 40 band. The Andy Fraser Band went on to record two albums in 1975 before breaking up.
Michael and Susan were living in Culver City, California. She had gotten a job teaching in a parochial school there, but Michael was fed up wearing a suit and playing Top 40 songs in hotel lounges. He quit that group and joined a local blues-boogie band called the Venice Canalligators. Although the music was right up Katon's alley, he decided that he needed to form his own band and use his own name if he was ever going to get anywhere in music. He put together a blues quartet called Mike Katon and Rock Hard and played biker bars and other small shot and shells joints, but for very little money.
Katon and his wife came back to Michigan in late 1977. He was sick of the crowds of people in California, the horrendous traffic snarls, and the air pollution. Susan gave her school two weeks' notice; and they sold most of their furniture and headed back to Michigan. The couple stayed with Michael's parents for a few months and then bought a house in Ypsilanti.
Susan got a teaching job at Ypsilanti High School while Michael auditioned for an Elvis Presley tribute band. Elvis Shelton's group was very successful but their band fashions were inspired by Presley's Las Vegas jumpsuits. Although Katon was fine playing Elvis' hits, he thought the outfits resembled something that might have been worn by Bozo the Clown and passed on the opportunity.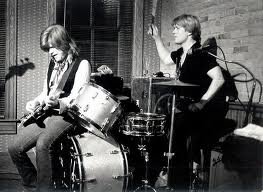 Michael and Marty Katon
Instead, he formed his own band and called it Michael Katon and the Wild A's. Marty Katon played drums and his old school chum Rick Lathers played bass. Katon's first album, "Boogie All Over Your Head", was recorded in Michigan in 1982. Although he had started writing a few songs back when was in high school, he began taking songwriting very seriously once he started recording his own albums.
Using a four-track recorder in a small studio he built in his home in Ypsilanti, Katon completed his 12-song debut album on his own and then took the masters to Detroit where he had 1,000 cassettes produced for his own Wild Ass label.
He describes "Boogie All Over Your Head" as more of a rockabilly album. It included covers of rare songs like Jimmy Wages' "Miss Pearl", Chuck Berry's "Jo Jo Gunne", "Lonesome Train" by Johnny Burnette and the Rock n' Roll Trio, and Mack Vichery's "Meat Man", as well as six of Katon's blues-based originals. Cub Koda wrote the album's liner notes and also mentioned the band in his Vinyl Junkie column in Goldmine magazine.
Katon got to know Koda after he and his band opened for Cub Koda and The Points several times. Koda was impressed with what he heard, and Cub wrote this about Michael: "he plays true American roadhouse rock n' roll and blues with a raw, mean and spirited sound, combining lowdown blues and boogie with the amped-up approach. Katon's guitar playing is informed with the nastiest and tastiest tones imaginable with torrential slide work and astonishing string-bending capabilities."
Koda's review of the album also listed Katon's address and how one could order one of the cassettes. Since Goldmine had a world-wide readership, Katon started getting orders from music fans from outside of the United States. One order from a DJ in Sweden eventually led to a record deal with the Garageland label to press vinyl copies of "Boogie All Over Your Head" in 1984 for the European market.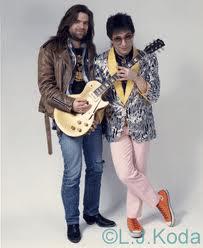 Katon with Cub Koda
The success of Garageland's pressings of his debut led to the recording of a follow-up album called "Proud To Be Loud", which was released in Europe in 1988. Cub Koda played on one side of the Katon single pressed on the Garageland label in conjunction with the album. Koda appeared on Katon's cover of the Lonnie Mack instrumental "Wham!" - the b-side of the "Tight White Pants" 45.
Cub Koda also signed with Garageland and Katon mixed two of Cub Koda's albums for the label at his studio in Hell; "Cub Digs Bo" and "Cub Digs Chuck".
Michael's "Proud to Be Loud" album got some positive reviews in the music magazines, and it was heard by an English promoter and public relations man named Simon Porter. Porter called Katon from London to express his interest, and then flew to the United States to see him perform in a bar near the campus of Bowling Green State University in Ohio.
Porter brought along the owner of Link Records, a French label that was interested in signing Katon. Porter was doing public relations for the label and was also in charge of Link's English subsidiary, Loop Records. Katon eventually signed with Loop, and Porter set up a three-week tour of England.
Katon came to England a week early to do radio interviews with John Peel, Johnny Walker, Diana Luke, and Bob Harris. Porter also arranged a cover story for Michael on Kerrang!, a U.K. magazine devoted to rock music, that greatly increased his visibility in Europe and the world. His shows in England, featuring a band made up of Ed Phelps (guitar, harmonica), Jon Eppinga (drums), and Tim Duvalier (bass), proved to be wild affairs, often lasting four or five hours and cementing Katon's reputation as a blues-rocker to be reckoned with.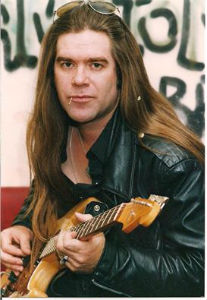 Michael Katon
Unfortunately, Katon's Loop record label soon went out of business. He had another new album called "Get On The Boogie Train" that was pressed on both his Wild Ass label and the Mondo label in the United States but he no longer had a deal to distribute it overseas.
Michael eventually signed with the Provogue label, based in The Netherlands, and they put out the album. Provogue also set up an eight-week tour of 57 gigs in Europe playing England, Netherlands, Belgium, Germany, Sweden, Norway, Denmark, France, Austria, and Switzerland.
His relationship with Provogue was a very good one, lasting 16 years and producing 10 albums. "Rip It Hard" was released in 1994, followed two years later by Katon's first live recording, "Busting Up the Joint – live!". 1996 also saw the release of a new studio album called "Rub".
Katon released "The Rage Called Rock n' Roll" in 2000, but soon after he stopped playing for three years to take care of his father. Fred Katon had slipped on the ice and suffered a severe head injury. His health issues were further complicated by a broken leg that rendered him confined to a wheelchair for the final three years of his life. Michael became his main caregiver during those years, on call 24-7 and responsible for all of his father's basic needs.
His music career suffered as a result. Although he did manage to put out the "Bad Machine" album in 2002, touring behind it was out of the question. Following his father's death, Katon tried to pick up the pieces of his career. "Diablo Boogie – Brewed in Hell" was released in 2006 and "MK: Michael Katon" came out later that same year. His final release on Provogue was 2007's "Live & On The Prowl".
Katon owns the digital rights to all his songs and that has soured his relationship with record companies like Prologue who want the rights for themselves. Katon is philosophical about the situation since he feels that there won't be any records or CDs in the near future, and that all music will be downloaded in one form or another.
In 2006, Katon also recorded an album called "Dead Man's Hand" with The Band Detroit featuring Scott Morgan, Johnny Badanjek, Ron Cooke, Steve Dansby, and Tommy Ingham. Cooke was an original member and owned the copyright to the name Detroit, a band started by Mitch Ryder in 1970 and which also featured Bandanjek on drums. Katon also played in the Scott Morgan Band during this time. In 2008, Katon released his third live recording, "Bootleg Boogie Live!", but this one was only issued on his Wild Ass label.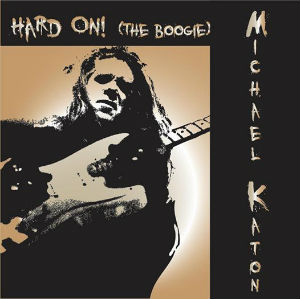 "Hard On (The Boogie)" album
Partly because of a major health issue involving his wife, it was four years before his next studio effort, 2012's "Hard On (The Boogie)", was released. Thankfully, Susan completely recovered from having a benign tumor removed from her brain. The album was released on Mystic Records in England, a label that did not demand any of his digital rights.
Two of Katon's recent releases, "Ten Off The Train" and "9 Loud Ones" are revised versions of two early albums, "Get On The Boogie Train" and "Proud To Be Loud". The two earlier albums contained mostly Katon originals and a few covers. The two revised versions eliminated the cover versions.
Katon explains the shortened versions thusly: "The reason I did that is when you're a little record label and you put people's songs on it that you didn't write, you have to pay the publishers administrating the copyright and that's a pain in the ass. Now I only put out songs that I wrote."
The exception to this is Katon's recent tribute to the blues artists who inspired him, "Blue Tooth (Blues I Cut My Teeth On)", a collection of 14 blues classics written by the likes of Muddy Waters, Robert Johnson, Freddie King, and Otis Rush. It might be released on Edel Records, an important German label whose roster of artists includes Prince, Deep Purple, Jerry Lee Lewis, Status Quo, and Lisa Stansfield.
Katon has been sober since 1990. He gave up drinking to concentrate on his guitar. He quit cold turkey because he didn't have the insurance to go through a program at a hospital or clinic. He made the decision after many nights of not remembering how he got home.
Michael and Susan had also started a family at that time and would go on to have three daughters. Alana, their oldest, is about to present them with their first grandchild in Chicago as this is being written. Their youngest daughter, Michelle, is a teacher in Brooklyn, Michigan; and their middle daughter, Gina Katon, is a professional dancer and clothing designer in California. She has also followed in her father's footsteps as a musician, fronting a band called Gina & The Eastern Block.
Katon manages himself. He has built relationships with booking agents over the years and sets up his own tours. He's much bigger in Europe than in the United States where he says "nobody knows me in the States." Katon has consistently refused to compromise and, to a certain extent this has probably hurt him career-wise over the years. He says that he hardly gets any radio play in the United States and that even getting his albums reviewed in blues or rock magazines is usually tied to buying ads in the publications.
Somewhat surprisingly, Katon says that he doesn't consider himself a blues artist although he describes his playing as "blues guitar". Overseas, on the other hand, he held in high regard as a blues artist. Katon often appears in blues festivals; and he can also be found in magazines and history books devoted to the blues. He is listed the Guinness Who's Who of Blues as well. To Katon, however, the blues is something different, possibly something that has to be lived. He met many of the original blues legends and says, "ain't none of us white guys really blues men. I can't honestly, with a straight face, call myself a blues man"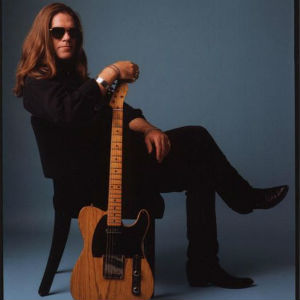 Boogie Man from Hell, Michigan
Michael says that he writes most of his songs on a J4S acoustic guitar in his house in Hell. He laughingly says that he steals a lot of stuff from old blues records and makes it his own. Because his songs are composed acoustically, he's got an all-acoustic record on the back burner so that the songs can be presented the way they we originally written.
The Boogie Man From Hell name comes from his song "I'm the Boogie Man" with its John Lee Hooker riff, the town where he lives, and the fact that he likes to play that style of hard blues music.
Katon says that when he was just a kid "boogie meant having a good time"; and he's certainly made that his motto on both his recordings and high energy live performances over the years. He still loves to tour and is thankful that he can still do it. He says that touring is "like a vacation". Legendary drummer Johnny "Bee" Bandanjek and bassist Todd Perkins are members of his latest touring group. When he not on the road, Katon and his wife look after his mother, Jane, who is 92 and lives across the lake from there home in Hell.
Katon started studying music law in the early 90's and that is why he has managed to retain 100% of his digital music rights. He makes good use of the Internet and has embraced the new technology and says he is "always looking forward". He utilizes a Youstream station to send things overseas where most of his fans are and is toying with the idea of doing a weekly show.
"Blue Tooth" album
He sells his albums through Spotify, iTunes, Amazon, and Deezer and he is paid directly into the accounts he has set up. Katon says that he is not getting rich, buthathe can make more money that way in a month than he can by playing gigs in today's unprofessional live music scene where you often have to play for the door and do your own advertising.
Katon is planning a tribute album of the songs of the late, great Irish blues guitarist Rory Gallagher. It might also be one of Michael's final releases in the traditional album format. He's considering the possibilty of no longer recording albums as such, and instead putting out a couple of new songs every few months on the Internet, thereby keeping his music current and eliminating the long waits for fans.
Michael Katon was voted into the Michigan Rock and Roll Legends online Hall of Fame in June, 2014.
MRRL Hall of Fame: https://www.michiganrockandrolllegends.com/mrrl-hall-of-fame
Video: Watch the video for "Rip It Hard" from the 1994 album of the same name. https://www.youtube.com/watch?v=FQbtsZ6d22A
This is the link to an interview with Michael Katon on the Bluesmoose radio show in Europe during which he plays some great acoustic guitar. https://www.youtube.com/watch?v=miAMv0laYuQ