MRRL Hall of Fame
MITCH RYDER
Details

Category: Inductees
Created: Tuesday, 04 October 2011 09:26
Written by Gary Johnson
After leaving music in 1973, Mitch Ryder moved to Colorado and worked in a warehouse for the next five years. He spent his off-work hours at home with his wife Kimberly and his family. During those years he expressed himself creatively by working on a semi-autobiographical novel, writing poetry, and painting.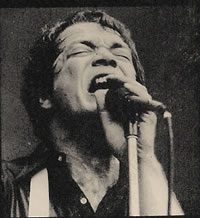 Mitch Ryder
In the meantime, his old drummer, John (Bee) Badanjek, went on to work with Edgar Winter, Alice Cooper, and Dr. John before teaming again with Jim McCarty to form the Rockets. Beginning with 1977's "Love Transfusion", the Rockets produced six albums of Detroit hard rock through 1983. The band charted two singles in 1979; "Can't Sleep" and a cover of Fleetwood Mac's "Oh Well". The Rockets' final charting single was 1980's "Desire".
Mitch never intended for his Colorado hiatus to be a permanent separation from music, however. He put together a part-time band in Colorado that played some small and infrequent gigs. During those years, Ryder was also asked to audition for the popular Detroit band, Rare Earth. They were the first white band to find success at Motown, and they had relocated to Los Angeles after the company moved its main offices there in 1972. Mitch was immediately turned off by the open drug use in L.A.'s music community. It reminded him too much of the problems he encountered with his band Detroit, and he declined the opportunity to sing with Rare Earth.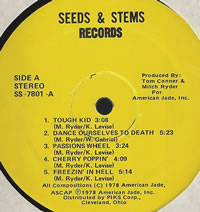 Side A of "How I Spent My Vacation"
When Ryder finally decided to come back in the late 70's, it was on his terms. He formed his own company with its own label, Seeds & Stems Records. Mitch had two partners in the operation; musician Billy Csernits and producer Tom Conner. Their first project was an excellent compilation album called "Michigan Rocks". The L.P. contained cuts by important Michigan bands such as the Rationals, Detroit, the Stooges, Alice Cooper, MC5, and the Frost. It also included the first new Mitch Ryder song in five years, "Long Hard Road".
After returning to his hometown, he formed a band and started playing live again, first in Canada and then in the United States. In 1978, he released his comeback album, "How I Spent My Vacation". It featured nine songs all co-written by Mitch, and the cover was one of his Colorado paintings. Rolling Stone magazine praised the album, and "Nice 'n' Easy" and "Freezin' In Hell" were released as singles.
His follow-up album, "Naked But Not Dead", was released on Seeds & Stems in 1979. Although it was not a big seller, it impressed people in the music industry. It led to Mitch opening a series of shows for fellow Michigan legend and friend, Bob Seger.
Bruce Springsteen was another famous musician who was a Mitch Ryder fan. During the late 70's a regular part of his concerts with the E Street Band was what Springsteen called "The Detroit Medley". Bruce took the Wheels' formula one step further by combining "Jenny, Jenny", "C.C. Rider", "Good Golly Miss Molly", and "Devil With A Blue Dress" into a rocking celebration of the sound of Mitch Rider And The Detroit Wheels. The Boss invited Mitch up on stage to perform the medley with him during one of Springsteen's sold-out shows at Detroit's Cobo Hall in 1981.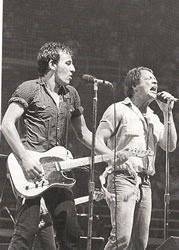 Springsteen and Ryder
Ryder might have missed a good bet at this time when he turned down a management offer from Seymour Stein, the head of Sire Records. Stein had demonstrated something on a magic touch by signing a stable of successful artists that included the Talking Heads, the Pretenders, the Ramones, and most importantly, a young woman from Michigan named Madonna. But Mitch had been burned by some previous managers, and in the end, it caused him to shy away from an association that might have been a great benefit to his career.
Mitch first played in Europe in 1979 as part of the televised Rockplast concerts in Germany. His success in Germany led to a business relationship with the Hamburg-based Line Records to distribute Mitch's albums in Europe.
In 1981, Ryder released two albums on the Line label; a new studio album called "Got Change For A Million?", and a double album that was a combination of concert recordings and studio work titled "Live Talkies".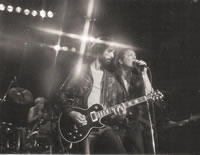 Jim McCarty and Mitch Ryder
Mitch next participated in a brief reunion with Jim McCarty and John Badanjek as Mitch Ryder And The Detroit Wheels. The reunion sold out the Pine Knob Music Theater, 30 miles north of Detroit.
The partnership that formed Seed & Stems came to an end with the release of the album "Smart Ass" in 1982. The album was a sales flop, but it did contain a curiosity in the form of a song called "One Room World", co-written by Mitch and famed Detroit Tigers announcer, Ernie Harwell.
Mitch Ryder returned to an American record company in 1983 when he recorded the album "Never Kick A Sleeping Dog" on the Polydor subsidiary, Riva Records. The L.P. was produced by long-time fan John Cougar Mellencamp, and it included a scorching version of the Prince tune, "When You Were Mine". It became Ryder's first charting single in over 15 years when it reached # 87 on Billboard's Hot 100 in the summer of 1983.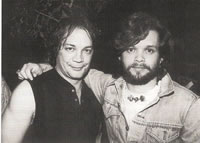 Mitch with John MellencampMitch even made a video for "When You Were Mine" that got airplay on television's newest sensation, MTV.
Ryder and Mellencamp then performed a duet of "B.I.G. T.I.M.E." from the album on the American Music Awards television show in 1983 in an effort to promote the recording. "Never Kick A Sleeping Dog" only reached # 121 on Billboard's abum chart, however, and Polydor decided not to exercise its option for a second album. Even though their collaboration was not the success they hoped, Mellencamp saluted Ryder by mentioning his name in the lyrics of his hit song "R.O.C.K. In The U.S.A. (A Salute To 60's Rock)" in 1986.
After being dropped by Polydor, Mitch, McCarty, and Badanjek staged another Mitch Ryder And The Detroit Wheels reunion in 1984. They toured America, and their Pine Knob shows were recorded for a possible live album on Capitol Records. Although producers Bob Ezrin and Don Was were involved in the project, Capitol shelved the recordings.
An interesting incident occured during the tour at the Capitol Theater in Owosso, Michigan. Mitch and the Wheels were rocking so hard that they loosened the plaster in the ceiling of the old theater causing pieces of it to fall onto the crowd. No serious injuries were reported.
Ryder then went back to Germany and rekindled his recording career with Line Records. He put out another new album in 1986 with the release of "In The China Shop". The album's recording sessions were balanced by a steady touring schedule throughout Europe. Line Records also put out two live albums from Mitch's European tours in the 80's; "Legendary Full Moon Concert" and "Red Blood, White Mink".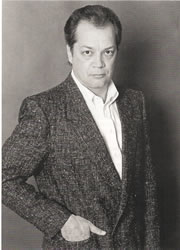 Mitch Ryder
Mitch dipped his toe into political material with 1987's limited-release single, "Good Golly, Ask Ollie", a parody of Marine Colonel Oliver North's testimony during the Iran-Contra hearings. Paul Shaffer, a fan of Mitch's and the bandleader of The Late Show with David Letterman, was featured on the single.
Ryder next released a compilation album on Line in 1990 called "The Beautiful Toulang Sunset" and 1992's "La Gash", a CD that Mitch has described as a concept album that dealt with his love life.
Mitch also started working in radio for the first time on Detroit's WCSX with Mitch Ryder's Radio Playhouse. The Sunday evening show combined conversations with guests and music. The three-hour program aired for two years, and produced over one hundred programs featuring a variety of guests from Bo Diddley and Bonnie Raitt to children's television star, Mister Rogers.
Ryder felt that 1994's "Rite Of Passage" was his best album since 1978's "How I Spent My Vacation". Its commercial appeal, however, was derailed by the controversy surrounding "Mercy", one of the album's twelve cuts. Mitch wrote the song in support of assisted suicide, an idea he strongly believed in. But in the wake of all the negative publicity swirling around Dr. Jack Kevorkian, Ryder found it next to impossible to get air time for the album on American radio stations, most of which were now controlled by conservative corporate entities.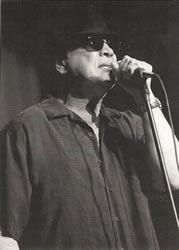 Mitch on stage
After completing the experimental album, "Monkey Island" in 1999, Ryder concluded his long association with Line Records in 2003 by releasing his third and final live album for the label, "Old Man Springs A Boner"
In 2004, Mitch signed with another German label named BuschFunk. Ryder has recorded two albums for his new label; 2004's "A Dark Caucasian Blue" and 2006's "An Acquitted Idiot".
Although Mitch no longer charts with his albums or singles, he continues to perform regularly in both the United States and Europe. Like so many other great Michigan artists, he has unfortunately been overlooked by the Rock and Roll Hall of Fame.
Mitch Ryder was voted into Michigan Rock and Roll Legends for the work he did as a solo artist in 2009. He had previously been voted in along with the Detroit Wheels in 2005.
MRRL Hall of Fame: https://www.michiganrockandrolllegends.com/mrrl-hall-of-fame
Video: Watch Mitch perform "When You Were Mine" in 1983 in the original and very cool MTV video at https://www.youtube.com/watch?v=w1NLrpNhfRc
Dr. J. Recommends:
"How I Spent My Vacation" Seeds & Stems L.P. Mitch's 1978 comeback album is a somewhat autobiographical work, and the first recording in which Ryder was in total control of every aspect of the music. He even did the album cover painting.
"Never Kick A Sleeping Dog", Riva LP/CD. Mitch Ryder's 1983 album produced by John Cougar Mellencamp is an undiscovered classic that includes a duet with fellow 60's icon Marianne Faithfull on "A Thrill's A Thrill".
"Detroit Ain't Dead Yet" ("The Promise") 2012. Free World Records. This is the first Mitch Ryder album to be released in the United States in twenty-five years. Produced by Don Was, it displays Ryder at the top of his game.
On The Bookshelf:
Devils & Blue Dresses. By Mitch Ryder, 2011. Published by Cool Titles, Beverly Hills, California.
Ryder's no-holds-barred autobiography is probably one of the most honest books ever published about a rock and roll star. Ryder bares his heart and soul as he attempts to come to grips with the reasons behind his often self-destructive behavior and the personal carnage often left in its wake. He also uses his book as a platform to express his still simmering rage at the music industry as a whole and at individuals such as Bob Crewe, Robert Stigwood, and Bud Prager, that screwed him over and damaged his career. Ryder learned much about himself during his journey into the heart of darkness and has emerged triumphant on his own terms as a result. Those who purchase the book also get a free download of Mitch's latest CD, "The Promise", produced by Don Was.
It Was All Right – Mitch Ryder's Life In Music.

James A. Mitchell 2008 by Wayne State University Press, Detroit, Michigan.
This is the only place where you are going to find much information about Mitch Ryder's solo years. It also covers his time with the Detroit Wheels in great detail. I was somewhat annoyed by the errors in the book which could have easily been avoided with some fact-checking by someone with a solid background in Rock and Roll history.