MRRL Hall of Fame
MOOSE & DA SHARKS
Details

Category: Inductees
Created: Friday, 01 June 2018 08:42
Written by Gary Johnson
For over four decades, Moose & Da Sharks has held the title of Detroit's preeminent oldies band. According to the All Music Guide, they have recorded numerous albums and 45s and, although the group evolved over the years, they have consistently been the backing band of choice for the biggest names in oldies music. The list of stars that have performed in front of Moose & Da Sharks is a who's who of early rock and roll and includes Bo Diddley, Jackie Wilson, Del Shannon, Chubby Checker, the Shirelles, Freddy Cannon, the Drifters, Little Eva, the Coasters, the Crystals, the Angels, Danny & The Juniors and many more.
Moose Zonjic was born August 5, 1952, in Detroit. His father was a ship captain on the Great Lakes for the D & C Navigation Company. Because he was away from home so much, he later took and job working for Detroit Edison. His mother was a housewife. Zonjic claims that he inherited his musical ability from his mother, who toured as a female vocalist during the big band era with Glenn Gray and the Casa Loma Orchestra.
His uncle, Don Large, was the music director at WJR-AM in Detroit. He also had a band called the Don Large Chorus and they recorded a 78 rpm version of the popular jingle "See The USA In Your Chevrolet" for use as an advertisement at the station. Zonjic is the proud owner of a copy of that 78.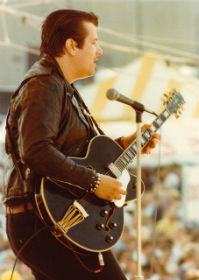 Moose Zonjic
In 1960, an older guy that lived next door joined the Air Force and left his record collection to his younger brother who was the same age as Zonjic. That record collection exposed Zonjic to Elvis Presley, Buddy Holly, Chuck Berry, and the other early rock and roll stars; and that's the music he played while he was learning the guitar.
In a recent interview with MRRL, Zonjic said that he didn't really get into playing music until 1966 when he got his first guitar. He bought a copy of Mel Bay's Learn How To Play the Guitar book and taught himself to play.
Zonjic wasn't very serious until his sophomore year after he went to a dance with a girl at Salesian High School. The dance featured a band called the Unrelated Segments; and instead of talking to him, his date just stared at the band. That's when he decided to get better at the guitar and put a band together.
After finding players at Salesian High, Zonjic formed a band. They called themselves 'Rock" and, because of his roots, they started off covering oldies from rock and roll's first decade as well as current hits. Rock generally played two sets; one would include oldies like "Blue Suede Shoes", "Memphis", and "Kansas City", and the second would feature current hits like "Gloria" by the Shadows of Knight as well as hit singles by the Beatles, Monkees, and the Animals.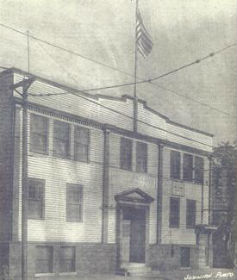 Polish Falcons Hall in Detroit
The band played teen clubs, as well as high school and junior high dances as part of the LYI (Livonia Youth International) circuit which included gigs in the schools' cafetoriums, large rooms with stages that served as both cafeterias and auditoriums. Zonjic recalled the first gig where they made any real money was at the Polish Falcons Hall (Nest 79) in Detroit where they earned a total of $25. The drove to the gig in Zonjic's 1963 Chevy Nova. He took out the back seat, and the car carried all of the band's equipment plus the band members to the venue.
Rock continued to play gigs after Zonjic graduated and enrolled at Macomb Community College. During this time, they did a show at an outdoor park in Garden City for radio station WABX. Zojic met Ed Young, drummer for the group Rumor, at the gig. Young encouraged Zonjic to contact Rumor's agent, Jerry Patlow, and tell him that Rock was available for work.
Following their performance at the Woodstock festival, the oldies group Sha Na Na gained national attention, and music fans became intrigued with the idea of a band that played early rock and roll songs. At that time, there were no bands in Michigan that concentrated on that type of music, or the Midwest for that matter. Patlow jumped on the opportunity and asked the guys in Rumor if they wanted to be an oldies band. They declined, but Ed Young mentioned that he knew of a band that was already doing a set of songs from rock and roll's first decade and they might be interested.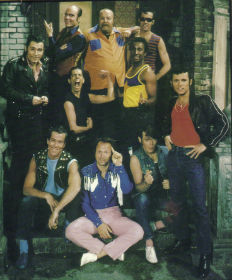 Sha Na Na
That led to Patlow coming to a rehearsal for Zonjic's band, and he requested that they only play the oldies. Patlow liked what he heard. He told them that he had one job, but that they were going to have to slick back their hair in the 50s' style and play only songs from 1954 to 1963. The gig was in Flint, Michigan, at the General Motors Institute and it paid $400. Zonjic said that the band was excited to get with a well-known agent like Patlow and earn their biggest payday. Patlow told them that they needed to learn more of the early rock and roll tunes, and that they couldn't call themselves 'Rock'. He insisted that they change their band name to something that sounded more in tune with the oldies music they were playing.
The membeers of the band were all very familiar with the musical play West Side Story, and they chose the name 'Sharks' from one of the gangs in the production. They were billed as 'Rock & Da Sharks' for what they thought was a one-time gig. Three weeks later, however, Patlow called them for another gig at Oakland Community College as the opening act for Bob Seger, who was playing as a guest with a Detroit band called Julia. Patlow wanted them to again go on as the oldies band, Rock & Da Sharks. That performance led to a successful club gig, and it took off from there. They were now firmly entrenched as an oldies band, and they no longer covered any current hits.
The lineup at this time included Pat Butler, the lead singer who performed as 'Rock', and Zonjic took his stage name, 'Moose' from an Archie comic book. The rest of the band included Mike Butler, drummer Bruce Frasier, and bass player Larry Markum. The band rehearsed in Markum's parents' basement.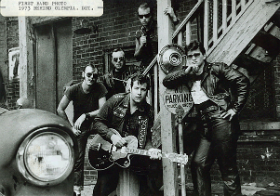 Moose & Da Sharks 1973 L to R) Mike "The Weasel" Butler, Larry "Maynard" Markum, Bob "Rock" Krzyminski, Bruce "Slick" Frasier, Moose Zonjic
Rock & Da Sharks' first gig outside of Michigan was in Aurora, Illinois, at the Aurora Hotel Ballroom. The band was very excited, but the venue turned out to be a dump and the engagement turned out to be a major disappointment.
By this time, the band was playing regularly around Detroit as well as cities around the state. Zonjic purchased a Dodge van to transport the band's equipment and one other member, while the rest of the band traveled in a car. One of the band's biggest gigs during this time was opening for Montrose, Spooky Tooth, and Bob Seger at the Wild Wednesday '74 concert at Sherwood Forest in Davidson, Michigan, on June 26th.
When Pat Butler, left the band to go away to college, they needed a new singer to portray 'Rock'. After new singer Bob Krzyminski failed to pan out, Zonjic took over the lead singing, and the band was renamed Moose & Da Sharks.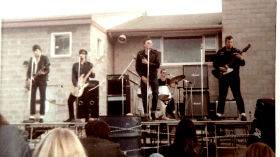 Butler, Markum, Krzyminski, Frasier, and Zonjic performing at Sherwood Forest
Although they were preceded by Sha Na Na and Flash Cadillac and The Continental Kids, Moose & Da Sharks can lay claim to being the first oldies band in the Detroit area and also in the Midwest. Patlow now had the band traveling to gigs in Milwaukee, Pittsburgh, Cleveland, St. Louis, Cincinnati, and other cities in the region where a greaser-styled band was needed. The popularity of 1973 films like American Graffiti and Let The Good Times Roll fueled the interest in oldies music to the point that even high schools and colleges were having 50s-themed dances all around the country.
Zonjic recalled that band got their onstage Detroit greaser look from some of the people who followed the band and gave them suggestions on what to wear. These were real greasers from the 50s and early 60s, folks who had refused to change their style over the years. They told the band that they needed to have pointed-toe shoes, wear white socks, roll up a pack of cigarettes in the sleeve of their shirt, wear leather jackets, and roll up the cuffs on their jeans.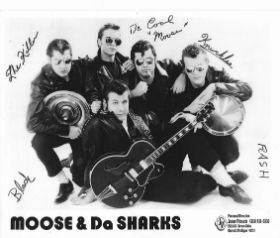 Moose & Da Sharks were now making enough money to earn a living as musicians. Zonjic recalled that he had a job while in college working on the loading dock at J.L. Hudson's for $45 per week. When he discovered that he could play one gig and make $75, he quit his job at Hudson's. Zonjic also said that while Jerry Patlow got the band a lot of work, he didn't want to be called their manager. He preferred the term 'personal direction' because Patlow felt the title would prevent him from becoming liable if any incidents should arise. In the meantime, he booked the gigs, handled the money, and gave the band advice for a 15% commission.
The band had a regular gig in the 70s at Shirley's Swingers Lounge in St. Clair Shores. Moose & Da Sharks played there on Monday and Tuesday nights. The rest of the week they would travel around the state playing one-nighters. Zonjic said that they could have played seven days a week during this time.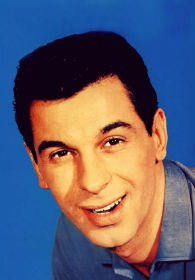 Freddy "Boom Boom" Cannon
The band's first recording was done shortly after they adopted the Moose & Da Sharks moniker. The group had opened for SRC on several occasions, and Zonjic had expressed to SRC drummer E.G. Clawson his desire to cut a 45. Clawson invited the band to record it at Morgan Sound, SRC's studio in Ann Arbor, Michigan. They recorded covers of Little Richard's "Tutti-Frutti and Freddy Cannon's "Way Down Yonder In New Orleans" at the session. It was released on Patlow's Butterscotch label. Listen to "Tutti-Frutti" at https://www.youtube.com/watch?v=kiAgPb94EsA
"One reason that we did 'Way Down Yonder In New Orleans' was because we had just done a gig backing Cannon at a show at Cobo Hall in Detroit", Zonjic recalled. "Cannon taught the band the song before the gig, and Moose & Da Sharks recorded our cover version at Morgan Sound just one week later." Their single was pressed at Archer Pressing in Detroit, but Zonjic stated that the original pressing of the single was done on reprocessed vinyl made from melted down records. Zonjic wasn't happy with the sound, so the single was re-pressed on virgin vinyl after the first 1,000 copies had been sold.
Their cover of "Way Down Yonder In New Orleans" led to Freddy Cannon producing songs on Moose & Da Sharks' subsequent "Rock And Roll Disaster" album in 1974. Cannon worked with the band on Zonjic's original composition, "Detroit", and on their covers of "Shake, Rattle And Roll" and "Barefootin'". Zonjic and Cannon had become friends at the Cobo gig while discussing oldies music and the state of the music business back when Freddy was a star attraction. Zonjic said that Cannon, as well as others like Chubby Checker and Bobby Lewis, had chips on their shoulders because of the fact that their stars had faded and that their music was no longer being played on the radio. Zonjic remembered there was a lot of bitching over the record companies that didn't pay them for their hits. Artists were expected to make their money from personal appearances. It was the same story for most of the early recording stars who saw little or no royalties from their hit records.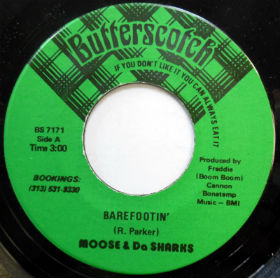 Produced by Freddy Cannon
The rest of the "Rock and Roll Disaster" album was produced by Zonjic and Glenn Quackenbush, SRC's keyboard player. Quackenbush also played piano on two songs, "Shake, Rattle and Roll" and Chuck Berry's "School Day".
Wayne Kramer is also featured on the album. He played guitar on "The Lesson", "Travelin' Man", and the title track, "Rock And Roll Disaster". After the MC5 disbanded, Kramer was basically destitute and living with some hippies on Detroit's west side. Moose & Da Shark's sound man mentioned that Kramer could use some work, and Zonjic hired him as a roadie and paid him $50 to play guitar on three of the album's songs.
Members of the band Rumor did the backing vocals on the album. Moose & Da Sharks played a lot of shows with Rumor as they were both represented by Jerry Patlow. Zonjic said that the members of Rumor were skilled at vocal harmonies, and that they also did some vocal backing on Frijid Pink's albums.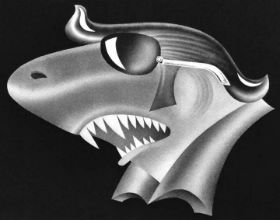 Dennis Preston's original cover art for the "Rock and Roll Disaster" album.
Patlow arranged for the cover art to be done by renowned poster artist Dennis Preston. Preston created the image knowing only the album title. Zonjic said it was done in black and white because it was the cheapest way it could be produced at Archer Pressing in Detroit. Zonjic said that the Butterscotch label did no promotion of the lead single, "Barefootin'", but it got a small amount of play on CKLW out of Windsor, Ontario.
During the MRRL interview, Zonjic revealed that Benny Speer played bass in Moose & Da Sharks in 1975, shortly before forming Benny & The Jets. Speer took the name 'Jets" from the other gang in West Side Story. Because of the popularity of 50's music, Patlow sent Moose & Da Sharks on the bigger out-of-town gigs and then recruited new oldies bands like Benny & The Jets, Teen Angel, and the Daddy Cools to play local gigs.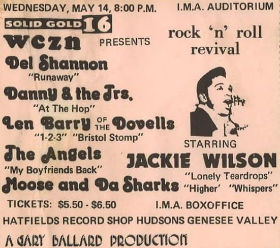 Moose & Da Sharks backed many oldies acts over the years, but Freddy Cannon and Chubby Checker were the first. The band played oldies concerts around the state including memorable shows at the I.M.A. in Flint and Saginaw's Wendler Arena that starred Del Shannon and Jackie Wilson. Zonjic still remembers the conversation he had with Del Shannon about the nasty smelling locker room in Wendler Arena that was full of the sweat-soaked equipment from the Saginaw Gears hockey team.
Moose & Da Sharks also appeared a several times on The Ghoul Show, a late-night comedy/horror program in the 70s that starred Ron Sweed and was taped in Cleveland, Ohio. The low budget show featured Sweed as The Ghoul, a zany character who incorporated various gags along with a penchant for blowing up model ships and aircraft with firecrackers during breaks in the monster movie fare that was a staple of the program. An episode called Sappy Days, featured Moose and the band lip-synching to their cover version of "Barefootin'". Watch Moose & Da Sharks' appearance on The Ghoul Show: https://mail.google.com/mail/u/0/#sent/164ead666785caa0?projector=1
By the 1980s, Zonjic said that the oldies craze had begun to fade. He claims that the punk rock movement borrowed a lot of the 50s greaser look. In response, the band changed direction, and started wearing tuxedos. Moose & Da Sharks transformed into lounge act featuring rock and roll along with adult humor. The band did a live recording of this new direction at the Imperial Lounge in Clinton Township, Michigan. It was pressed on gold vinyl and was sold only at gigs. Zonjic claims that it was basically a "bootleg recording" that was simply titled "Moose & Da Sharks Live". At this time, the band was made up of Zonjic and Andy Edwards on guitars, a female singer named Maria Mt. Clemens, Steve "Dog Face" Campbell on bass, and Brian "Slick" Wagner on drums.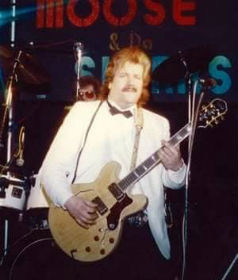 Moose 1980's
The new presentation was inspired in part by Detroit entertainer Jim Freeman. Using a combination rock and roll and dirty jokes, Freeman was billed as the 'King of Raunch & Roll' and was packing them in at Dirty Helen's on Detroit's east side. Building on Freeman's success, Moose & Da Sharks decided to do an adult comedy show with 50s music. They billed it as X-rated, but Zonjic said it was pretty mild compared to what is considered X-rated today.
By the 90s, the lounge act more or less dried up, so they made another change and started doing concerts at church festivals and community concert series where they played a family friendly show. Larry Matthews, a radio personality on the Crazy Al Show on WPON-AM in Walled Lake, Michigan, stepped in to play drums when Wagner left the group.
Moose & Da Sharks then added a female trio called the Sharkettes. They recruited three young girls to sing and dance and interact with the crowd. The Sharkettes performed songs by the Shirelles, the Crystals, and other top girl groups. It was very successful, but as the years passed and everyone got older, that version of the group disbanded.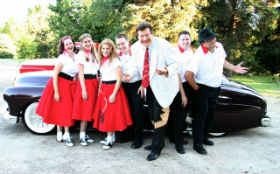 With The Sharkettes
As of this writing, Moose & Da Sharks are still performing after 46 years. Zonjic has been playing rock and roll for five decades, but he has been slowed down in recent years after suffering a severe neck injury in a fall on the ice. He went through a number of surgeries and, as a result of his doctor's recommendation, he no longer lives in Michigan during the winter. He moved to Las Vegas three years ago, but he returns to Michigan in the summer to play some shows when it gets too warm in Vegas.
Zonjic said that he still stays in contact with many of the musicians that he played with over the years. He is currently semi-retired but has done some promotional work for singer Dickie Lee ("Patches" and "I Saw Linda Yesterday") at casinos in Las Vegas and sometimes plays guitar for him. Zonjic only performs a few shows per year with Moose & Da Sharks.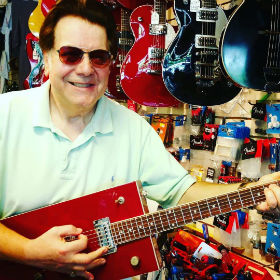 Moose Zonjic 2018
On the occasion of the band's induction into the Michigan Rock and Roll Legends Hall of Fame in 2018, Zonjic wanted to make clear that there were different eras of Moose & Da Sharks – the greaser era, the lounge era, and the concert era. He said that the band evolved during those years, but through it all, they continued backing up big name acts on the oldies circuit.
Zonjic said that the life of a rock and roll musician was a lot of work, but it was also a great deal of fun. One event that he remembers fondly involved opening for Brownsville Station in the 70s at a concert at Midland High School in Michigan. Brownsville Station usually performed several oldies during their performances, and in the men's locker room before the show, Mike Lutz and Cub Koda broke into "Susie Q". Moose & Da Sharks were in the locker room at the same time and responded by singing "Runaround Sue". Zonjic stills recalls how much fun they had, out of the spotlight, engaged in locker room oldies singing duel. It was just one of many unforgettable memories, most of which the fans never got to see, that were part and parcel of being a Michigan rock and roller.
MRRL Hall of Fame: https://www.michiganrockandrolllegends.com/mrrl-hall-of-fame