MRRL Hall of Fame
NATHANIEL MAYER
Details

Category: Inductees
Created: Sunday, 01 June 2014 10:04
Written by Gary Johnson
Despite his energetic stage shows and raw, soulful vocal style, Nathaniel Mayer was one of the best-kept secrets of Detroit's vibrant R&B scene. After charting the biggest hit ever recorded at the legendary Fortune Studio, Mayer, like many other artists on small independent Detroit labels, was saddled with poor distribution and overshadowed by the incredible success of Motown and its roster of stars.
Following his Fortune Records days, Mayer largely disappeared from the music industry for decades, and rumors concerning his whereabouts turned him into something of an urban legend among the crumbling neighborhoods and buildings of East Detroit. But against all odds, Nathaniel Mayer staged a remarkable comeback 40 years after he recorded his biggest hit, "Village Of Love".
Dispelling the F. Scott Fitzgerald quote: "There are no second acts in American lives", Mayer went back into the studio in 2004 to record his first album in four decades. The widespread critical success generated by the album led to him performing again at clubs and festivals, all the while gaining a new generation of young fans with his exciting live performances.
Nathaniel Mayer was born on February 10, 1944, in Detroit, Michigan. Mayer learned to sing gospel music in church as a child and idolized Sam Cooke and the Soul Stirrers. In an interview with Kurt Reighley for No Depression magazine, Mayer reflected on being surrounded by music as a he grew up: "Everybody in my family sings…but ain't nobody sings as good as me," he bragged with a laugh. "I've been a showoff all my life."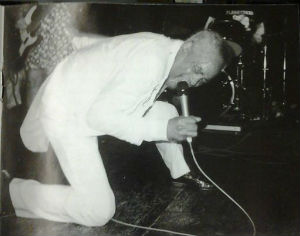 Nathaniel Mayer performing during his late career comeback
According to his son Monkeith Mayer, Nathaniel first made contact with Fortune Records at the tender age of 12. The Fortune label was started in the late 40's by Jack and Devora Brown. They had some success in the early 50's recording country artists like the York Brothers, Skeets McDonald, and Roy Hall; all who appealed to the many white southerners who had moved to Detroit to work in the auto-related industries. Fortune had a big regional country hit in 1952 with "Jealous Love" by the Davis Sisters, featuring a young Skeeter Davis.
Fortune began recording R&B music with the signing of The Diablos, a five-man vocal group from Detroit Central High School, featuring the high tenor vocals of lead singer Nolan Strong. The Diablos would record their own composition of "The Wind" in 1954, producing the Motor City's first doo-wop classic. The following year would see the group record another regional smash with "Daddy Rockin' Strong", and then score a hit on the Billboard R&B chart with "The Way You Dog Me Around".
Joe Weaver, who led Fortune's house band, also had a hit in 1955 with "Baby, I Love You So". The backing vocals were done by the Five Dollars, who had several regional hits on their own, including "Doctor Baby" and "Hard Working Mama". The Five Dollars also provided the backing for Fortune's most flamboyant artist, Andre Williams. Fortune would enjoy its second hit on Billboard's R&B chart in 1957 when Williams' recording of "Bacon Fat" peaked at # 9.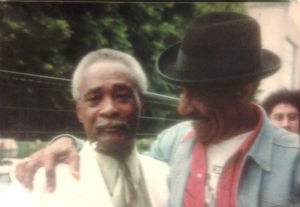 Nathaniel Mayer and Andre Williams
With all of Fortune's successes, it's not surprising that Nathaniel Mayer would make his way to the narrow brick building at 3942 Third Avenue to inquire about making a record of some of the song ideas he had written down. Not knowing what to do with a precocious 12-year-old, the Browns shuffled him off to Joe Weaver. Serving as something of a music teacher, Weaver showed young Mayer how to structure his writings into songs.
Mayer started performing at sock hops in high school and, soon after, made his first important appearance in 1959 at DJ "Frantic" Ernie Durham's record hop at the Graystone Ballroom on Woodward Avenue. Mayer signed with Fortune not long after and recorded his first single, "My Last Dance With You" b/w "My Little Darling", at the tender age of 16.
"My Last Dance With You" was an appealing ballad that included a classic recitation by Mayer. The song fit nicely into the doo-wop revival that swept the country during the late 50's and early 60's. The flipside, "My Little Darling", an up tempo number with a flute lead, was inspired by the recent hit recordings of fellow Detroiter Marv Johnson.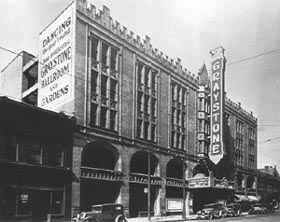 Detroit's Graystone Ballroom
Nathaniel Mayer will be best remembered, however, for his second Fortune single and signature hit from 1962, "Village Of Love". Author David Carson described Mayer's song in his book, Grit, Noise & Revolution. "It was the rawest of recordings and an instant Detroit classic. As Mayer shouted, screamed, and wailed, the 'Village Of Love' didn't sound like a very romantic place.
Carson wrote that Jay Johnson, bass singer for the Diablos since late 1956, was featured at the very beginning of the recording, delivering the deep-voiced invitation: Why don't you come, which overlapped with the chorus, Come to the village of love. Nathaniel's son Monkeith, however, is adamant that Carson is wrong and that it was another bass singer named Harold Smith who did the memorable bass parts on "Village Of Love". Carson's confusion over who sang what may have been caused by the fact that Nolan Strong and the Diablos covered "Village Of Love" in 1964 with Jay Johnson singing the bass part.
Credited to Nathaniel Mayer and The Fabulous Twilights, Harold Smith was joined by Henry Ferguson on backing vocals. The band featured Willie Fleming on guitar, an unknown bass player, and a white drummer named Butch Vaden. The flipside was a strong ballad called "I Want A Woman", which had a riff that Otis Redding borrowed the following year for his first hit, "These Arms Of Mine".
"Village Of Love" was an instant smash. It was selling so fast in Detroit that the Browns decided to accept an offer to lease it to United Artists for better national distribution. The move paid off, with the record reaching # 16 on the Billboard R&B chart and # 22 on the Billboard Hot 100. "Village Of Love" was an even bigger hit on Cash Box, spending 15 weeks on that chart and peaking at # 10.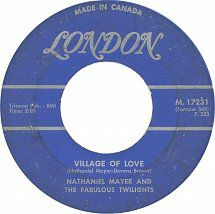 "Villlage Of Love"
Monkeith Mayer has stated that Fortune also licensed his father's "Village Of Love" to London Records, a British label associated with Decca Records in England. Using the London banner, the label distributed records from a variety of American companies in Canada and Latin America. London also released records in the United States, the most famous of these were the recordings of the Rolling Stones in the 1960's. London's release of "Village Of Love" in 1962 helped Nathaniel Mayer score his first charting hit north of the border.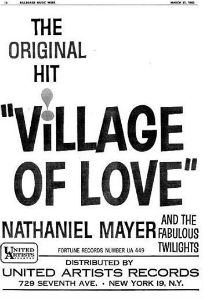 As a result of his smash, Mayer was quickly booked for a tour of theaters across North America with several other hit makers of 1962 including: Mary Wells, Clyde McPhatter, LaVern Baker, The Vibrations, Maxine Brown, and The Marcels. According to Devora Brown, Mayer also appeared with Dick Clark on American Bandstand, the only Fortune artist ever to do so.
There is some disagreement over what happened with the all-important follow-up to "Village Of Love". Monkeith Mayer claims that Devora Brown wrote a song called "Mind Over Matter" for his father, but Nathaniel thought it sounded "too pop" and recommended that labelmate Nolan Strong sing it instead. Strong had rejoined the Diablos after returning from a two-year hitch in the Army, but had been unable to score a hit.
In his book, David Carson wrote that Devora had penned "Mind Over Matter" expressly for Nolan Strong. The song was eventually recorded by Strong and The Diablos, although only his name appeared on the label. It went to # 1 in Detroit, but the Browns did not want to split the potential profits by leasing "Mind Over Matter" to a bigger label and tried to take the song national themselves. Although it reached # 82 in Cash Box, "Mind Over Matter" failed to make the Billboard Hot 100 as a result of Fortune's poor distribution.
Nathaniel Mayer and the Fabulous Twilights' follow-up single, on the other hand, was distributed by United Artists. The ballad "Hurting Love" is of historical interest since it includes Nolan Strong singing the falsetto parts on the song. The flipside, "Leave Me Alone" is constructed along the same lines of "Village Of Love"; but it didn't have the magic in its grooves like its popular predecessor and failed to chart. If Mayer would have recorded "Mind Over Matter" instead, with national distribution from United Artists, it might have been his second national hit.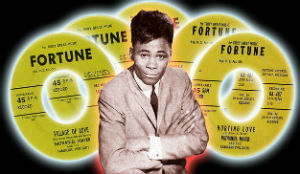 Mayer and Fortune Records
Meanwhile, Mayer continued to cross the country on package tours. Monkeith Mayer tells a story about one such tour on which his father shared top billing with Etta James ("Something's Got A Hold On Me" and "Stop The Wedding") and Arthur Alexander ("You Better Move On" and "Anna"). In an incident in which alcohol probably played a part, Nathaniel Mayer and Alexander got into a fistfight on the tour bus after Alexander said he could out-sing him. After the fight, Mayer worked extra hard to fire up the audience, and he made it difficult for Alexander to take the stage after him. Frustrated, Arthur Alexander ended up leaving the tour early.
Mayer was a big draw in Detroit, playing the best spots in the Motor City such as the Gay Haven on West Warren and the 20 Grand owned by Ed Wingate, another colorful character in the local music scene. Mayer ended 1962 with a catchy seasonal single, issued without mention of the Fabulous Twilights, titled "Mr. Santa Claus".
Nathaniel started off 1963 with the driving dance single "I Had A Dream", which prominently added female backup singers Thelma Hopkins and Joyce Vincent to the Fabulous Twilights. Hopkins and Vincent would later gain fame working with Tony Orlando as Dawn. The flipside, "I'm Not Gonna Cry", was a slow song performed by Mayer in the James Brown ballad tradition. Once again, the single failed to chart nationally now that Fortune was doing the distribution.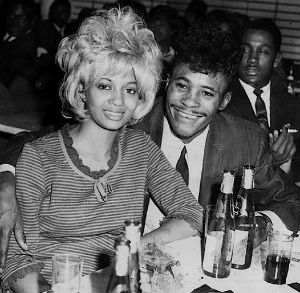 Mr. and Mrs. Nathaniel Mayer at the 20 Grand in Detroit
In a somewhat questionable move, Fortune then re-released "Well I've Got News For You" as Mayer's second single of the year. The song had previously been the flipside of "Mr. Santa Claus", which had been issued just a few month earlier. It was backed with another Mayer original called "Work It Out", basically a rewrite of "Village Of Love" minus the hit single's charm.
Later in the year, while appearing at the Howard Theatre in Washington D.C., Mayer got a great reaction from the audience after performing his soulful rendition of "Summertime" from the musical Porgy and Bess. Billy Stewart was on the same card and complimented Mayer on his performance after the show. Three years later, Stewart would record his own version of "Summertime" and enjoy a Top 10 hit on both the Billboard R&B chart and the Hot 100. In 1967, Stewart ran into Mayer and told him that he wouldn't have recorded his big hit if he had not seen Nathaniel's performance.
"Summertime" was one of the songs recorded for Mayer's first Fortune album to be titled "Village Of Love". The Browns wanted to capitalize on the popularity of the hit single, but the lease agreement they signed gave United Artists ownership of the song for two years. According to Monkeith Mayer, United Artists would not give Fortune permission to include it on the album since it was a national hit on the UA label and they had the rights until 1964.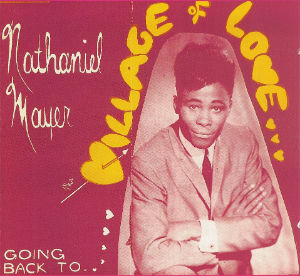 "Going Back To The Village Of Love" LP
Amidst all the wrangling, Mayer was summoned to the Fortune Records studio for some photos. Monkeith Mayer tells the story that his father didn't know that the photos were going to be used for his debut album and therefore didn't have his hair done the way he would usually wear it. He had performed at the 20 Grand the night before and was scheduled to have his hair done at Shaw's Barber Shop later that afternoon. Nathaniel Mayer was not happy with the way his hair looked in the photos, and this would become a major issue with Fortune after they used one of the shots for the cover of the LP when it was finally released.
Fortune had pushed the release date for the album back to the end of 1963 and decided to release it as "Going Back To The Village Of Love", the title of Mayer's new single. Because of the continuing legal issue with United Artists over "Village Of Love", Mayer's biggest hit was not included on the first pressings of the album.
The song "Going Back To The Village Of Love" was recorded live at Fortune in the midst of what sounds like a studio party. The single also featured a rare Fortune picture sleeve. The resulting track tried to capture the loose, soulful vibe on some of Gary U.S. Bond's singles, but was only partially successful. The backing vocalists included Thelma Hopkins and Joyce Vincent along with Timmy Shaw, a Detroit singer who would soon have a hit with "Gonna Send You Back To Georgia".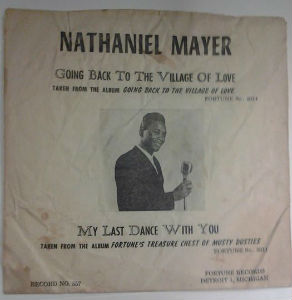 Rare Fortune Records picture sleeve
The disagreement with Fortune over the album cover photo was the beginning of the end of the relationship between Mayer and his record label. In 1964, Fortune retained control of "Village Of Love" and decided to include it on the already released "Going Back To The Village Of Love" album. Since Fortune had an album cover designed without the song listed, Devora Brown decided to just put stickers on the covers that said: "including the million-seller Village Of Love". The label would continue to reprint that original cover and, even with the stickers, it became Fortune's all-time biggest-selling album.
The next single came out in 1964. It was a great two-sided effort, "A Place I Know" b/w "Don't Come Back", by Nathaniel Mayer and The Dynamics with The Crescendals. The Dynamics had recorded the classic hit "Misery" the previous year. The Crescendals included a horn section along with Walter Hamilton on guitar, Steve Mancha on bass, and Butch Vaden on drums.
Mayer was inspired by James Brown. He grew up a fan of "The Hardest Working Man In Show Business"; and "Don't Come Back" was a funky horn-driven song that was a perfect vehicle for the man known as "the James Brown of Detroit". "A Place I Know" was just as good as Mayer returned to the hard-edged doo-wop style of "Village of Love". Once again, however, this great record got little airplay outside of the Motor City.
From this point on, however, Mayer's career started to lose momentum. His next Fortune release wouldn't come out until 1966 and it was based on a real-life episode. In his profile of Mayer in No Depression magazine, Kurt Reighley wrote about the events that produced "I Want Love And Affection (Not The House Of Correction)": "Often, he and one of his contemporaries, a member of vocal group The Capitols (of "Cool Jerk" fame), would go out cruising together. One day, after a protracted absence, Mayer's buddy showed up on his doorstep, announced that he'd just procured a '62 Cadillac convertible, and invited Nathaniel to go for a spin."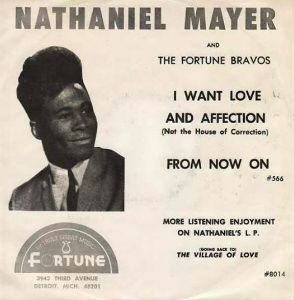 "I jumped in the car, and we're riding around," Mayer recalled. "We were picking up girls, playing the music loud. All of a sudden, we're on the boulevard, and cops are coming out of everywhere. Guess what? He'd stolen the car!" Even though Mayer claimed he was oblivious to any wrongdoing, the unwilling accomplice was sentenced to 30 days in the pokey.
While he was in jail, Mayer and fellow inmate Timmy Shaw started putting together a song along the lines of the old Robins' hit "Riot In Cell Block # 9". After his release, Mayer updated the year from 1953 to 1963 and went into the Fortune studio and recorded it. The single, titled "I Want Love And Affection (Not The House Of Correction", was issued a month later by Nathaniel Mayer with The Fortune Bravos and became an underground hit.
Reighley's article pointed out that although big chart success eluded Mayer, he continued to tour throughout the 60's with his own revue, which included his own band (the Detroit Sounds) and a pair of dancers dubbed the Professionals. Other Motor City singers frequently joined him: Motown great Jimmy Ruffin, Spyder Turner, Emanuel Laskey, J.J. Barnes, Gino Washington, and "Sweet" James Epp. Mayer claimed that he had about ten people working for him while running his revue.
"I kept it going for ten years, and then I kind of slowed down", Mayer admitted. "When things aren't going right, you get a little depressed." He went back to school and got his GED, (Mayer had quit during his senior year because his singing career had begun to take off), but he also started hitting the bottle.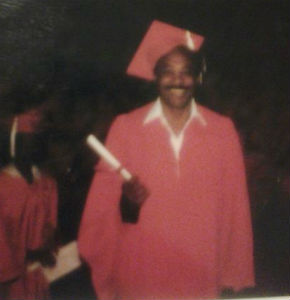 Mayer with his GED diploma.
Little was heard from the singer for years, though he remained a cult figure and resurfaced periodically. In 1980, he released an impossible-to-find single, "Raise The Curtain High", credited to Nathaniel "Nay Dog" Mayer & the Filthy McNasty Group plus Free Style, on Love Dog Records. According to his son, Mayer got the nickname 'Nay Dog' from his habit of picking up women at his shows.
Reighley continued the story: "With the turn of the century, things started to improve for Mayer. In 2002, Norton Records issued a new Nathaniel Mayer single, "I Don't Want No Bald-Headed Woman Telling Me What To Do". It was an unreleased 1969 cut produced by fellow soul sensation, Gino Washington."
According to Monkeith Mayer: "Washington was performing in his father's review, which was very popular among the pimps and whores that had come to dominate the portrait of black street life in America. The release got tied up when Washington demanded more money for his production work on the song."
As a result of the interest generated by the Norton release, Mayer resumed playing occasional live dates in and around Detroit. It was at one such gig where he met ex-Detroit Cobras guitarist Jeff Meier. Just before a scheduled appearance at the 2003 Ottawa Blues Fest, Mayer parted ways with his backing band and recruited Meier and his new group, The Shanks, to accompany him.
The most important result of this partnership was the recording of Nathaniel Mayer's first album in over 40 years; a powerhouse of tough, funky, garage R&B released on the Fat Possum label in 2004.
Seven of the ten songs on the "I Just Want To Be Held" CD are Mayer originals, a couple of which ("I'm In Love" and "You Are The One") he had been sitting on for 20 years. Then there is the lascivious "Stick It Or Lick It", a raunchy urban tale of picking up a destitute hooker at the liquor store, only to get ripped off by her. All of the songs on the album owe a debt to the classic R&B that Mayer produced in the 60's, but the punky, yard dog intensity of The Shanks keeps things from ever sounding like they're trying to emulate the past.
The album's highlight was a searing cover of "I Found Out" from John Lennon's first solo album, "John Lennon/Plastic Ono Band". Lennon's original was raw, but Mayer upped the ante by squeezing every ounce of emotion from the song's anguished lyric. When Nathaniel growls, "Can't do you no harm, feel your own pain", you know he's been there, done that.
In a 2004 interview with Detroit Free Press writer Brian McCollum while promoting his new album, Mayer said he had one big goal: "I want to make my mark on the world one more time. That's what I want to do before I fall dead. I want to make sure that people know I'm good, and that I give it all I've got."
In 2005, Mayer toured with fellow Fat Possum artist, The Black Keys, and formed a friendship with Keys' guitarist Dan Auerbach. Now signed with Alive Records, Mayer was joined in the studio by Auerbach, Matthew Smith of Outrageous Cherry, Troy Gregory of The Dirtbombs, and Dave Shettler of SSM to put together a new album.
Why Don't You Give It to Me
Recorded in two summer days and nights of intense jamming and writing, "Why Don't You Give It To Me?" was released in 2007. The album was selected by musician/writer Julian Cope as 'Album of the Month' on his Head Heritage web site. This time around, Mayer's new cast of backing musicians provided a much different sonic palette that Cope described as: "fuzz guitars, proto-punk garage rhythms, and nuclear burn-ups of free rock." Cope went on to rave that Mayer's new album as "nothing less than a heroic act, being both an extraordinary art statement of cavernous Detroit psychedelic soul and a mission of cultural retrieval."
Mayer continued to play dates in support of his new album and toured Europe for the first time. Within a year of completing his European tour, however, he was felled by a series of strokes. After months in the hospital, Nathaniel Mayer died on November 1, 2008, in Detroit, Michigan.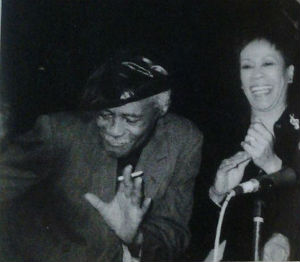 Mayer with Bettye LaVette
The six songs left over from the sessions for "Why Don't You Give It To Me?" were combined with two acoustic performances from a radio interview for 2009's posthumously released album, "Why Don't You Let Me Be Black?". The title had to do with the food Mayer kept being served while on tour in Europe. When Nathaniel finally became frustrated with the countless plates of cheese and French bread that awaited him backstage at every gig, he shouted "Why won't you let me be black?" He later agreed that it sounded like a good title for his next album.
In 2014, Nathaniel Mayer was selected as the first Historical Inductee to the Michigan Rock and Roll Legends online Hall of Fame. That same year "Village of Love" was voted a Legendary Michigan Song.
MRRL Hall of Fame: https://www.michiganrockandrolllegends.com/mrrl-hall-of-fame
Video: Watch a great live performance of "Village Of Love" by Nathaniel Mayer from an "oldies" concert on public television: https://www.youtube.com/watch?v=C_4shonE1-4
Dr. J Recommends:
"Village Of Love" CD by Nathaniel Mayer. Gold Dust Records, Rome, Italy. 1996. This is an excellent 21-song collection of Nathaniel Mayer's recordings at Fortune Records. It contains the title song along with all his other Fortune singles including "I Want Love And Affection (Not The House Of Correction)". The inclusion of the seasonal classic "Mr. Santa Claus" as well as album tracks like "Summertime" and Mayer's cover of Clyde McPhatter's "Lover Please" help make this essential listening.
"I Just Want To Be Held" CD by Nathaniel Mayer. Fat Possum Records. Oxford, Mississippi. 2004. Mayer's killer comeback album with The Shanks is classic in every sense of the word. The band is a perfect fit for Nathaniel's raspy vocals. The album contains new versions of "Leave Me Alone" and "From Now On", along with a great cover of John Lennon's "I Found Out".