MRRL Hall of Fame
RIOT SQUAD
Details

Category: Inductees
Created: Wednesday, 26 June 2013 07:38
Written by Gary Johnson
After forming in Escanaba, Michigan, in 1965, the Riot Squad survived a number of personnel changes to become one of the Upper Peninsula's most popular bands in its eight-year run. In 2013, the Riot Squad became the first U.P. band to be voted into the Michigan Rock and Roll Legends online Hall of Fame.
Like the other members of the band, Jim Joque was born in 1950 in Escanaba. He describes his family, which has lived in Escanaba for several generations as "true yoopers". Joque started playing guitar that he convinced his parents to buy for him in the 6th grade. Although he might have kept it secret from the other members of the Riot Squad, Jim was inspired to start by actress/singer Haley Mills. Joque was impressed by the way she played guitar and sang her hit single, "Let's Get Together", in the popular 1961 film The Parent Trap.
Jim still remembers the thrill of getting his first guitar. Ordered from a catalogue, Joque claims he was as excited at its arrival as when his first daughter was born years later. He went on to take two years of guitar lessons at Delta Music Center in Escanaba. Once he got into 8th grade, he had graduated to a Harmony semi-acoustic solid body guitar with a red sunburst finish. His instructor taught him a number of rock and roll riffs, and Joque quickly beegan to learn the styles of Buddy Holly and Chuck Berry.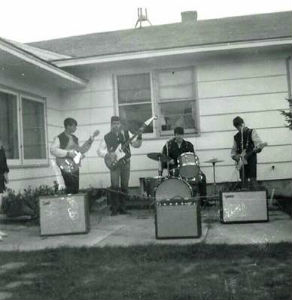 First photo of the Riot Squad (L To R) Jim Joque, Bob Anzalone, Dan Curran, Brendan Williams
Joque, along with friends Bob Anzelone and Dan Curran, attended Holy Name, one of two high schools in Escanaba during the 1960s. The trio was inspired to start a band of their own during their sophomore year in 1965. They wanted to be like the self-contained bands that had become popular in the wake of the British Invasion. Escanaba bands like the Nomads and the Rhythm Rockers were also important early models for the young group.
Dan Curran had an uncle who was a drummer, and he was a major influence on Dan's decision to pick up a cheap set of Kents and start playing. Bob Anzalone had little musical training and had to borrow a bass for the first rehearsals. At that juncture, the fledgling group was looking for another guitar player so that they could have a Beatles-like lineup of two guitars, bass and drums. Tim Krause joined briefly before they were introduced to Brendan Williams, an Escanaba High student who was younger than the other three. Williams not only played lead guitar but could also sing.
After practicing in Dan Curran's garage and putting together some songs, including current hits like "Satisfaction" and selected oldies such as "Wipe Out", the band got its first opportunity to play for an audience. It was a non-paying gig playing for a mixer at St. Patrick's, the Catholic grade school that both Joque and Anzalone had attended. Needing a band name for their debut performance, they quickly came up with The Roadrunners, a moniker taken from the popular theatrical cartoon series.
Joque remembered that the gymnasium was filled middle school students, a few parents and nuns. He wrote that the kids were grooving to the music, and the adults seemed unimpressed. One parent said to Joque, "It sure is loud", but also commented that he was surprised it sounded so good.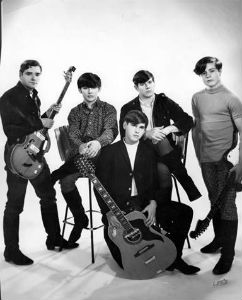 (L to R) B. Anzalone, Greg Curran, J. Joque, D. Curran, B. Williams
Following the gig, the band decided it needed a better name. They settled on 'The Riot Squad' and got their first paying gig for the princely sum of $20 at the Bark River Town Hall, a tiny community located about 13 miles west of Escanaba. Shortly thereafter, the band added Greg Curran as a vocalist and keyboard player. Greg was Dan's cousin and, like Brendan Williams, he also attended Escanaba High.
Escanaba is the third-largest city in the Upper Peninsula. Located on the northern shore of Lake Michigan, Escanaba first gained prominence as a shipping port. It was blessed with one of the safest natural harbors and finest beaches in the upper Great Lakes. This, along with the ample opportunities for fishing and hunting in the area, resulted in Escanaba becoming a popular destination for boaters, outdoorsmen, and tourists. Although the city now has many of the chain stores and restaurants common throughout Michigan, Escanaba was composed of mostly family-owned businesses back in 1965 when the Riot Squad was formed.
Teens in Escanaba during the 60's listened to the latest hits on local station WDBC 680 AM; but they could also pick up the Top 40 from two Chicago giants: WLS at 890 and WCFL at 1000 on their radio dials. There were several places in town to buy the latest 45s and LPs. Joque bought his records at Advanced Electric on Ludington Street which sold TVs and had a large record department called the Record Rack. According to Steve Seymour's book, Rock 'n' Roll Grafitti, a little further down the street was Felton Radio & TV, which featured as weekly display of the Top 100 singles as listed in Billboard magazine, and the J and R Radio and TV store that also sold records. The big Kresge and Woolworth stores located on Ludington both boasted respectable record departments as well.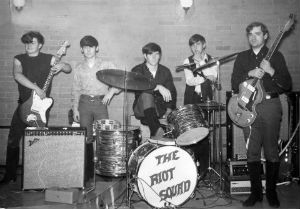 B. Williams, G. Curran, D. Curran, J. Joque, B. Anzalone
Those with access to cars would cruise up and down Ludington. According to Joque this was called "bombing Main Street" back in the day. At the west end of Ludington Street (a.k.a. Main) was the popular A & W Drive-In, perfect for teens to pull in and order food, and it was also a big date stop. At the east end was Ludington Park – a regular hangout and make-out spot for local teens. The main drag also included Mueller's and Marco's, two restaurants that served pizza. Mueller's stayed open late, and the Riot Squad regularly stopped in for something to eat after their gigs.
The most popular of the teen activities in Escanaba, however, were the dances. The first of these were record hops that took place in the Stardust Room in Marco's Restaurant. Hosted by Elroy and Wilma Zimmerman, the venue was transformed into Zim's Night Train for the dances.
By 1966, local promoter Gene Smiltneck had begun sponsoring dances at the Teamsters Union Hall on 1st Avenue in Escanaba, where for 50 cents teens could not only dance to hit records but also enjoy live bands. These dances were so popular that they were scheduled on Mondays and Thursdays during the summer as well as Friday through Sunday during the school year.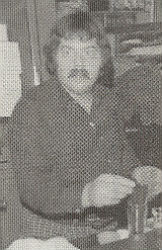 Gene Smiltneck
Smiltneck started the Escanaba Club A Go-Go a little later in an old building that he cleaned out and set up as a teen dance club with its own concession stand. The biggest act that Smiltneck booked at Club A Go-Go was Sam The Sham and the Pharaohs on April 11, 1966. Sam the Sham had scored a gigantic hit in 1965 with "Wolly Bully" and had enjoyed two other Top 40 hits with "Ju Ju Hand" and "Ring Dang Doo" before coming to Escanaba.
The Riot Squad played at many of these dances and attended numerous others. Greg Curran told Rock 'n'Roll Graffiti that he remembered that some of the bands that played there that had recording contracts like The Excels from Northern Michigan University and The American Breed from Illinois. Other top-notch groups appearing at Smiltneck's dances included The Ravelles from Iron Mountain, and out-of-state outfits like The Robbs and The Love Society from Wisconsin, and The Boys Next Door from Indiana.
The Riot Squad had first contracted with Smiltneck through his booking agency, Bands Unlimited. They quickly became one of Smiltneck's most successful bands and he and his wife Lynn invited the Riot Squad to rehearse in the couple's basement. Smiltneck proved to be not only a mentor but also a good friend to the band in what might be best described as a family-type relationship. Jim Joque became the godfather to one of the Smiltneck children and his sister would often babysit for the couple.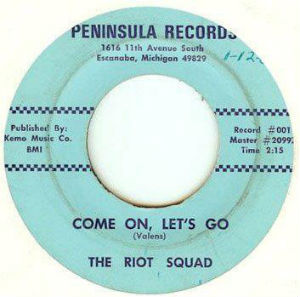 One of the ways that Smiltneck marketed the Riot Squad was by cutting a 45 rpm record with the band. The single was recorded in Smiltneck's basement, which he had transformed into a recording studio with a state-of-the-art reel-to-reel four-track recorder. Since the band had not written any material and were kinown as a Top 40 cover band, the two songs were that chosen were both recent hits. The "fast" side was "Come On Let's Go". It had been Ritchie Valens' debut single in 1958 and had been covered for a # 22 hit by The McCoys in the spring of 1966. The "slow" song was "Ferry Cross The Mersey, a # 6 hit for Gerry and The Pacemakers in 1965.
Released on Smiltneck's tiny Peninsula label in January 1967, the record had no chance of becoming a hit with distribution limited to the band selling it at gigs or dropping off copies for juke boxes at U.P. bars and restaurants. It did get considerable airplay on WDBC as well as radio stations in other communities where the Riot Squad was slated to play. Although no one made any money on the single, it turned out to be an effective tool for increasing the band's bookings in the area. Smiltneck also used his basement studio to record promotional tapes with the band that were given to radio stations to help get out the word on upcoming Riot Squad appearances.
On Sunday, January 29, 1967, the Riot Squad played a notable gig on the March of Dimes Telethon on WLUC-TV. It was Smiltneck's most important booking for the band. The group had to travel to the station's studio in Neguanee, but their televised performance afforded them valuable peninsula-wide exposure.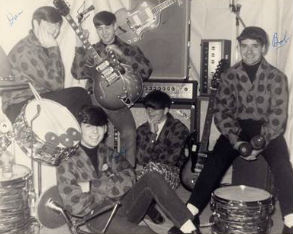 Dan, Greg, Jim, Brendan, and Bob
Dances at Escanaba High School, Holy Name, and Bay de Noc Community College became regular stops for the Riot Squad. The band also made the rounds of teen dances around the Upper Peninsula, including the Trenary Township Hall, Chatham, Gwinn High School gym, upstairs at the Eat Shop in Manistique, Lloyd's Good Fellowship Hall in Menominee, and at the Finn Hall and Lion's Clubhouse in the tiny community of Rock in Delta County.
Smiltneck had a regular daytime job working at the Escanaba Gas Company, but he also enjoyed working with young people and being part of the local music scene. Besides running Club A Go-Go and mentoring the Riot Squad, Smiltneck booked and recorded other bands including The Prophets Of Doom from Escanaba. But according to Joque: "We were his top band and his favorite for some time." Smiltneck would expand his business and rename it Showbiz Talent by the end of the decade before eventually moving to California with his family.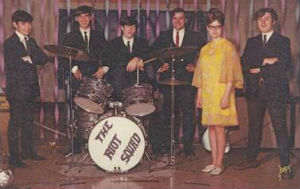 Kathy Kolich joins the band
The Riot Squad had slowly evolved after two years together. They added a female vocalist to the line-in the person of Kathy Kolich. After she left the band, her replacement was Karen Beck. Both girls attended Escanaba High. The band's equipment also improved considerably as Joque was now playing a Fender Jaguar guitar, Curran had a Ludwig drum kit, Williams had a Fender Jazzmaster guitar, and Anzalone a unique Eko violin-shaped bass. In addition, the band was using large Fender amplifiers, a quality sound system for vocals, and a lighting system for the shows.
Riot Squad's repertoire continued to focus on the current hits and included renditions of The Beatles, Bee Gees, Beach Boys and the other Top 40 songs that would bring teens to the dance floor. They were one of the few bands that continued to wear uniforms and use choreographed stage moves in the late 60's. Operating primarily as a show band, they had four different costume changes during a single night's performance.
The band's original line-up began to change in 1968. Brendan Williams left that year and was replaced by Tom McGovern on lead guitar. Bob Anzalone also left in 1968. Greg Curran took over on bass and newcomer Dale Stannard was brought on to play keyboards.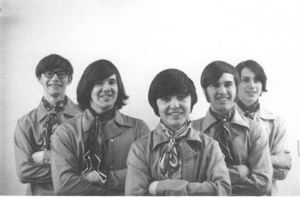 (L to R) Tom McGovern, D. Curran, G. Curran, J. Joque, Dale Stannard
Joque remembers that 1969 was a boom year for bands. He kept a journal of the Riot Squad's performances; and it shows that the band played many continuous nights and only averaged eight days off per month from June through August of that year. The band was traveling as far away as Green Bay in Wisconsin and into some cities in the northern part of the Lower Peninsula. The Riot Squad also played one memorable night at a hockey stadium in Sault Ste. Marie, Canada.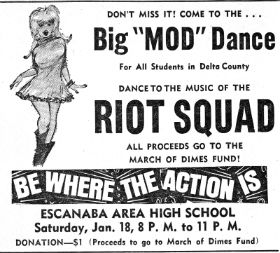 That summer the band had added a three-member horn section (Greg Tolman, Fred Bingman, and Bob Derouin) and even had a warm-up band that traveled with the band. According to Jim Joque, all of the continuous travel and work had slowly started to take a toll on band morale. Musical differences among band members had also begun to come to the fore.
It all came to a near-tragic end on September 22, 1969, at 3:00 AM. Five members of the Riot Squad and their roadie, who was driving the van, were on their way back to Escanaba after performing at a bar in Green Bay. The roadie apparently fell asleep at the wheel along M-35, north of Menominee, resulting in a single vehicle accident in which both the van and the equipment trailer it was pulling rolled over several times. Although Greg Curran's head injury re required over 20 stiches, they were very fortunate that no one was killed. Dan Curran had hit the windshield, requiring the removal of glass fragments; and Jim Joque was thrown out the double-doors and was nearly crushed by the van.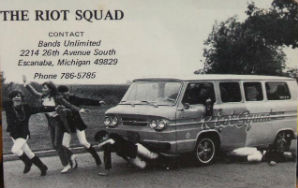 Riot Squad business card
Joque left the Riot Squad shortly after the accident. He was planning to get married and was transferring to Northern Michigan University in Marquette now that he had completed two years at Escanaba's Bay de Noc Community College. Musical differences among other members of the band came to a head at about the same time. Dan Curran, Tom McGovern, and Dale Stannard wanted to go in a different direction and formed a new group called Porridge that played heavy rock and original music. The first generation of the Riot Squad disbanded after playing a final gig at a youth center in Munising.
Greg Curran, the only remaining original member of the Riot Squad, decided to keep the group name and added new members capable of playing different instruments. The next four years saw a line up that included at various times: Greg Tolman, Fred Bingham, Bob Derouin, Matt Gadnis, Loreene Zeno, Bob Ling, Larry Willette, Tom Vardigan, John Adams, Mike Backlund, Don Stoor, along with Master of Ceremonies and Stage Manager Greg Swank. Specializing in the songs of groups like Chicago and Blood, Sweat & Tears, this second generation of the Riot Squad lasted until 1973 when the band played its final show at the Sherman Lounge in Escanaba.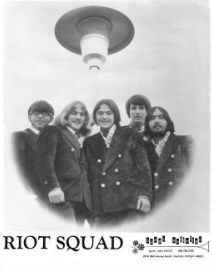 (L to R) Matt Gadnis, Greg Tolman, Bob Ling, Larry Willette, G. Curran
Over the next 25 years, Riot Squad members Greg Curran, Bob Derouin, Greg Tolman, Brendan Williams, and Tom McGovern performed at various times under the group names of Rocking Chair and the Reunion Band.
Jim Joque went on to become the Director of Disability Services and is an adjunct adventure education instructor at the University of Wisconsin-Stevens Point. He has kept track of most of the Riot Squad members that he played with from 1965 to 1969 over the past 45 years.
Bob Anzalone retired from the NewPage Corporation, Escanaba's paper mill and largest employer. Dan Curran operated his parents' restaurant for many years and had a catering business. Brendan Williams is Director of Special Education in Bark River.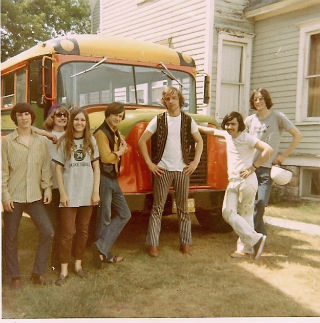 (L to R) L. Willette, G. Tolman, Loreene Zeno, B. Ling, Fred Bingham, G. Curran, Bob Derouin
Greg Curran worked several jobs, including a school bus driver, and has stayed active in music for nearly 50 years. His current band, The Cadillacs, includes two former members of the Riot Squad. Sadly, Kathy Kolich has passed away and everyone who was in the band has lost track of Karen Beck. Dale Stannard works for Catholic Services and is the administrator of the Holy Cross cemetery in Escanaba; and Tom McGovern is retired.
In 2013, Escanaba celebrated its sesquicentennial. Called Esky 150, the celebration kicked off with an opening parade down Ludington Street where members of the Riot Squad and other Escanaba teens used to "bomb the Main" in the 60's. Later, there was a reunion concert that featured The Cadillacs along with several of the surviving members of the Riot Squad. Jim Joque said that the reunion went very well. Jim hadn't seen some of his former band mates in over 40 years. They rehearsed a half dozen numbers on Friday night. Then on Sunday, they rehearsed again at a picnic for band members before getting up on stage one more time on Sunday evening to play that old time rock and roll.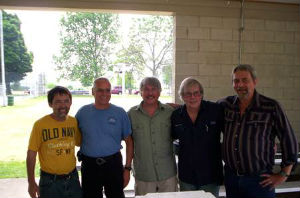 2013 reunion: (L to R) G. Curran, B. Anzalone, J. Joque, D. Curran, D. Stannard
Jim Joque said it best in The Riot Squad: A Rock and Roll Band's Story. "As I turn the pages of a 48 year-old scrapbook of Riot Squad pictures and memorabilia, I realized that time presses on for the original members of a small Escanaba rock and roll band; now all in their sixties.
Although that original band was an insignificant part of history in the scheme of the dramatic events of the 1960's, the band did have an impact on its members…all having gained invaluable experience and fond memories. It also had an impact on lots of young people who listened to the harmonies, danced to the tunes, and shared in the fun and enjoyment of rock music of that time. The sounds of the Riot Squad seemed to ease the stresses of an emotional era for many back then. But the echo of their music remains with many today who remember those wondrous years."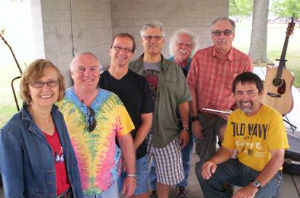 2013 reunion; L. Zeno, G. Tolman, T. Vardigan, L. Willette, G. Swank, B. Derouin, G. Curran
The Riot Squad was voted into the Michigan Rock and Roll Legends online Hall of Fame in June 2013.
MRRL Hall of Fame: https://www.michiganrockandrolllegends.com/mrrl-hall-of-fame