MRRL Hall of Fame
ROCKETS
Details

Category: Inductees
Created: Tuesday, 04 June 2019 05:01
Written by Gary Johnson
Founded by guitarist Jim McCarty and drummer Johnny "Bee" Badanjek, The Rockets were one of the first notable bands to emerge in the post classic era of Detroit rock. Although the group did not achieve the success they deserved, they released a number of terrific albums including "Love Transfusion", "The Rockets", and "No Ballads", before breaking up in the 1980s. The Rockets also charted three singles on Billboard's Hot 100, and their cover of "Oh Well" became a # 30 hit in 1979.
McCarty and Badanjek grew up on Detroit's Eastside and in the early 1960s formed a band called The Rivieras with bassist Earl Elliott who lived nearby. The trio got its break when George Williams saw them play at the Teen Fair section at the Michigan State Fair during the summer of 1963. Williams became their manager and booked them into a funky music club on Woodward Avenue called The Village.

The Village was a non-alcoholic venue that was a combination coffee house and a dance club that held 200-300 people and presented Detroit-area blues and R&B artists to an audience of mostly black and white young people. It was a perfect spot for the teenaged band members who were all fans of blues and R&B music, and they got the opportunity to play behind local R&B legends like Nolan Strong and Nathaniel Mayer.
Billy Lee and The Rivieras (L to R) John "Bee" Badanjek, Jim McCarty, Joe Kubert, Billy Levise, Earl Elliott
The Rivieras met a young white R&B singer named Billy Levise at The Village when he was singing with a black vocal group called The Peps. They invited Levise to a band practice, and he brought along his friend Joe Kubert who played guitar. The chemistry was immediate, and the five of them decided to form a new band called Billy Lee and the Rivieras.
The band really took off after Billy Lee and the Rivieras began to play at the Walled Lake Casino in Novi, the biggest rock and roll venue in the Detroit area. Their super-charged style of R&B flavored rock and roll, along with the dynamic singing of Levise, enabled the band to quickly move from opening act to headlining the dances.

Dave Prince, a radio personality from WXYZ was hosting the Walled Lake dances, and suggested that the band make an audition tape. Prince then sent the tape along with his enthusiastic recommendation to Bob Crewe in New York. Crewe was a major force in the record business, best known for producing numerous hits for the Four Seasons. Crewe was impressed enough to travel to Detroit to see Billy Lee and the Riveras open for the Dave Clark Five at Cobo Hall.

Crewe invited the band to New York in early 1965, and because he didn't like the stage name 'Billy Lee' and the fact that there was another Rivieras band that had recently had a hit with "California Sun", Billy Lee and the Riveras changed their name to Mitch Ryder and the Detroit Wheels.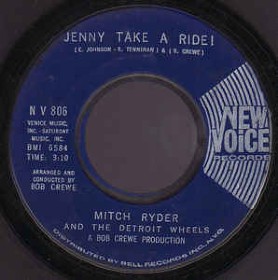 "Jenny Take A Ride" 45
Signed to Crewe's New Voice record label, the band's second single, a rocking medley that combined Chuck Willis' "C. C. Rider" with Little Richard's "Jenny Jenny", hit paydirt. Titled "Jenny Takes A Ride" and released in late 1965, the song peaked at # 1 on Billboard's R&B chart and # 10 on Billboard's Hot 100 early in 1966.
Mitch Ryder and the Detroit Wheels was one of America's hottest bands in 1966 and 1967, charting six more Hot 100 singles, including Top 40 smashes with "Little Latin Lupe Lu" # 17, "Devil With A Blue Dress On/Good Golly Miss Molly" # 4, "Sock It To Me-Baby" # 6, and "Too Many Fish In The Sea/Three Little Fishes" # 24. But by the end of 1967, after selling over six million records, Crewe had convinced Ryder to split from the Detroit Wheels who had begun to splinter with Earl Elliott in the Marines and Joe Kubert strung out on drugs.
While Ryder began fronting a horn-driven nine-piece show band to diminishing effect, Bandanjek and McCarty returned to Detroit and signed with Harry Balk's Inferno label. Recording as the Detroit Wheels, their first single, the classic "Linda Sue Dixon" backed with "Tally Ho", was issued in 1968. Balk sold his Inferno label to Motown shortly after the second, and final, Detroit Wheels' single was released on Inferno.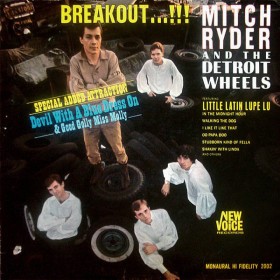 McCarty went on to play with the Buddy Miles Express and do some recording with Jimi Hendrix. In 1970, McCarty was recruited by former Vanilla Fudge bassist Tim Bogert and drummer Carmine Appice to replace Jeff Beck in the group Cactus after Beck was injured in a car accident. The band recorded three albums before McCarty quit in 1971. Cactus dissolved shortly thereafter.
Johnny "Bee" Badanjek did some session work, appearing on Alice Cooper's "Welcome To My Nightmare" and Edgar Winter's "They Only Come Out At Night" albums. He reunited with Mitch Ryder in 1970 in the band Detroit. The band, which included guitarist Steve Hunter, was short-lived; but the group recorded one strong album and had a regional hit single with a great cover of Lou Reed's "Rock 'n' Roll".
In 1972 McCarty and Badanjek reconnected to form The Rockets, a band that would play the same kind of hard driving Detroit-style rock and roll that they had developed in Mitch Ryder and the Detroit Wheels. They recruited John Fraga on bass, Marc Marcano on keyboards, and added a key ingredient to their sound with Dennis Robbins on rhythm and slide guitar.
Robbins was born in Hazelwood, North Carolina. Influenced by both rock and roll and bluegrass, he learned to play guitar in his teens. After a stint in the Marines, Robbins moved to Detroit where he found work in several bands before joining The Rockets.
The early lineup of The Rockets did not feature a front man. Badanjek handled the lead vocals from behind his drum kit and the band developed its sound at its home base at the Red Carpet Lounge on Detroit's east side; and they paid their dues by playing gigs at Detroit's Rainbow Room, The People's Ballroom in Ann Arbor, and The Rock 'N Roll Farm in Wayne, Michigan.
(L to R) John Fraga, Jim McCarty, Dave Gilbert, Dennis Robbins, John "Bee" Badanjek

The buzz generated by the band landed them a recording contract with Don Davis' Tortoise label, but both Davis and the Rockets' new manager, Gary Lazar, felt that the band needed a front man to take over the vocals from Badanjek. David Gilbert was then brought on as lead singer after Dennis Robbins found him fronting a bar band in Ann Arbor.
Gilbert seemed to have it all; a great voice, good looks, and the onstage charisma to help take The Rockets to the next level. Unfortunately, Gilbert also brought along some serious baggage in the form of a seemingly uncontrollable taste for alcohol and drugs.
David Gilbert was raised by deaf-mute parents in Union Lake, a small, blue-collar town north of Detroit. He sang in a number of local bands including the Shades of Light, the Free (a.k.a. the Midwest Tree Company), and Shakey Jake before getting his first break in 1971 when Ted Nugent asked him to be the lead singer of a later rendition of the Amboy Dukes.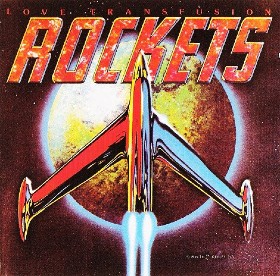 "Love Transfusion" album
Gilbert left Nugent after a year and relocated to Los Angeles where he joined ex-Stooge Ron Asheton's band, New Order, and got deeply involved in the West Coast cocaine scene. After New Order failed to click, Gilbert quit the band and returned to Michigan in 1975.
With Gilbert on board, The Rockets recorded their debut album, "Love Transfusion" on the Tortoise label. Released in 1977, it got a positive review in Rolling Stone but very little national radio play. Although some in the Rocket's camp thought the album sounded a little too slick and failed to capture the band's gritty essence, the record earned them opening slots tours with Kiss and Aerosmith.
By the time the band recorded its self-titled second album, "The Rockets", Donnie Backus had been added on keyboards. John Fraga was gone and his bass parts were handled by David Hood, one of the members of the Swampers studio band from the Muscle Shoals Sound Studio in Alabama.
Lazar had joined forces with Punch Andrews, and Bob Seger's manager helped get The Rockets signed to RSO Records. Johnny Sandlin, who had worked with the Allman Brothers, was brought in to produce. The sessions were reportedly fueled by arguments and some drug use but the result was the band's best album.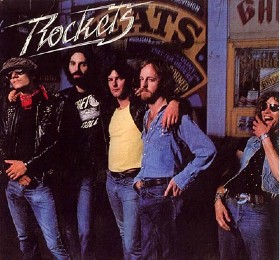 "The Rockets" LP
Bob Seger wrote "Long Time Gone" especially for the album which contained a number of other memorable tunes including "Turn Up The Radio" and "Can't Sleep". When they realized they were short one song from completing the album, Sandlin suggested they cover Fleetwood Mac's "Oh Well". It turned out to be an outstanding choice as it became a radio hit, and it served to introduce The Rockets to the rest of America when it spent eight weeks in Billboard's Hot 100 and peaked at # 30 in the fall of 1979.
The Rockets' third album, "No Ballads", featuring new bassist Dan Keylon, was released in 1980. It was not as strong as "The Rockets" LP but it contained the single "Desire", co-written by Robbins and Badanjek, that charted in the Hot 100 at # 70. That same year, The Rockets made their national television debut when they were introduced by Roy Orbison on an episode of The Midnight Special and kicked out the jams with a smoking performance of "Oh Well". Program host Wolfman Jack brought them out a little later to perform "Desire", their current single, and things looked bright for the band. Watch The Rockets perform "Oh Well" on The Midnight Special: https://www.youtube.com/watch?v=zoLHfVo8B2s
David Gilbert's drug and alcohol use resulted in him missing some shows, however, and road security had to eventually be hired to keep the drug dealers away from Gilbert. His penchant for running up bills for trashing hotel rooms was also getting on everyone's nerves, but the band couldn't afford to lose its lead singer.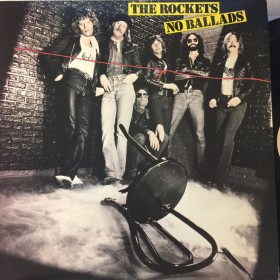 "No Ballads" LP
Tensions within the band increased and there soon developed a division in the form of an alliance of Gilbert and Robbins opposed to band founders McCarty and Badanjek.
At this point, it was felt that The Rockets needed another hit single to take the band to the next level. When it was discovered that Badanjek had been offered "Fire" by Bruce Springsteen and had turned down a song that became a # 2 hit for the Pointer Sisters, there was a major blow-out.
To make matters worse, the RSO label went out of business after "No Ballads" had been released. The band added a new bass player, Bobby Haralson, and then signed with Elektra Records who brought in Jack Douglas to produce the new album. Douglas had produced John Lennon's "Double Fantasy" album, and he was still grieving Lennon's senseless killing when he started work on the Rockets' "Back Talk" album in Los Angeles.
The album took the band in the wrong direction. In an interview with Detroit's Metro Times, Jim McCarty summed up the recording: "Back Talk was our Hollywood record. That was us trying to find a hit record. That record went right down the toilet. Douglas was a mess after the Lennon thing. There was so much Jack Daniels and drugs in the studio. It was crazy. When the record came out, we alienated all the old fans and didn't make any new ones."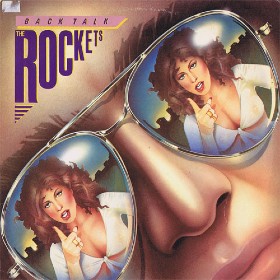 "Back Talk" LP
More chaos ensued on the Back Talk tour when tension between Robbins and Badanjek came to a head and Robbins was fired from the band in the middle of the tour.
The band carried on as a five-piece and recorded its next album, "Rocket Roll", in Ann Arbor. The album's highlight was the Badanjek-penned single "Rollin' By The Record Machine". Elektra gave the band the green light to do a video and MTV put the song in rotation. It would be the last Rockets' song to receive significant airplay.
"By "Rocket Roll" the thing was over," McCarty told the Metro Times. "I wanted Dave out. With him the band was never going to get to the next level. The sad thing is we never had the hit record, the "Talking In Your Sleep". You can only go around so many times. The first album on RSO was the best time for the band. But the show must go on. I knew Dave was going down. But you can't save somebody ..."
Their final release, "Live Rockets", was recorded on December 26 and 29, in 1982, to a sold-out house at the Royal Oak Music Theater. The Rockets performed their last two shows at Pine Knob near Detroit on August 28 and 29 in 1983, and the band members went their separate ways.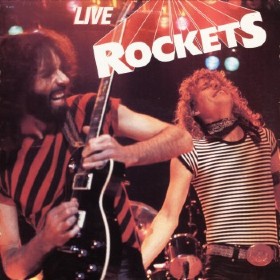 "Live Rockets" album
Singer David Gilbert continued to sing for a number of years before his health declined as a result of his addictions. He died of cancer in 2001. Donnie Backus, John Fraga, and Bobby Haralson have also passed away.
Dennis Robbins went on to a very successful career in country music after moving to Nashville. He co-wrote a number of big hit songs including "The Church On Cumberland Road" for Shenandoah, "(Do You Love Me) Just Say Yes" for Highway 101, and Garth Brook's "Two Of A Kind, Workin' On A Full House". Robbins also recorded two solo albums for Giant Records.
Jim McCarty has continued to be a force in Michigan music playing with a variety of bands including the Detroit Blues Band, Mystery Train, and the Jim McCarty Band. Since about 2014, Jim McCarty has joined forces with Detroit blues guitarist/songwriter Kenny Parker in The Kenny Parker Band along with several other veteran Detroit blues/rock musicians. He also makes guest appearances with other Detroit bands, most notably for an annual pre-New Year's Eve party with The Millionaires, a nine-piece jump blues band.
In 2005, Les Paul recorded "Les Paul and Friends: American Made, World Played" with an all-star band. He covered "69 Freedom Special" an instrumental tune co-written by McCarty and recorded while in the Buddy Miles Express. In February 2006, Les Paul won a Grammy for his cover of the song, thus propelling McCarty into another award-winning arena as songwriter.
In 2006, McCarty participated in a Cactus reunion. It resulted with the release of a new album, "Cactus V". In 2007, Cactus played a Detroit date, a McCarty homecoming, to a sold-out, standing-room-only house.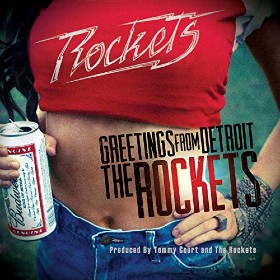 "Greetings From Detroit" EP
McCarty and Carmine Appice reunited Cactus again in 2011. This incarnation lasted five years producing two live albums, "TKO Tokyo: Live in Japan", and "An Evening in Tokyo", and one studio album, "Black Dawn".
Following the breakup of The Rockets, Johnny "Bee" Badanjek, went on tours with Nils Lofgren, The Romantics, and Michael Katon. He also formed a new band called the Broken Toys.
In 2009, Badanjek reunited with Jim McCarty to form the Hell Drivers. After the original Rockets were honored at the Detroit Music Awards with the Distinguished Achievement Award in 2010, the Hell Drivers decided to revitalized the name, 'The Rockets'.
During the summer of 2010 The Rockets played in front of 10,000 fans at the Stars and Stripes Festival in Mt. Clemens and opened for the J. Geils Band at the DTE Energy Theater.
In 2011, it was announced that McCarty was leaving to join the reformed version of Cactus. In 2014, a new lineup of Rockets released a four-song EP on iTunes called "Greetings From Detroit". It was the band's first studio release in 30 years. This version of The Rockets played its last gig in August of 2014.
The Rockets were voted into the Michigan Rock and Roll Legends Internet Hall of Fame in 2019. "Oh Well" ws voted a Legendary Michigan Song in 2020.
MRRL Hall of Fame: https://www.michiganrockandrolllegends.com/mrrl-hall-of-fame
Sources:
Grit, Noise, And Revolution: The Birth Of Detroit Rock 'N' Roll by David A, Carson.
Rocket To The Crypt by Brian Smith, The Detroit Metro Times
It Was All Right: Mitch Ryder's Life In Music by James A. Mitchell
The Detroit Wheels, The Rockets, Jim McCarty, Johnny "Bee Badanjek, and Dennis Robbins entries from Wikipedia.