MRRL Hall of Fame
ROYAL COACHMEN
Details

Category: Inductees
Created: Friday, 01 June 2018 08:50
Written by Gary Johnson
Hailing from the town of Adrian, Michigan, located 30 miles southwest of Ann Arbor and 30 miles northwest of Toledo, Ohio, the Royal Coachmen formed while its members were still in high school. Inspired by the British Invasion and the host of bands that followed in its wake, the Royal Coachmen became a popular attraction at dances and teen clubs throughout Southeast Michigan and Northern Ohio during the 1960s.
Jeff Worman moved to Adrian from Indianapolis, Indiana, at the age of nine. Although his parents did not play instruments, they loved classical music and probably hoped that Jeff would share their interest after he started taking piano lessons from the Dominican nuns at Siena Heights College in Adrian.
In a recent interview with MRRL, Jeff recalled his early life in Adrian as idyllic, riding his bike all over with his friends, learning to play golf with his father at the Lenawee Country Club, and playing a variety of sports once he entered high school. It was during his sophomore year in high school year that he got interested in learning how chords fit together and how chord progressions worked in rock and roll music. He took a year's worth of lessons from Norm Nixon, owner of an Adrian music store, and it turned out to be an important step in becoming a keyboardist in his first rock and roll band.
According to a recent story in the Adrian Daily Telegram, that band formed, in part, because of a classmate's mother. That classmate, Doug Hickman, was born in Adrian at the old Bixby Hospital. His father was the vice president of production at Brazeway, an aluminum extrusion company that was Adrian's most important business enterprise. Hickman's father ran the factories for his brother, Charlie Hickman, who had founded the company in 1946 and had developed several innovative patents on processes that revolutionized the business.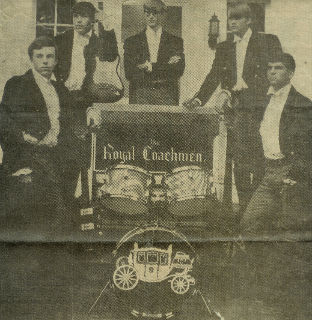 Royal Coachmen: (L to R) John Betz, Bob Cantu, Jeff Worman, Doug Hickman, Rick Coscarelli
Doug had been drumming in the Adrian High School Band, and his mother wanted him to get a combo together to play for a fundraiser she was chairing at the town's First Methodist Church. Hickman recruited Worman on keyboards, Mike Whaley and John 'Rick' Betz on guitars, and Rick Coscarelli, who was one year ahead of the others in school, on bass and tenor sax.
Coscarelli was born in Adrian in 1947. His father was a plant layout engineer for Tecumseh Products and his mother was a beautician. His parents also owned a restaurant called Coscarelli's Dairy Bar in nearby Clinton, Michigan. Rick says his father was a self-trained pianist and that was where his early interest in music came from. Coscarelli got interested in learning an instrument around 1959. He played clarinet in the school orchestra at the Hall of Divine Child Military School in Monroe, Michigan, for three years before returning to Adrian for his 9th grade year.
Hickman and the boys settled on the name 'Exiles' for their debut at the First Methodist Church. Jeff Worman stated that he couldn't remember exactly how the name came about, but that it was popular at the time to come up with a band name that implied being outcasts or rebels, despite the fact that they were light years from being so.
Like so many young bands, the Exiles went through some early lineup changes. Whaley was the first to go after a disagreement with Hickman. He was replaced on lead guitar by Dave Schaefer, who gave lessons at Norm Nixon's music store. Although Schaefer was talented, he played in the style of Chet Atkins and was not exactly what the band was looking for. He was replaced on lead guitar by Bob Cantu.
Cantu was born in Adrian in 1948. His mother was a housewife and his father worked at the Martin Marietta factory in Adrian. Although his parents did not play instruments, Cantu got interested in guitar from his mother's second cousin, Claude Reed, who would play guitar and sing songs like "You Are My Sunshine" and "Old Shep" at family get-togethers.
Reed gave Cantu his first guitar and taught him some open-string 'cowboy chords' similar to what Gene Autry was using. Cantu found the guitar easy to learn, and he progressed quickly enough to play electric guitar on stage with a band in 1964 at a Halloween dance in nearby Tecumseh, Michigan. Shortly thereafter, he was asked to join the Exiles.
Rick Coscarelli recalled that the band's name change came after they played a show at the fairgrounds in Saline, Michigan. Powerhouse radio station CKLW-AM out of Windsor, Ontario, sponsored nights where area bands would play at dances along with a DJ from the station. Attired in their band outfits of light blue jackets, white shirts with navy blue ascots and slacks, the Exiles asked the CKLW DJ how they did and how they could get better. The DJ's advice was, "Don't look like every other band and come up with something unique."
Several band members recalled going to the Adrian Library to look through some books for ideas. Jeff Worman reportedly found a picture of an English coachman from the 19th century with knee-high boots and a jacket with tails; and a new look for the group came together that day. After discovering that there was another band called 'The Coachmen", they added 'Royal' to their name.
Coscarelli recalled that they went to Detroit to buy the boots and ruffled shirts, and Hickman said that they purchased the vintage coats with tails from costume shops. John Betz's mother took over the job of seamstress for the band. She sewed red lapels with gold piping on the jackets and dyed their white Levi's red to match. Mrs. Betz also sewed the stylish buttons on the outfits as a finishing touch.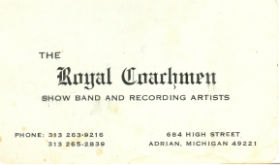 Royal Coachmen business card
Most of the band rehearsals were in the basement of Doug Hickman's home. For a while, they were using his father's Hammond M-3 organ which was similar to the more famous Hammond B-3. Supported by Hickman's family, they purchased Leslie speakers that they hooked up to powerful amplifiers. Doug Hickman, who Jeff Worman described as "the wheeler-dealer in the band", came up with a small light show that changed colors and gave off a pulsating effect when the band was on stage.
A 1966 story in the Adrian Daily Telegram stated that the Royal Coachmen had $7,000 worth of equipment, a sum that put most other local bands at that time to shame. It was hauled from gig to gig in a rented U-Haul trailer. A sign painter, from Garrison Sign in Adrian, was hired to create the Royal Coachmen logo in Olde English print for the trailer. After a year, the band purchased a baby blue Ford Econoline van to transport themselves and their gear.
According to Jeff Worman, the Royal Coachmen were smitten with Paul Revere and The Raiders who were making a big splash in 1965 with their Revolutionary War uniforms on Dick Clark's afternoon pop music show, Where The Action Is. Like almost all bands playing teen dances in the 1960s, the Royal Coachmen covered the hits of the day. Coscarelli remembered playing "Louie, Louie", "Hang On Sloopy", and "Double Shot (Of My Baby's Love)"; while Worman recalled covering several early hits by the Beatles and the Byrds, along with covers of soul music hits including "In The Midnight Hour", "Mustang Sally", and "Knock On Wood".
During an interview with MRRL, Bob Cantu said that the Adrian National Guard Armory was a popular spot for teen dances. The dances also featured bands, and Bob remembered seeing the Newbeats of "Bread And Butter" fame perform there along with guitarist Travis Wammack who had an instrumental hit with "Scratchy". Many Michigan bands, including the Scot Richard Case, Bob Seger and the Last Heard, and later the Royal Coachmen, played the venue. Although the Royal Coachmen played primarily in Southeast Michigan, they were booked around the state and surrounding area, as far south as the Toledo Sports Arena in Ohio and north to the Tanz Haus teen club near Traverse City.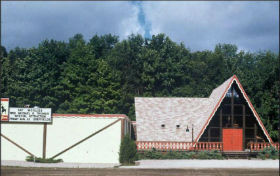 Tanz Haus in Acme, Michigan
Founded by Elmer and Elsie Ogden in the city of Acme, seven miles north of downtown Traverse City, the Tanz Haus not only booked the Royal Coachmen but was also a favorite stop for Bob Seger while he was still a regional attraction. Also appearing at the club were Michigan rock and roll stalwarts like Ted Nugent's Amboy Dukes, Brownsville Station, the Frost, the Excels, and the Woolies.
Doug Hickman felt the band's biggest claim to fame, however, was being signed to be the house band at Green's Pavilion at Devil's Lake in Manitou Beach, Michigan. "It was one of the hot spots in Southern Michigan," Bob Cantu told the Adrian reporter. "At that time, international acts came through there. Jeff Beck and the Yardbirds played there. We opened the shows for Gerry and the Pacemakers and Wayne Fontana and the Mindbenders."
Green's Pavilion has an interesting story. Located on Highway 223 in Lenawee County, midway between Adrian and Jackson, the venue was situated in the Irish Hills on the south shore of Devil's Lake. The original structure, called the Lakeview Dance Pavilion, was built in 1914. It thrived during the big band era but it had fallen on hard times by 1955 when it was purchased by O.E. "Pokey" Green. Sensing the possibilities of providing entertainment for teenagers as rock and roll began to dominate the music scene, Green brought in some of the biggest stars of genre's first decade including Del Shannon, Roy Orbison, Brenda Lee, Frankie Avalon, Joey Dee and the Starliters, Bobby Vinton, and the Four Seasons.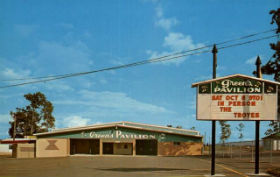 Green's Pavilion - Manitou Beach
On September 2, 1963, the original pavilion was burned down due to faulty wiring in the band shell. Green then built a 16,000-square-foot structure to replace it called the Devil's Lake Pavilion. In what amounted to an incredible streak of bad luck, that pavilion was destroyed on Palm Sunday, April 11, 1965, by an F-4 tornado that caused widespread damage throughout Southern Michigan.
Green rebuilt once again, and he named his new 20,000-square-foot structure Green's Pavilion. The venue opened for business on Labor Day in 1965 to an estimated paid attendance of 10,000 teens. Besides the Royal Coachmen, a host of other Michigan bands played Green's Pavilion including Bob Seger and the Last Heard, the Amboy Dukes, and the Troyes to name just a few. Before Green sold the venue in 1969, it also showcased a host of national hitmakers like the Animals, Freddie & the Dreamers, Paul Revere and the Raiders, the Kingsmen, the Dave Clark Five, and Sam the Sham & the Pharaohs.
In June of 1966, Worman, Betz, Hickman, and Cantu graduated from Adrian High School. Coscarelli had graduated in 1965 and was already attending Eastern Michigan University in Ypsilanti. The Royal Coachmen played at the graduation ceremony and good naturedly performed the Animals' hit, "We Gotta Get Out Of This Place".
No one in the Royal Coachmen seems to know exactly how the band was booked on Swingin' Time, a popular TV music show produced in Windsor, Ontario, and hosted by DJ Robin Seymour. In an interview with MRRL, Doug Hickman stated that he thought the appearance on August 27, 1966, was set up by their booking agent Ron Scott. He also believed that it was Scott who set up the band's first recording session so that they would have a number to lip-synch on the television show.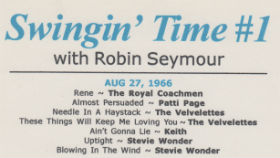 Swingin' Time lineup
The band chose to cover "Rene", an obscure record with vocals released in 1964 by Johnny and the Hurricanes, a band from Toledo that had charted several instrumental hits from 1959 to 1961. No one in the Royal Coachmen could remember the name of the studio where they recorded their version of "Rene" and also a cover of the Who's first American hit, "I Can't Explain". Jeff Worman recalled that that the small studio was located in Jackson, home of the Ron Scott Agency, and that the walls were covered with cardboard egg cartons for acoustic damping.
Worman had vivid memories, however, of the band's Swingin' Time appearance along with fellow guests Stevie Wonder, Patti Paige, Keith, and the Velvelettes. "We shared a dressing room with Stevie Wonder," he recalled. "He had attendants who were helping him get dressed, and while they were doing it, would request Stevie to do his spot-on impressions of famous stars like Ray Charles and Smokey Robinson. We were sitting there with our jaws dropped listening to his impromptu performance." Worman also revealed that for Stevie's second song on the show, he lip-synched his latest hit, a soulful cover of Bob Dylan's "Blowin' In The Wind". The show's producers had the Royal Coachmen stand behind Stevie and pretend to play their instruments as his back-up band during his performance of the song. Watch the Royal Coachmen perform "Rene" on Swingin' Time: https://youtu.be/0wA7RZaOP3A
In the fall, Worman and Hickman enrolled at the University of Michigan and Betz joined Coscarelli at EMU. Bob Cantu wasn't interested in college and just wanted to play music. He left the band when Steve Moore, a friend from Tecumseh, called to say that Troy Shondell, famous for his 1961 hit "This Time", was looking for a guitarist for his band. Cantu packed his guitar and headed to Madison, Wisconsin, for Shondell's next gig and ended up touring in his band for the next year.
Returning to Michigan, Bob formed a band called the Wiz Kids. The group eventually hooked up with a booking agent from Philadelphia who sent the band all around the country for a series of what were called "house gigs" at which the band would perform at the venues for a week or more.
Cantu moved to Austin, Texas, in the 1990s and continued to play in the city's vibrant music scene. Sadly, Cantu suffers from Parkinson's Disease, and although it has affected his stamina and ability to play on stage, he has been able to control it through medication, diet, and exercise.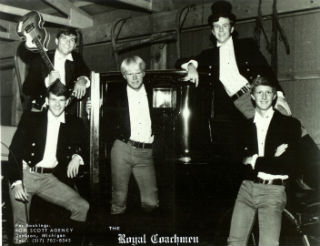 (Top left) R. Coscarelli (Top right) J. Betz (Bottom L to R) D. Hickman, Eric Smith, J. Worman
After Cantu left the band, the Royal Coachmen needed a new lead guitarist. They found one at EMU when Coscarelli happened to be walking by a dorm room and heard Eric Smith playing his guitar. Smith joined the Royal Coachmen when everyone was in college, and they were limited to playing gigs on the weekends that were being booked for them by Ron Scott. Most of these were fraternity parties, and the band discarded their Coachmen outfits at gigs that were basically glorified beer parties where getting blasted took precedence over the music.
It was during this period that the band decided to record some original songs and put out a record. Eric Smith composed a song called "You Can't Get Me Down" and Jeff Worman, who was the band's primary lead singer, wrote "You Don't Know", inspired by the soul music he loved. No one in the band can remember the name of the studio in Detroit where the songs were recorded or anything about the Kool Kat record label that issued the 45 rpm. Listen to "You Don't Know" https://www.youtube.com/watch?v=avnuNJbnoR0
Rick Coscarelli recalled that the single was played on the Adrian radio station and a few others but that was it. Scott booked the band on a television music show hosted by WILX-TV out of Jackson where they lip-synched both sides of their record. It would prove to be the last hurrah for the Royal Coachmen. Listen to "You Can't Get Me Down" https://www.youtube.com/watch?v=jiRz9zDu490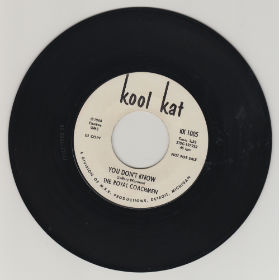 Royal Coachmen 45
It wasn't long after, that Worman and Smith decided that they wanted to play a different style of music and do more original material. Smith had started playing with some different musicians at EMU and introduced Worman to them. It was at this point, late in 1968, that the Royal Coachmen came to an end.
After the break-up, Worman and Smith formed a band called Wise Fool; the name taken from Wise Fool's Pub in Chicago. They played in the band through college and beyond. One of their best gigs was playing the Upper Deck at the famed Roostertail in Detroit. Wise Fool appeared in other clubs and venues around Detroit, and Worman recalled them sharing the stage with other Michigan bands including the Bob Seger System, the Sunday Funnies, and Toby Redd.
Worman eventually went back to school and went into the field of education. He started out as a classroom teacher and coach in Caro, Michigan, before moving into administration for the rest of thirty-five-year career. Now retired, Worman lives in the town of Whitehall, north of Muskegon. Eric Smith also went into education.
Following the demise of the Royal Coachmen, Doug Hickman saw an opportunity and started booking bands to play the frat parties at U of M. His source for bands was Punch Andrews, Bob Seger's manager. Andrews had a stable of young bands that were playing for small money at the teen clubs, and Hickman could get them a bigger payday at the fraternities minus the 10-15% of the gross that he charged as his fee. He also developed another profitable sideline of supplying the frats with kegs of beer that he could get wholesale from a distributor in Adrian. Hickman told MRRL that he was making so much money, he barely had time for college.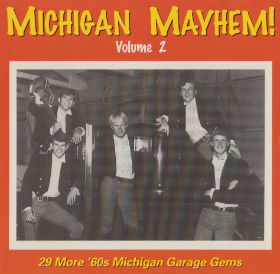 On cover of Michigan compilation CD
Hickman currently lives in Traverse City, and he and his wife operate Nifty Things, a chain of four gift and jewelry stores in Northern Michigan with locations in Traverse City, Sutton's Bay, Elk Rapids, and Alden.
John Betz went on to become a lawyer and had lost contact over the years with the other members of the Royal Coachmen until the band was voted into the MRRL Hall of Fame in 2018.
Rick Coscarelli started working in the computing department at EMU shortly after he started taking classes there. He went on to become the executive director of computing at EMU and later became the assistant director of the school's College of Technology. Coscarelli is retired and pursues his interest in photography.
Shortly after the Royal Coachmen had been voted into the MRRL Hall of Fame, the Adrian Daily Telegram did a story about the band's induction. It appeared on June 10, 2018, almost 52 years after the newspaper's first story about the group. The feature pointed out that the band earned some good money during those glory days, but Jeff Worman explained that it wasn't the most important thing. "We weren't really playing for the money," he said. "We were playing because we loved to play. It was fun to perform. That was what it really was about."
MRRL Hall of Fame: https://www.michiganrockandrolllegends.com/mrrl-hall-of-fame