MRRL Hall of Fame
SONNY BONO
Details

Category: Inductees
Created: Sunday, 06 November 2011 09:46
Written by Gary Johnson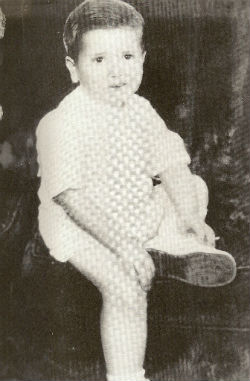 Salvatore "Sonny" Bono
Salvatore "Sonny" Bono was born on January 16, 1935, in Detroit Michigan. He was the third child, and the first son, of Santo and Jean Bono. Both of Sonny's parents were Italian immigrants, and shortly after their traditional Sicilian arranged marriage, they moved to Detroit and began having children.
Sonny grew up in a very strict household, and revealed in his 1991 autobiography, And The Beat Goes On, that his parents often fought in front of the children. Sonny's mother was ushered into marriage by her parents at the age of just fourteen, and the union with Sonny's father was never a happy one.
He began attending grammar school in Detroit, and that is where he got his first taste of applause, by appearing in a school play. Shortly thereafter in 1942, Sonny's parents began talking about moving to California because they felt it offered better opportunities than Michigan. Sonny's father moved west first, and after he established himself as a truck driver, he sent for his family.
Sonny's parents stressed education, and had high hopes for him to attend college and become a lawyer or doctor. Unfortunately, his academic performance was a major disappointment to his family and a constant source of discussion at family dinners. Sonny soon discovered that he could get attention at school by clowning around, telling jokes, and eventually by singing and playing an instrument.
Santo Bono piqued his son's interest in music by playing a banjo and accordion on Sunday afternoons around the house. Sonny got his first opportunity to play for a crowd while in high school in the early 50's. He bought a handmade conga drum from a pawnshop for $5.00, and teamed up with a buddy who could play piano. The duo would set up in a side room at the recreation center across the street from the high school football field where everyone would congregate after the game.
The pair played the popular hits of the day along with some blues and R&B songs that that Sonny learned from the radio. He used to tune into Hunter Hancock's show that featured some pre-rock and roll records by Wynonie Harris, Big Jay McNeely, and Johnny Otis. Eventually Sonny picked up the ukulele and learned how to play three chords. This turned out to be a breakthrough, because with three chords he could now write a song.
Along with a friend, Sonny composed his first song, "Ecstasy", in early 1952. He then auditioned for a spot on Peter Potter's Search For Songs, a local TV show that was fashioned along the lines of the popular Ted Mack's Amateur Hour. Sonny was accepted for the program, and won the competition by performing it in front of a large group of friends and family who had come to cheer him on. While standing onstage, drinking up the rousing ovation, Sonny Bono's course was set. He knew what he wanted to do with the rest of his life.
But following his graduation from high school, Sonny took a detour by meeting Donna Rankin, getting married and taking jobs at Better Foods and then Douglas Aircraft. It wasn't long after that Sonny realized that he had made a mistake. He felt confined by his job and what turned out to be an unhappy marriage.
His first break in the music business occurred when Johnny Otis agreed to record Sonny singing "Ecstasy". The record fa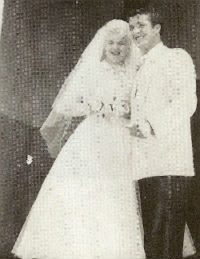 Donna and Sonnyiled miserably, and Bono moved on to a job as a songwriter for Crystal Records, a label owned by popular singer Frankie Laine. From Crystal Sonny moved to Specialty Records, an independent label in Los Angeles run by Art Rupe.
Specialty was one of the most important independent labels during rock and roll's first decade; and Art Rupe had signed an impressive roster of black artists that included Little Richard, Lloyd Price, Roy Milton, Sam Cooke and The Soul Stirrers, Guitar Slim, Percy Mayfield, Don & Dewey, Larry Williams, and John Lee Hooker.
Sonny's first big step at Specialty was writing "High School Dance", the B-side of the Larry Williams hit, "Short Fat Fannie", which reached # 5 on Billboards' Hot 100 and # 1 on the R&B chart. Williams' follow-up was a hit called "Bony Moronie" that reached # 14 on the Hot 100 and # 4 R&B in late 1957. Sonny and Larry Williams co-wrote the B-side, "You Bug Me Baby", which also charted at # 45.
Bono would go one to co-write "She Said Yeah" with Williams for the B-side of the 1959 single, "Bad Boy". Although the single was not a hit, six years later in 1965, "She Said Yeah" was covered by the Rolling Stones and "Bad Boy" was covered by the Beatles. He also wrote "Ko Ko Joe" for a 1958 Don & Dewey single on Specialty. That song was covered by the Righteous Brothers in 1963.
Art Rupe promoted Sonny to an Artist and Repertoire job at Specialty, and it was in that capacity that he produced an unreleased Sam Cooke tune called "I'll Come Running Back To You". It became a # 18 Pop hit after Cooke had left Specialty to sign with Keen Records. This success led to Sonny moonlighting as a producer of records for other labels. During this time, Sonny's wife gave birth to a baby girl, and he moved his young family to Hollywood where they rented a home owned by Art Rupe.
Sonny was making good money and spending little time at home with his wife and family when his luck ran out. Rupe found out about his moonlighting and fired him from his A&R job at Specialty. He also lost the home he was renting from his boss. Sonny and his wife separated shortly thereafter, and this led to his starting up of his own independent record company, Gold Records
By late 1961, Sonny closed down his unsuccessful label and took a promotion job with Record Merchandising, an independent distributor in Los Angeles. Sonny was not experiencing a great deal of success as a promo man, but his luck changed when he met a sixteen-year-old runaway named Cher Sarkisian (a.k.a. LaPiere), who was eleven years his junior. Cher wanted to be a performer, and she saw Sonny as a man with connections in the business that might open some doors for her.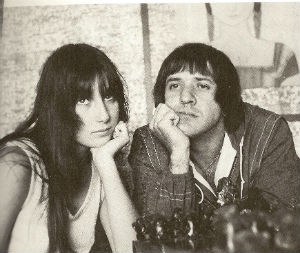 Cher and Sonny
Since she was homeless, Sonny invited Cher to live in his apartment. Their relationship was strictly platonic at this point, but Sonny provided her with a measure of stability and he made his position clear from the onset. He wanted to do good for her. She wanted someone to make her dreams come true, and he was willing to dedicate himself to helping her achieve that. Eventually their shared dreams of stardom led to a romance that was rooted in friendship, trust, sincerity, and to the eventual allure of Sonny & Cher as performers.
Earlier in Hollywood, Sonny had formed a friendship with another struggling musician named Jack Nitzsche. They kept in touch, and in 1962 they composed a song called "Needles And Pins". Jackie DeShannon recorded it and had a # 84 hit with it in 1963. The Searchers would cover "Needles And Pins" ten months later, and take the song to # 13 on the Hot 100.
The success of the DeShannon single led to Sonny getting a job with Phil Spector's Philles Records. Spector was then the hottest producer in rock and roll and had developed a recording technique at Gold Star Studios in Los Angeles that he called the "wall of sound" that resulted in hit after hit. Sonny lobbied Spector to do a record with Cher, but it never happened the way he envisioned. She did sing backup on a number of Spector classics, including the Crystals' "Da Doo Ron Ron", the Ronettes' "Be My Baby", and the Righteous Brothers' "You've Lost That Lovin' Feeling".
Sonny & Cher recorded their first single together in 1963 on Vault Records as Caesar and Cleo, a nod to the Elizabeth Taylor-Richard Burton move Cleopatra that was out at the time. After the Beatles arrived on the scene in early 1964, Phil Spector did produce a record with Cher. Unfortunately, it was a rather forgettable novelty that he wrote called "Ringo, I Love You". It was also Spector's idea to bill Cher as Bobbie Jo Mason on the non-charting record.
By the start of 1965, Sonny had parted company with Spector and written a song for Cher called "Baby Don't Go". Released as another Caesar and Cleo single, it was a minor hit and led to a booking with on package shows with Ike & Tina Turner, the Dave Clark Five, and the Animals. Sonny & Cher were then signed by Ahmet Ertegun to the Atco label, a subsidiary of Atlantic Records. Shortly thereafter, Liberty Records signed Cher as a solo act.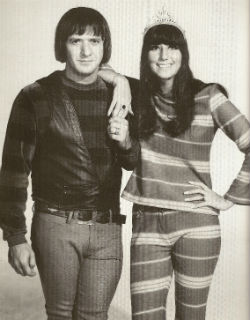 Sonny & Cher
Sonny & Cher hit the jackpot with "I Got You Babe", their second single for Atco. The song was originally slated to the B-side, but Sonny had faith in his composition. He cut an acetate of the song and offered it as an exclusive to KHJ, the hottest radio station in Los Angeles. The response was immediate, causing Atco to change their plans and release "I Got You Babe" as the A-side. The result was a # 1 hit for the duo in the summer of 1965.
Sonny & Cher were booked to perform three sold-out shows in late August at Daniel's Den in Saginaw, Michigan. The pair was interviewed by Deb Harden and Jo Hintze, teen reporters for the Saginaw News. Sonny claimed to be twenty-four years old in the interview so that the age difference between he and Cher was not as pronounced. A few weeks later, they had five records on the charts: Their # 1 hit, a solo recording by Sonny called "Laugh At Me", two rereleased records – "Baby Don't Go" and "Just You" and Cher's solo recording of "All I Really Want To Do".
By early in 1966, they had released two more hits; "What Now My Love" and Cher's solo smash "Bang Bang (My Baby Shot Me Down)". Sonny & Cher had now placed eleven records, both as a duo and as solo artists, in Billboard's Hot 100 in just a nine-month period. Their debut album, "Look At Us", was also a big hit, spending eight weeks at # 2 on the LP chart. All but two of these recordings had been written and produced by Sonny Bono.
Things were changing fast in the 60's music scene, however, and by the end of 1966, Sonny & Cher's recordings were having trouble cracking the Top 40. Their anti-drug stance seemed square at the dawn of the psychedelic movement; and as a result, the duo's last big single was "The Beat Goes On", which peaked at # 6 in early 1967 and was a departure from Sonny's Spector-influenced productions of the past.
In an attempt to capitalize on their earlier popularity, Sonny & Cher embarked on a movie career with the film Good Times. Sonny selected the director, William Friedkin, and wrote much of the script. The film was a bomb when released in 1968, and it also seemed to symbolize Sonny & Cher's recording career which had failed to produce a Top 40 hit since "The Beat Goes On".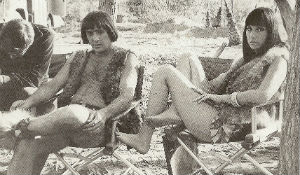 On the set of Good Times
Undeterred by the poor showing of Good Times and anxious to jump start their career, Sonny wrote a script and put all of the couple's money into a dramatic film starring Cher called Chastity. The film tanked but their daughter, named Chastity Sun because she was conceived during the shooting of the like-titled movie, was born in March of 1969.
Desperate for money, Sonny & Cher embarked on a new career path, first playing nightclubs in Las Vegas and then around the country. They gradually developed a comedy routine to go along with the music that included mock bickering with Cher delivering the wisecracks and Sonny acting the straight man and the victim of her insults. Although he played the sad sack, in reality Sonny controlled everything in the show, from the musical arrangements to the joke-writing.
Eventually their hard work paid off and they were offered a television special called The Nitty Gritty Hour that was composed of skits, slapstick comedy, and live music. I was a critical success and led to guest spots on other TV shows as well as a guest-hosting gig on The Merv Griffin Show.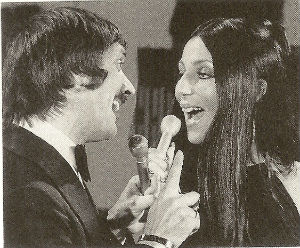 The Sonny & Cher Comedy Hour
CBS then offered the duo their own variety show. The Sonny & Cher Comedy Hour debuted in 1971 as a summer replacement series. The show returned to prime time later that year and became an immediate hit, quickly reaching the Top Ten. The show received 15 Emmy nominations, winning one for direction, during its four seasons on CBS. The success of the TV show also revived Sonny & Cher's recording career with a hit album "All I Ever Need Is You" and its two Top Ten singles: the "All I Ever Need Is You" title track and "A Cowboy's Work Is Never Done".
By the program's third season, the marriage of Sonny and Cher was falling apart, and the duo separated later in the year. Following their divorce, Sonny and Cher each hosted their own television series in the 70's. While Cher went on to a very successful career in both music and films, Sonny moved away from music. He opened a number of restaurants and did some acting before delving into a very successful career in politics where he was eventually elected to the U.S. House of Representatives.
On January 5, 1998, Sonny Bono was killed as a result of injuries from a skiing accident at the Heavenly Ski Resort in Lake Tahoe. Cher gave a tearful eulogy at his funeral in which she described him as "the most unforgettable character I've ever met".
Sonny Bono was voted into the Michigan Rock and Roll Legends online Hall of Fame in 2011.
MRRL Hall of Fame: https://www.michiganrockandrolllegends.com/mrrl-hall-of-fame
Video: Watch a 1965 performance of "I Got You Babe" by Sonny & Cher https://www.youtube.com/watch?v=S2kjU0M92TI
Dr. J. Recommends:
"The Best Of Sonny & Cher" Atlantic & Atco Masters CD. This excellent twenty-one song collection contains the big hits of Sonny & Cher and also three solo recordings by Sonny, including his biggest hit, "Laugh At Me". Sonny Bono wrote and produced almost everything on the CD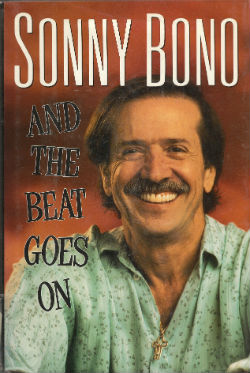 On The Bookshelf:
And The Beat Goes On by Sonny Bono 1991.Pocket Books, a division of Simon & Schuster Inc. New York, NY. A frank and interesting autobiography. I was most interested in the first part of the book which dealt with Sonny's early life and career, and he also seemed to be very honest in his assessment of his relationship with Cher.