MRRL Hall of Fame
SUNDAY FUNNIES
Details

Category: Inductees
Created: Friday, 02 June 2017 08:04
Written by Gary Johnson
Despite having recorded their first single on Detroit's legendary Hideout label and being among the first white rock acts signed to Motown's Rare Earth label, the Sunday Funnies are rarely mentioned in the same breath as the MC5, the Stooges, the Amboy Dukes, the Bob Seger System, the Frost, SRC, or the Rationals when the discussion revolves around important Motor City bands of the late 60s and early 70s. Throw in the fact that Andrew Loog Oldham, manager and producer of the Rolling Stones, produced the Sunday Funnies' two albums, and it begs the question of why so little has been written about this unique Detroit band.
Richard Fidge was born at the Wayne County General Hospital in 1945 and grew up in Dearborn. The city is located in Wayne County, Michigan's most populous county. It was named for the Revolutionary War hero, General "Mad Anthony" Wayne, and is also home to the city of Detroit.
Fidge's mother raised birds and was known as "the bird lady of Dearborn". Fidge claimed that at one time they had over one thousand birds (cockatiels, parrots, and canaries) at their home, and that his mother sold to customers from all over the Midwest. She later went back to school in her forties and became a registered nurse. His father worked at Ford Motors in the company's steel mill, but in the in the 1920's, he served as the head mechanic for the yachts and other watercraft for the Ford family.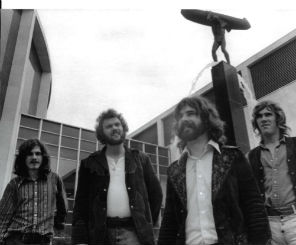 Sunday Funnies: Richard "Koz" Kosinski, Richard Fidge, Ross "Rosco" Helco, Ron Aitken
Although Fidge's two older brothers played piano and steel guitar, he drifted into singing after his mother insisted he go to church. Although he was raised a Catholic, Fidge didn't care for the Latin Mass and drifted to the Baptist church. Inspired by the attractive girls in the choir, he tried out and sang in the church for the next three years.
Despite his experiences in the choir, Fidge loved rock and roll, and his early musical influences included Elvis Presley, Carl Perkins, and Jerry Lee Lewis, but also blues greats including Jimmy Reed and Muddy Waters. He bought 45s back in the day and a few albums whenever he had enough money.
It was Bob Mosher, a school friend who had been to California and learned to play guitar, who passed on to Fidge the universal wisdom: "If you want to get chicks, you've got to put a band together." Fidge didn't play an instrument but he could sing; and he soon found a few other guys at Edsel Ford High School in West Dearborn who could play. Calling themselves the Shakedowns, the young band played basement parties and dances at Edsel Ford before participating in a couple of the battle of the bands competitions at the Michigan State Fair, located on 8 Mile in Detroit.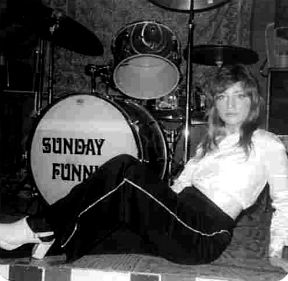 "If you want to get chicks..."
Ron Aitken was born in 1948 in Dearborn Heights, as were future Sunday Funnies' members Ross "Rosco" Helco, and Richard Mitchell. Aitken was born at the Oakwood Hospital in Dearborn and both of his parents worked for the Ford Motor Company. Although his parents did not play music, he first became interested at 8 years-old when he saw Elvis Presley on the Ed Sullivan Show. Aitken told his parents that he wanted to learn how to play guitar and started with lessons that same year. His teacher, Mr. Groat, was the guitarist for the Detroit Symphony Orchestra.
Aitken got involved in a three-piece guitar band where they read music and played songs, while Helco was playing drums with his sister Corinne, who would go on to play bass in a popular all-girl band called the Debutantes. During the summer of his 7th grade year, a friend named Emery Rentschler moved to town. Aitken started jamming with Rentschler and his father, and by running through Johnny Cash songs from his first Sun album, he learned the concept of listening to a record and figuring out how to play it without the sheet music.
Rentschler and Aitken, along with classmate Ross Helco on drums, then got together for a talent show in February of 1962, calling themselves the Regents 3. They played the instrumentals "Apache" and "Walk Don't Run" and loved the response and thrill of playing on stage. They added John Lollio as a singer, but he only lasted for a short time. Besides the instrumentals of the Ventures and similar groups, the Regents 3 also covered the hits of Johnny Cash, Ricky Nelson, Chuck Berry, Buddy Holly and other early rock and roll artists.
In 1964, while in the 11th grade, they moved away from early rock and roll and started playing the songs of the Beatles songs and the other English bands. The lineup was Aitken and Rentschler on guitars, Helco on drums, and another classmate named Jan Wissmuller on bass. They met Bobby Dayton of Bobby Dayton and The Daytonas in Garden City when they played a gig at the Pink Pussycat teen club. After hearing them play, Dayton fired his band and the Regents 3 became the new Daytonas. Dayton (real name Arquette) was trained by his adopted mother to be an entertainer. He took the Regents 3 and turned them into a show band.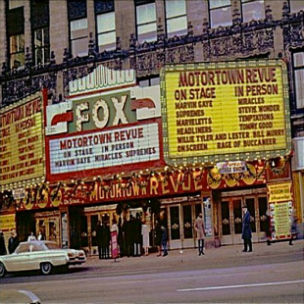 Motortown Revue in Detroit
Ron Aitken and Ross "Rosco" Helco attended Lowrey High School in East Dearborn along with Harry Phillips, who went on the play keyboards in Catfish and with Mitch Ryder in the band Detroit. Aitken's first concert was seeing the Beatles at Olympia in 1964, but the most memorable shows they attended during their high school years were the annual Christmas Motortown Revues at the Fox Theatre. A carload of five or six white guys got to see all the great Motown artists: Marvin Gaye, the Miracles, the Marvelettes, the Temptations, Stevie Wonder, and the Supremes. Aitken said that they were part of a "greaser" crew in high school that was very into Motown.
Ronnie Cooke replaced Jan Wissmuller and joined the Daytonas as the bass player in 1965. (Cooke later joined the Detroit with Mitch Ryder and Johnny Badanjek, while Wissmuller went on to attend the Massachusetts Institute of Technology and graduate with majors in physics and music.) According to Ross Helco, the band had to change their name to the "Daybreaks" at this time to avoid a potential lawsuit from the Nashville band Ronnie & The Daytonas who had charted three songs in 1964 and 1965 on the Mala label, including the # 4 smash "G.T.O."
The newly christened Bobby Dayton and The Daybreaks then auditioned to open for the Dave Clark Five. The bill also included Billy Lee & The Rivieras, who would soon change their name to Mitch Ryder and The Detroit Wheels. In 1966, Bobby Dayton and The Daybreaks played at the very first ALSAC show with the Human Beinz, the Beau Brummels, and the Supremes before disbanding.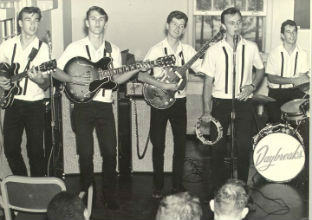 Bobby Dayton and The Daytonas: Emery Rentschler, Ron Aitken, Ron Cooke, Bobby Dayton, Ross Helco
In the meantime, Fidge had moved to his post-Shakedowns band, the Lexingtons, and enrolled at the Cleary Business College in Ypsilanti, basically to keep him out of the draft and the dreaded Vietnam War. The Lexingtons included Al Spinner on lead guitar, bassist Ron Gross, Ed Duchesne on rhythm guitar, and Don L. Scott, who was the son of the music teacher at Edsel Ford, on drums, and Fidge on lead vocals.
At this juncture, Fidge made an important connection with Bud Mosley who was the manager of Bob Seger during in his very early years as a performer. Fidge had met Seger through Larry Mason, a high school friend who was in Seger's band, at a gig at a bar in Dearborn Heights called the Town Crier and Seger had adopted the "Town Criers" as their band name. Seger told him about their manager and Mosley booked the Lexingtons at both the Rathskellar and a bar in Jackson, Michigan, but the band's lineup was already undergoing some changes.
Following his graduation from high school in 1966, Ross "Rosco" Helco replaced Scott on drums in the Lexingtons and got the paying job with Fidge at the bar in Jackson. Helco told Aitken, who was enrolled at Eastern Michigan University, about the gig and Aitken went to see if he could join the band. He discovered that they already had two good guitarists, so he picked up the bass that Fidge owned and started playing with the group that day. Prior to Aitken joining the band, Fidge had been trying to learn to play an instrument. He went out and bought a Mosrite bass but he hated playing it, so he let Aitken use it when he came on board.
Fidge said that the Lexington's music began to change after they started playing at the Huron Bowl. Early Detroit rocker Danny Zella was playing there as well, but by that time Zella had switched from early rock and roll to the more experimental rock popular in England and on the West Coast. Zella helped changed their musical philosophy and adapt to the things that would help them be successful in the bar scene.
The Lexingtons' lineup continued to change, however, and Aitken brought in a keyboard player he knew named Richard "Koz" Kosinski. He had previously worked with the Sandpipers, a band from Dearborn. Aitken had heard the Sandpapers at the Chatterbox teen club in Allen Park and had been impressed with the keyboardist. When Kosinski joined, it was the beginning of what would become the Sunday Funnies.
The Lexingtons - The Huron Bowl 1967: Ron Aitken, Al Spinner, Richard Fidge, Richard Mitchell, Ed Duchene
Helco left the band after he enlisted for a four-year hitch in the Navy. He was replaced by Richard Mitchell, who had also graduated from Lowrey in 1966 and had been drumming in a band called the Daybreaks. Mitchell was a high school sports star and was offered a full-ride football scholarship at the University of Michigan. As a result, all of the Sunday Funnies' later recordings at Motown feature Mitchell on drums.
According to Aitken, Mitchell came up with the Sunday Funnies name because he thought the guys in the band were funny and that Sunday was a reference to some of the semi-religious songs they were doing. It was supposed to have an ironic Christian tinge. In an MRRL interview, Aitken stated that he never liked the name Sunday Funnies. He claims it came about because the band played a lot of gospel tunes as acid rock. The band was not overly religious, but he said that there was a definite spiritual element among the group.
Fidge went to school with Al Nalli who later owned Al Nalli Music in Ann Arbor. He was one of the first to get a franchise to sell Marshall equipment, and he was selling equipment to all of the Ann Arbor bands including the Rationals, SRC, and Brownsville Station, as well as to Ted Nugent from the Amboy Dukes. Nalli wanted to expand into the music business, and Fidge told him that the best way to do it was to manage a band. As a result, Nalli started managing and booking the Sunday Funnies along with Larry Feldman; and the band moved from the Dearborn and Dearborn Heights to Ann Arbor.
The Sunday Funnies started writing and performing original songs after they hooked up with Nalli and Feldman. They realized that the future was in recording, and the songs that the band were now performing were written by Aitken and Kosinski.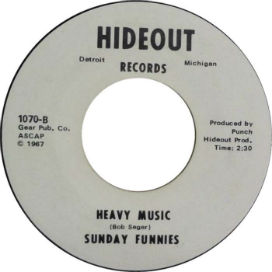 Nalli got to know Punch Andrews, who became Bob Seger's manager, through Seger who bought his musical equipment and instruments from Nalli's store. The Sunday Funnies got involved with Hideout Records through Andrews who was partners with Dave Leone. Andrews had an engineer named Jim Bruzzese who worked on Seger's "Ramblin' Gamblin' Man" LP in the basement of the Pampas Lanes and Lounge on 13 Mile and Van Dyke.
During a recent MRRL interview, Fidge stated that Punch Andrews got him to cover Seger's "Heavy Music" as a Sunday Funnies' single on the Hideout label. The song had been a big local hit for Bob Seger and the Last Heard, but failed to do much nationally because his Cameo-Parkway label went out of business. Andrews replaced Seger's voice with Fidge's on the Sunday Funnies' version and used the same backing track as the original release. Aitken stated that the rest of the Sunday Funnies appeared only as backing vocalists on the track.
Fidge said that he was later told that Andrews used the Sunday Funnies' release as a ploy to get Seger to tour. At that time, Seger wanted to just write songs and not go on the road, but Andrews couldn't make money without Seger touring so he threatened to promote the Sunday Funnies' version of "Heavy Music" instead. Seger was reportedly angered and told Andrews that he would tour if the Sunday Funnies' cover was cancelled.
The flipside, "Path Of Freedom", was an original song and was unusual in that it did not have a lead guitar. Guitarist Dick Jordan had left the band, so Aitken played a Hagstrom eight-string bass on the recording with Kosinski on keyboards, Mitchell on drums, and Fidge on lead vocal. Danny Ray Raines was also in the Sunday Funnies at this time. He was from Allen Park and played rhythm guitar and sang. Raines worked with the band for a year and a half before he went with Feldman and started the Boone's Farm band. Listen to "Path Of Freedom" at https://www.youtube.com/watch?v=GD1Ypugq9yI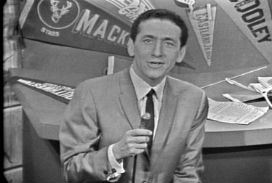 Robin Seymour
After the "Heavy Music" episode with Hideout, Andrews pushed them to the wayside, and the band felt that Nalli and Feldman had taken them as far as they could. They started playing bars again; and the band members began living on their own and making good money. Robin Seymour saw the Sunday Funnies at Moby Dick's in Dearborn. He liked the band and started working as their manager.
Seymour was a legendary DJ at CKLW and a well-known television personality as the host of Teen Town and Swingin' Time in Detroit. He got them a big opening gig at the Ford Auditorium with Blood, Sweat & Tears. Seymour promoted the event which offered both afternoon and evening performances. The Sunday Funnies were already booked that night so they only played the matinee. Another Detroit group called the Sunliners opened the evening performance.
Robin Seymour had arranged for Motown to come and see the Sunday Funnies as a possible signing for the label's new rock music subsidiary. Motown didn't make it for the afternoon show, but came that evening and ended up signing the Sunliners. The band changed their name to Rare Earth, and Barney Ales of Motown decided that Rare Earth should also be the name of Motown's new rock label.
The Sunday Funnies ended up on the Rare Earth label about a year later. Seymour took them to see Barney Ales and helped get them signed to the Motown subsidiary. Although it had limited commercial success beyond the hits produced by the Rare Earth band, the label put out an interesting collection of recordings by the Pretty Things, the Easybeats, Stoney and Meatloaf, Toe Fat, and two albums by the Sunday Funnies.
The band released only one single on the Rare Earth label. "Walk Down The Path To Freedom" was a re-recording of the Hideout song and was backed by another original called "It's Just A Dream". The songs were recorded in Motown's famous Studio B at Hitsville U.S.A. The band members did all their own tracks – none of the Funk Brothers played on any of their recordings. Listen to "It's Just A Dream" at https://www.youtube.com/watch?v=FgvBBof5w-I
Their debut album was the self-titled "Sunday Funnies". Their first producer was R. Dean Taylor who had to leave when his single, "Indiana Wants Me", became a national hit. They were recording a song with Taylor called "What A Day To Get Higher" that Aitken felt could have been a hit but it was never finished. In his MRRL interview, Fidge stated that the band's cover of Carole King's "Child Of Mine" from their first album was discussed as a possible second single, but it was never released. Listen to "Child Of Mine" at https://www.youtube.com/watch?v=929ZpVVXbos
There was some debate in the band over who was going to finish producing their debut album. According to Fidge, his choice was Norman Whitfield, producer of the Temptations, but he said that Aitken and the rest of the band were big fans of the Beatles and the other English bands, so Whitfield was out and the choice was either Tony Clarke or Andrew Loog Oldham.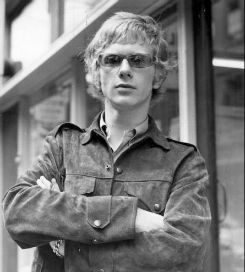 Andrew Log Oldham
Taylor was briefly replaced by Tony Clarke, producer of the Moody Blues. Then Motown brought in Andrew Loog Oldham, the famed manager and producer of the Rolling Stones, to finish the album. Where Tony Clarke was very reserved, Oldham, who was described by Aitken as "taking Percocet and a wild man" in the studio, hit it off with the band. Fidge also felt that Oldham was much more into it than Clarke, who he quickly replaced. Fidge said this of Oldham: "He was a fun guy to work with. He was high all the time and the label used to supply him with cocaine."
They were all fans of the Rolling Stones, and Oldham shared lots of stories about his days with the famous band. Aitken remembered him as "an artsy dude who looked at the band ironically". For the album cover, the band originally wanted to use a mural from the Dutch artist Peter Breugel called The Procession to Calvary. Oldham told them he could secure the rights but got Breugel's Triumph of Death instead. The album art ended up being not exactly what the band had hoped for. Oldham envisioned a cover that looked like a comic strip in the Sunday funny papers but with images of death and mayhem that were the polar opposite of the usual lighthearted fare. It wasn't the direction the band wanted to present, but it made for the most striking cover ever released on the Rare Earth label.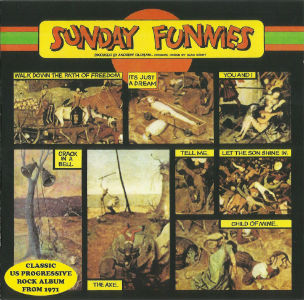 "Sunday Funnies" debut album
In their MRRL interviews, both Fidge and Aitken stated that they didn't hang with any of the other Rare Earth acts. Fidge said that many of the albums recorded by acts such as the Pretty Things, the Easybeats, and Toe Fat were recorded and produced at studios outside of Detroit and Motown then distributed them on its Rare Earth label.
With support from Motown, the Sunday Funnies also did a number of short tours as the opening act for the James Gang, Deep Purple, Three Dog Night, Fleetwood Mac, and Savoy Brown, including a show with the English band at the old Saginaw Auditorium that also featured Brownsville Station.
In looking back on the Sunday Funnies' Rare Earth years, Fidge stated that he wished the band had better management. He felt that Robin Seymour was a very nice guy, but he made the mistake of letting them choose what they wanted to do. Fidge believes they needed a stronger hand, and that the band was killed because they were being booked by several different agencies who would put them out for a number of gigs and then expected the band to sign with them. Hoping to get the best deal, the band didn't want to commit to any one agency and, as a result, lost out on the companies that might have been able to take them to the next level. Fidge believed that signing with a major agency might also have helped them get more support from Motown, who seemed to be all in for the first album but not very much for the second.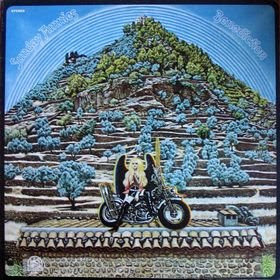 "Benediction" album
The Sunday Funnies' second album, "Benediction", also had an unusual cover. It was designed by Mati Klarwein, famous for his cover art on Santana's second album, "Abraxas", and "Bitches Brew" by Miles Davis. Andrew Oldham also produced the second album, and Aitken stated that he stayed in a hotel on Jefferson across from Cobo Hall while working on it. Listen to "Get Funky" from "Benediction" at https://www.youtube.com/watch?v=RBnFZJov64I
Looking back, Aitken says that although Barney Ales and Ralph Seltzer were basically "good guys", Motown didn't do much to promote and support the band; and their albums never seemed to be in the stores in the cities they played despite giving the label ample notice of their touring schedules. The Sunday Funnies were dropped from the Rare Earth label following the release of their second album.
During the band's Rare Earth years, they started performing regularly on stage at the Ledge Rock, a large bar capable of holding over 600 people. The Sunday Funnies replaced Jamie Coe and the Gigolos who were no longer the draw they once were.
The band eventually became part owners with Leo Speer. After renaming the bar the Funny Farm, the Sunday Funnies agreed to play for 33% of everything that came through the door or over the bar. They more than doubled the take the first week they were in residence, and it never slipped below that figure. The Sunday Funnies played the Funny Farm four nights per week and the other three were covered by the Boone's Farm band with Danny Raines.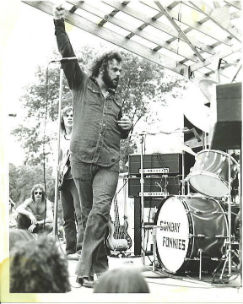 Paul Jamieson, Ron Aitken, Richard Fidge
There was some controversy over the Funny Farm name since the bar was located just down the road from the state mental hospital. Aitken defended the name, however, by stating that since Boone's Farm played three nights a week and the Sunday Funnies played four, 'Funny Farm' was just a combination of the names of the venue's two regular bands.
After the situation with Rare Earth dissolved, Richard Mitchell left the band following a promo gig at the Bitter End in New York City. He had a nervous breakdown before taking the stage, and the other band members weren't sure if he could make it through the show. Mitchell was depressed after the Motown deal fell apart and basically couldn't play anymore. When they got back to Michigan, Mitchell's mother had him admitted for treatment of his mental health issues, and he was replaced by original drummer Ross "Rosco" Helco who had completed his hitch in the Navy. Saxophonist Gary "Daddy G" Churchill also played in the Sunday Funnies for a while toward the end of the band's run.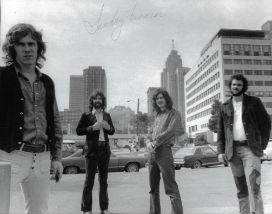 Aitken, Helco, Kosinski, Fidge
Richard Mitchell's story had a sad ending. According to Aitken, he underwent electro-shock therapy and was never the same again. Mitchell had given up a full-ride football scholarship to play in the band and, after that ended, lived as a homeless person for most of the rest of his life. Mitchell died alone in a dive hotel in Detroit, the victim of an apparent suicide.
When Mitchell left, the band was working on new material and hoping to get another record deal. They continued to perform for a couple more years, playing regular gigs at the Funny Farm as well as larger concerts with other notable Michigan bands at Gallup Park in Ann Arbor and Rouge Park in Detroit.
Near the end, former SRC guitarist Gary Quackenbush joined the Sunday Funnies. The new lineup recorded a number of tapes in a small studio they constructed, described by Aitken as a "converted chicken coop", on Ford Road and Middlebelt. Although the tapes were said to be very good, nothing was ever done with them and the band finally ground to a halt in late 1975.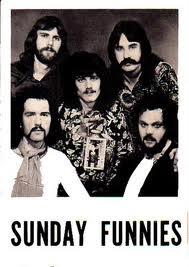 Gary Quackenbush (bottom left)
Following the break up, Kosinski decided to stay in music and went out to Los Angeles with band roadie Paul Jamieson. There, Jamieson became the ultimate roadie, working on tours with Toto, Rare Earth, the Wallflowers, Boz Scaggs and others; and he then moved on to work as Mariah Carey's stage and production manager for 19 years.
Jamieson's impressive studio credits include working with Bruce Springsteen; Steely Dan; Stevie Wonder; Eric Clapton; Michael Jackson; Chicago; the Doobie Brothers; Diana Ross; Earth, Wind & Fire; the Bee Gees; Crosby, Stills & Nash; the Eagles; Pink Floyd; Stevie Ray Vaughn; Neil Young; Bonnie Raitt; Journey; Cheap Trick; Heart and many more.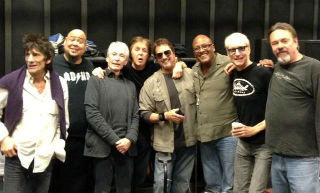 (L to R) Ron Wood, Abe Laborial Jr., Charlie Watts, Paul McCartney, Jim Keltner, Steve Ferrone, Will Lee, Paul Jamieson
Shortly after he arrived in California, Richard "Koz" Kosinski hooked up as the keyboardist with the Native American band Redbone who had just scored their biggest hit, "Come And Get Your Love". He eventually went into commercials and also won a Peabody Award for a ballet he composed. He is still active in the music business and is currently sharing a studio with Tony Valentino, formerly of the Standells of "Dirty Water" fame, and is reportedly doing some recording.
Fidge followed Kosinski and Jamieson to California a short time later. He found a steady gig singing with a band at Universal Studios for over a year. When the gig ended, Fidge took a job as a truck driver while looking for a recording contract. Richard Michaels, former bass player for SRC, had moved out to California and helped Fidge find a place to stay. Michaels had auditioned for an early version of the band Journey, and he took Fidge to the band's audition for a major record label featuring their new singer, Steve Perry. When Journey and Perry didn't get signed at that particular showcase, Fidge said to himself, "If a band that talented couldn't get signed, I might as well go back to Michigan."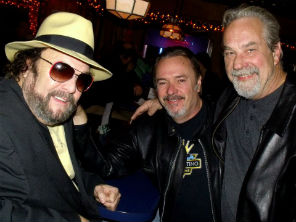 Fidge, Jamieson, and Helco
After his return, Fidge sang in a number of bar bands six nights a week and made enough money to both live on and put a down payment on a house. He started singing with a local horn band called 'In the Pocket' eighteen years ago. The group is now finding a good deal of success performing as a tribute band for the popular group Chicago.
The experience of the Rare Earth years had a lot to do with Aitken's decision to leave the music business on New Year's Eve in 1975. The band members shook hands, and sold the truck and the P.A. Aitken went on to earn a BBA from Eastern Michigan.
After the break up, Aitken worked in insurance for a number of years and then was employed by Northwest Airlines. After moving to Florida, where he currently resides, he became successful in the real estate business but is now retired. Aitken still plays guitar and now he's back performing music again, playing solo gigs in Florida bars.
The Sunday Funnies were voted in the Michigan Rock and Roll Legends Internet Hall of Fame in 2017. Their recording of "Get Funky" was voted a Legendary Michigan Song in 2018.
MRRL Hall of Fame: https://www.michiganrockandrolllegends.com/mrrl-hall-of-fame
Sources: Phone interviews and emails with Ron Aitken and Richard Fidge. Photos from Ross "Rosco" Helco.
ROSCO'S STORY
(Ross "Rosco" Helco was the original drummer for the band that became the Sunday Funnies. He left the group in early 1967 for a four-year hitch in the Navy. He was replaced by Richard Mitchell who drummed with the band through their two albums on the Rare Earth label. When Mitchell left the band after the Sunday Funnies were dropped from their label, Rosco rejoined the band and remained with the group until in disbanded in 1975. He wrote the following account in 2017 as an addition to the above bio on the Sunday Funnies.)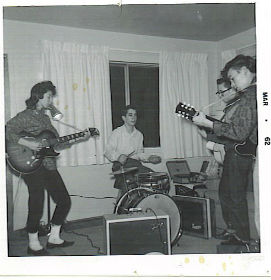 Talent show rehearsal
(L to R) Corinne Helco, Rosco, Ron Aitken, and Emery Rentschler.
"This all started when my dad bought me a snare drum and my sister, Corinne, a guitar for Christmas in 1961. Sometime in early January, my sister approached me and said there was a talent show for us 9th graders sometime in March or April of 1962, and she asked me if i wanted to audition for it. I answered yes, and said that I thought we could work out something for the show."
"I then went home and told my dad that I was going to need a bass drum and a cymbal too. He laughed and went along with it. After getting my new equipment and rehearsing with Corinne, we went to the audition. We had two songs worked out, and the teacher in charge liked us and said that we would be the opening act for the talent show."
"Shortly thereafter, two other guitar players, Ron Aitken and Emery Rentschler, approached me and asked if I could be their drummer for the talent show. I said yes, and our trio was put on as the last act. The two songs we did were Apache by Jorgen Ingmann and Walk Don't Run by the Ventures. After that performance, my life changed forever."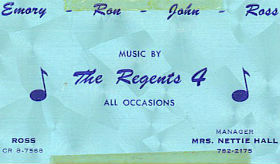 "During our first year in 1962, we played a lot of house parties in our neighborhood, and that summer we named ourselves 'The Regents 3'. In the fall we added John Lollio as our lead singer and changed the name of our band to John Lollio and the Regents 3."
"Lollio only stayed with with for a few months, and after he left, we changed the name back to The Regents. Not too long after, we added a fellow 10th grade classmate named Jan Wissmuller as our bass player. For the rest of the school year we played more house parties, halftime at high school basketabll games, and some of the 10th grade sock hops."
"By the end of 1963, we started playing at the Huron Valley Teen Club in Flat Rock, Michigan, where all the bands around the area would play on Friday nights. Teens could go to the club and the bands started playing from 6:00 PM until midnight. You could see five or six different bands play at any given night. I think Huron Valley Teen Club was one of the very first of its kind. The next year, and a few years after, saw the rise of other clubs including The Chatter Box, The Pumpkin, and the Livonia Teen Club where area teenagers hung out every weekend."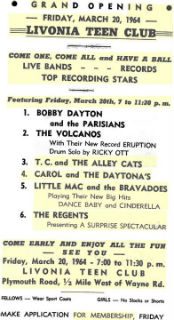 "The Livonia Teen Club was where we first met Bobby Dayton. He sang like a bird - awesome voice and awesome range too! After that show, we talked it over and decided that the next time we meet up with him, we'll ask him to join our band. That chance came just a few weeks later at The Pink Pussycat Teen Club on Middlebelt and Van Born Road. We asked him that night and he replied that his band was in the process of breaking up and his drummer was going into the military service, and that he was ecstatic that we wanted him to join us."
"Dayton was a perfect match for our band, and there wasn't a song we couldn't do. Soon after, we got noticed by a couple important DJs, Robin Seymour from CKLW and Gary Stevens from WKNR. Stevens became our silent manager and we changed our name to Bobby Dayton and the Daytonas. Stevens had connections that provided him with records from England in 1963, including those of the Beatles, the country's hottest band. This was when the Beatles were still basically unknown in the United States, and Bobby Day and The Daytonas were learning and playing their songs a few months before they broke big in America with the release of I Want To Hold Your Hand and their appearances on the Ed Sullivan Show in February of 1964."
"By this time, the "Meet The Beatles" album had been released in the United States and we knew all the songs already. In April, "The Beatles' Second Album" was issued, but Stevens had obtained an advance copy of the LP and we learned all of the songs by the next week - before any of them were played on the radio."
"Getting those songs and playing them live blew everyone away, and we started getting a big name and drawing large crowds wherever we played. Our band was being booked everywhere in Southeast Michigan - teen clubs, high school hops and even a USO show at the Selfridge Air Base."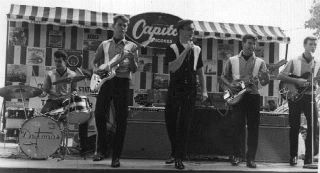 Bobby Dayton and The Daytonas at the State Fair
At the end of summer in 1964, we entered the Battle of the Bands at the Michigan State Fair in Detroit. We took 2nd place, behind Billy Lee and the Rivieras, soon to become famous as Mitch Ryder and The Detroit Wheels."
"After we went back to school for our junior year in the fall of 1964, our friend and classmate Jan Wissmuller decided to leave the band. We started looking for a new bass player, and the first one we ran into was Ron Cooke from Flat Rock. We regularly played the Huron Valley Teen Club, and that's where we found Ron playing in a band. We approached him at the end of the night, and he accepted our offer. We were only without a bass player for just a week, and then we were back to being booked everywhere by Gary Stevens and Robin Seymour."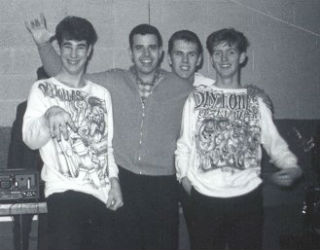 (L to R) Rosco, Gary Stevens, Ron Aitken, and Ron Cooke.
"We were getting booked at sock hops on both the Westside and Eastside of Detroit every Friday night that year. We had an original song that we wrote called Purr Purr Pussycat, and we sang it wherever we were booked until we performed it at an Eastside church. After hearing it, the priest found it offensive threw the band out of the church. We were young and didn't really have dirty minds at the time, and really didn't think there was anything wrong with the song until that happened. As a result of that incident, we dropped the song from our sets and never played it again. (l.o.l.)"
"1964 ended with a bang as Bobby Dayton and The Daytonas opened for the Dave Clark Five on two shows at the Masonic Auditorium in Detroit in December. The school year ended with another big concert on June 13, 1965, when the band was one of opening acts for the Supremes at a large concert held at Cobo Hall."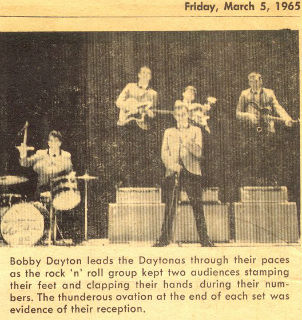 "At the end of the summer, we once again entered the Battle of the Bands at the Michigan State Fair. This time we took 1st place, beating out Billy lee and The Rivieras who finished 2nd. Our bands were the best two Detroit homemade bands in the state for two years running! The funny thing was that after we graduated in 1966, our band would break up, and Ron Cooke would go on to play bass in Mitch Ryder and The Detroit Wheels."
"But before we disbanded and graduated in 1966, we had one more big concert. Gary Stevens booked us to open up at a Beach Boys conceert at the State Fair Coliseum along with quite a few other local bands. Because they overbooked the show, Bobby Dayton and The Daytonas ended up partying with all of the Beach Boys in the band room for at least three hours before they went out to perform. I have a booklet/flyer with all of their signatures and awesome memories of hanging out with them all that day."
"During the summer of 1966, I got a call from an old friend of mine named Ron Gross, who was sitting in with the Lexingtons at the time. He said they were looking for a drummer and wondered if I was interested. I said yes, and after I started playing with the band, I was asked if I knew someone that would like to play bass since the guys they were using, Ron Gross and Ed Duchane, were only temporary. I called my friend Ron Aitken and asked if he would put down his lead guitar and play bass in the Lexingtons."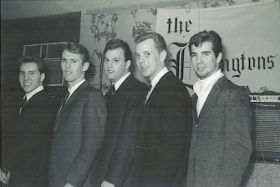 The Lexingtons
(L to R) Al Spinner, Ron Aitken, Richard Fidge, Les Kursack, and Rosco.
"Ron accepted the offer and started playing bass for the first time in his life and, as it turned out, for the rest of his career. The Lexingtons performed with me and Ron in the band from July of 1966 to the last week of February in 1967 when I was off to the US Navy for the next four years. Before I left, I asked Richard Mitchell if he would like to replace me on drums in the Lexingtons and he said he would be delighted. Never did I think I would get out of the service four years later and get my old job back playing drums with almost the same guys I left four years prior - only now they were known as the Sunday Funnies."
"After the Sunday Funnies broke up on New Year's Day 1975, Ron Aitken and I ended up joining two of our high school friends, Matt Ferrante, and Emery Rentschler, to form a wedding band called Slyde. We made a ton of money and were booked solid for the three years we played together."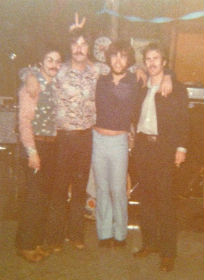 Slyde
(L to R) Matt Ferrante, Rosco, Emery Rentschler, and Ron Aitken.
"Okay here's some links: This is an original song for the third album called Love Her With A Feeling that never got released. It features Gary Quackenbush on guitar, Ron Aitken on bass, me on drums, and Richard "Koz" Kosinski on organ:" https://soundcloud.com/ross-rosco-helco/sunday-funnies-love-her-with-a-feeling-blues
"Another original on reverbnation site with Quackenbush called Night Time Lover:" https://www.reverbnation.com/sundayfunnies/song/11526206-night-time-lover-sf-1974-studio
"Here's our killer version of Highway Star by Deep Purple:" https://reverbnation.com/sundayfunnies/song/8940886-highway-star-sf-1974
"On sound cloud I have both Sunday Funnies albums for anyone that wants to listen to them. 1st album:" https://soundcloud.com/ross-rosco-helco/sets/sunday-funnies-1st-album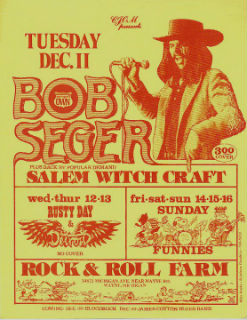 "2nd Sunday Funnies album:" https://souncloud.com/ross-rosco-helco/sets/new-private-playlist
"Note - both albums feature Richard Fidge, Richard "Koz" Kosinski, Ron Aitken, and Richard Mitchell."
"When I first got back in the band in January of 1972, I learned both albums to a tee in just two weeks because we were going back on tour and first opening for Ike & Tina Turner and then on another short tour with Chuck Berry. No one knew the difference with me replacing Mitch, who had replaced me five years prior."