MRRL Hall of Fame
SUZI QUATRO
Details

Category: Inductees
Created: Friday, 07 October 2011 08:56
Written by Gary Johnson
Although she's best known in the United States for her role as Leather Tuscadero on the hit television series Happy Days, Suzi Quatro was a major recording star in England. She was also one of the first female artists to front a band and rock as hard as the boys. Quatro was a major influence on Joan Jett and her first band, The Runaways; and she also helped pave the way for future rock groups led by strong women such as Heart, The Pretenders, and Siouxsie and the Banshees.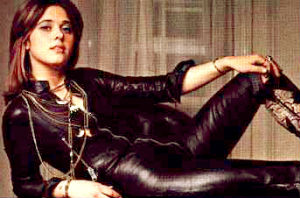 Suzi Quatro
Susan Kay Quatro was born the fourth of five children to Art and Helen Quatro on June 3, 1950, in Detroit, Michigan. Art supported his family by working as an engineer at Fisher Body (General Motors Division). The Quatros lived in homes, first on Torry Road then on Allard, in the affluent suburb of Grosse Pointe, bordering Detroit in Wayne County.
Suzi's father was a musician, playing keyboards at night in the Art Quatro Trio and a regular gig as the house organist for Detroit Pistons and Detroit Red Wings home games. His love of music was extended to his children, all of whom received music lessons. Suzi's very first public performance was playing the bongos with her father's jazz trio at the age of eight.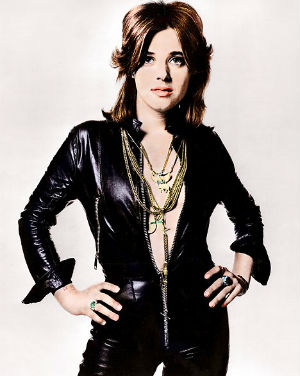 Suzi Q
In her autobiography, Suzi Quatro Unzipped, she said that her musical ambitions were born in 1956 when she saw Elvis Presley perform "Don't Be Cruel" on the Ed Sullivan Show. She described it as her first sexual thrill, even though she didn't really know what it was at the time.
Even though she grew up in a loving family, being the fourth of five kids meant that attention was divided five ways and not always equally. Because of her insecurities, she sometimes felt like the little orphan of the family, the one who didn't quite fit it. Part of this rested with how she looked at herself at that early age. She was the shortest of the Quatro siblings and thought of herself as chubby.
Suzi remembered that her mother used to take her shopping for school clothes and would tell the saleslady; "Now she's small, but she needs a big size in the shoulders because she's broad." Her father also inadvertently contributed to her self-image problem by lovingly calling her his "fat little sausage."
Her school years held few happy memories for Suzi. She recalled in a Rolling Stone magazine feature in 1975; "I wasn't like the other kids; the other girls. I was different; so all those years they kept me out of their little group. And I wanted to be in there so bad. I wanted to belong to something ….to somebody."
That opportunity arose in 1964, shortly after seeing The Beatles perform on the Ed Sullivan Show. Like most kids in America, Suzi and her older sister Patti were blown away by the Fab Four. After hanging out at Dave Leone's newly opened Hideout teen club in Harper Woods with members of The Fugitives, the venue's house band, Patti Quatro decided to form an all-girl band with her on guitar and friends Nancy Ball and Diane Baker on drums and keyboards respectively.
By June, the trio expanded to add Suzi on bass and Nancy Ball's little sister, Mary Lou, on rhythm guitar. Suzi's first bass, a gorgeous 1952 Precision with original strings intact, was a present from Art Quatro. Years later, the bass was stolen in Hawaii and Suzi graduated to a larger Les Paul model.
Patti took the stage name "Patti Pleasure" while Suzi adopted the moniker of "Suzi Soul". Mrs. Ball came up with the band name "The Hedonists", but when the girls looked the word up in the dictionary and found it meant "pleasure seekers", they chose that name instead.
After the group had rehearsed in Nancy and Marylou Ball's basement for three months, The Pleasure Seekers received a surprise recording offer from John Rhys of Golden World Records in Detroit. The girls went into the studio and recorded a cover of The Crystals' "He's A Rebel" along with an original song sung by Suzi called "Long White Line". The latter song was co-written by session guitarist Dennis Coffey, who was in the studio with them that day. The songs were never released, however, and the masters have been lost over the years.
Patti had begun working at the Hideout checking coats and Suzi sold Cokes at the club's snack bar. They told Dave Leone about their band and bragged that they were better than many of the bands he had been booking into his club. On a Friday night in the fall of 1964, Leone gave The Pleasure Seekers a three-song audition at the Hideout.
By 1965 they were appearing regularly at the club, and at the end of the year Leone took the girls into a home studio in Detroit and produced the first Pleasure Seekers single. Both songs were written by Dave Leone and released early in 1966 on his Hideout Records label. "Never Thought You'd Leave Me" was the A-side and was sung by Nancy Ball. The flipside was "What A Way To Die" with Suzi on lead vocal. Over the years, "What A Way to Die", with its lyrics about teen drinking, has achieved cult status as arguably the best 60's garage rock recording ever done by an all-girl band.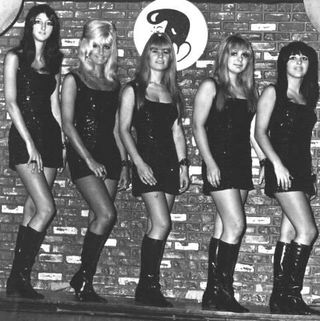 Pleasure Seekers: Patti Quatro, Arlene Quatro, Nancy Ball, Mary Lou Ball, Suzi Quatro
The single charted locally and helped make The Pleasure Seekers a popular attraction at The Hideout. There was also the "jiggle factor". As Dave Leone explained in an interview years later; "They were all really good-looking but they had this blonde Nancy Ball. I mean, you gotta remember this is 1966 and she drummed in a sweater with no bra and the place was goin' crazy."
Besides playing in the band, Suzi and her sister Patti also had a regular gig as "go-go girl" dancers on Dave Prince's Club 1270 on Channel 7 WXYZ TV in Southfield, Michigan. The line-up of The Pleasure Seekers had been going through a number of changes, and by the spring of 1966, older sister Arlene Quatro joined to play keyboards, and her husband Leo Fenn started managing the band.
Under Fenn's management the band started getting higher profile gigs such as the Michigan State Fair Coliseum with a Dick Clark Show, the Roostertail Supper Club and The Red Carpet Lounge in Detroit, and the trendy Trude Heller's club in New York City. While in New York, Joe Glaser signed The Pleasure Seekers were to the ABC booking company. Suzi quit school at this point so that she would be able to play dates on the East Coast.
The Pleasure Seekers were honored to be part of a USO package show entertaining troops in Vietnam in the late 60's. While there, the girls played an acoustic set in a hospital for soldiers wounded in the field. The band went over very well on the tour, and the soldiers presented them with plaque to thank them for coming overseas.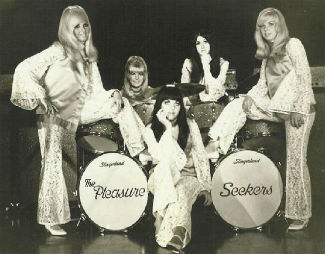 (L to R) Alene Quatro, Nancy Ball, Suzi Quatro, Patti Quatro, Mary Lou Ball
They became one of the earliest all-girl bands to join a major label when they signed with Mercury Records early in 1968. Their stay at Mercury was short-lived; however, and they only recorded one single, "Light Of Love", featuring Suzi on lead vocal, backed with "Good Kind Of Hurt".
After the single failed to chart, and the band broke their recording contract with Mercury just seven months after signing. They felt that the label executives wanted to turn them into a "Las Vegas act", whereas the band wanted to be taken seriously as musicians; writing original songs, and moving into hard rock.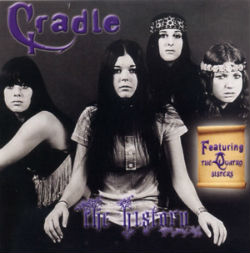 Cradle: Suzi Quatro, Nancy Quatro, Patti Quatro, Nancy Rogers
By the summer of 1969, younger sister Nancy Quatro joined the band. After spending most of the year playing colleges and rock festivals, Arlene Quatro left the group in December.
Sisters Suzi, Patti, and Nancy Quatro, along with drummer Nancy Rogers decided to change the band name to Cradle. Although the band attracted some interest from record labels, they remained unsigned. The original line-up of Cradle disbanded in 1971.
Producer Mickie Most, famous for his work with Donovan, The Animals, Lulu, Herman's Hermits, and the Jeff Beck Group first saw Suzi perform with Cradle at the Eastown theatre in Detroit in 1970. Most was only interested in Suzi, and in 1971, he signed her as a solo artist to his newly formed RAK Records label in England.
Suzi's first eighteen months in England were difficult. She spent her time writing songs and living in a bathroom-less room in the Atlantic Hotel on the Cromwell Road: a part of London so rife with forlorn Australians that it was known as Kangaroo Valley. She recorded some songs with Most, and they released her first single, "Rolling Stone", in 1972. It didn't chart in England, but it was # 1 in Portugal.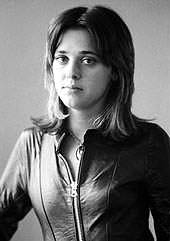 Suzi in England
To help Suzi get a breakout hit for her all-important second single, Most hired the songwriting team of Mike Chapman and Nicky Chinn. They came up with a catchy rocker called "Can The Can" that was perfect for her debut on the popular British TV show Top Of The Pops.
Most placed an ad in Melody maker for an all-male band to back Suzi. She immediately hit it off with Len Tuckey, her new guitarist. Tuckey had been a member of one of the later line-ups of the Nashville Teens. Mickie Most had produced the group's big hit single, "Tobacco Road" in 1964. Tuckey and Suzi quickly formed both a songwriting and romantic partnership.
Mickie Most's idea was to present Suzi as the opposite of the typical girl singer; she would wear black leather, play the bass on stage, and rock as hard as any of the guys. Suzi's televised performance in a leather outfit backed by three males who looked like hooligans caused a sensation. Her appearance helped to propel "Can The Can" to # 1 on the British charts in 1973. Another Chapman-Chinn composition called "48 Crash" was issued over the summer as her follow-up single, and it hit # 3.
Suzi became an instant star in the glam rock scene along with David Bowie, Marc Bolan, Slade, The Sweet, and Gary Glitter. In the gender bending style of the genre, the men wore mascara and feminine-styled clothing. Suzi took the opposite approach; wearing little make-up and dressing in a more masculine fashion in her leathers and Levis.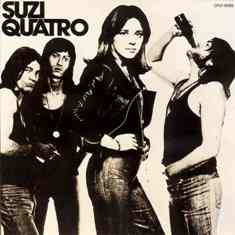 "Suzi Quatro" LP
Her debut album, "Suzi Quatro", was issued in the U.S. in 1974. It featured her early British hit singles, five Quatro-Tuckey originals, and several covers including Elvis Presley's "All Shook Up", which became her first charting hit in America when it was released as a single and reached # 85. Elvis reportedly praised her version of the song and invited her to visit Graceland.
Although her album was not a big hit in America, England and Australia were another story entirely. Suzi racked up four more hit singles by the end of 1974; "Daytona Demon", "Too Big", "The Wild One", and a second # 1 hit, "Devil Gate Drive.
Suzi made a triumphant return to Detroit to promote her U.S. releases, and her parents got to see her perform as a solo artist for the first time. Quatro appeared on the cover of the January 2, 1975, issue of Rolling Stone magazine. She recalled in the article that her parents didn't completely understand her new direction. Art Quatro felt that the music was too loud for her voice. Suzi's mother, on the other hand, thought the show was very nice, but asked her if she had to stand with her legs so far apart. Suzi explained, "She doesn't realize that it's the music that's turning you on. You're not doing it to be rude."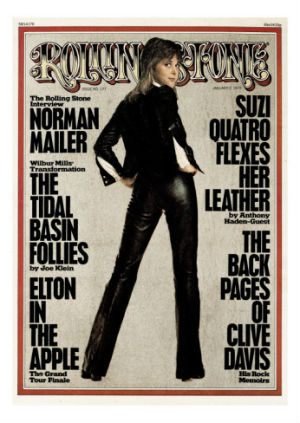 Rolling Stone cover
The significance of being a young lady gripping a large bass between her legs was not lost on Suzi. She explained in the article, "Yeah, it's phallic. The drums move the arse, the guitar is for the head, but the bass gets you right between the legs." She also told the magazine that if she wasn't a musician she would have ended up in jail. "I think I would have ended up some sort of criminal because I need the excitement."
Quatro's sexy stage image garnered her groupies of a different type than the male rockers of the day. In Rolling Stone she recalled going on tour with Slade and being envious of all the knickers being hurled on the stage. Although heterosexual, Suzi had a large lesbian fan base.
After she appeared on TV and the hits started coming, Suzi related how adoring girls dressed in leather came to her dressing room and hung out, talking dirty, and how she encouraged them like a raunchy governess. Suzi explained. "I think they see me as a representative of a changing world. When I started doing what I'm doing, a girl couldn't play bass. But now it's not so strange."
Her black leathers also attracted groups of bikers, including Hells Angels in both Australia and England, who followed her on tour. Suzi claimed in Rolling Stone to have a lot of respect for the motorcycle people who were her fans. "I don't mind the Hell's Angels at all. I mean for Christ's sake they're just people. They're just riding their bikes and being a little bit bad because they enjoy it. At least they're straight up. They wear and look like exactly what they are."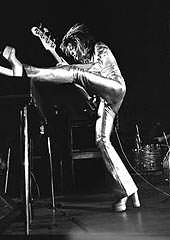 Kickin' it on stage
Suzi's fortunes started declining in England in 1975 as glam rock faded in popularity. "Your Mama Won't Like Me" was her only Top 40 British hit during that year and her records were still not selling in the U.S. despite getting some excellent exposure as an opening act on tours with Alice Cooper.
Strangely enough, Quatro ended up becoming more famous in America for her role as Leather Tuscadero on the hit TV series Happy Days than for her music. Producer Garry Marshall offered her the part in 1977 after seeing her poster on his daughter's bedroom wall. On the show, Leather was the younger sister of Fonzie's girlfriend, Pinky Tuscadero. Leather also fronted a band on the program that was joined by one of the show's regular characters, Joanie Cunningham.
Although she had another minor British hit in 1977 with "Tear Me Apart", Suzi's recording fortunes did not improve significantly until 1978 when "If You Can't Give Me Love" became a major hit in both England and Australia. Later that year, she finally enjoyed her first big hit in America when "Stumblin' In", her duet with Chris Norman, reached # 4 on the Billboard Hot 100.
Quatro's hit single and her television success helped her 1979 album "If You Knew Suzi…" reach # 37 on the Billboard Pop Albums chart. She also saw success with three singles on the Hot 100 in 1979 as a reissued "If You Can't Give Me Love" charted along with "I've Never Been In Love" and "She's In Love With You". Her final charting single in the U.S. was "Lipstick", produced by Mike Chapman.
In 1980, Quatro released the "Suzi…And Other Four Letter Words" album, which she calls her all-time favorite. It reached # 11 on the British LP charts. In 1980, her minor British hit "Rock Hard" was featured on the soundtrack of the film, Times Square. That same year, "Suzi Quatro's Greatest Hits" reached # 4 in Great Britain. This was to be her last big hit as a recording artist, however. Suzi's final charting single in England was "Heart Of Stone", a minor hit in 1982.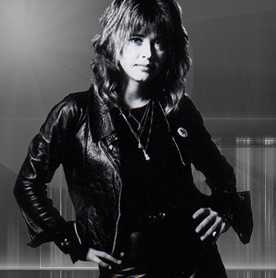 Suzi 1980's
The decades of the 80's and 90's saw Suzi branch out as a popular actress in a variety of British television programs and theater productions. She appeared on stage as Annie Oakley in Annie Get Your Gun, and wrote and performed in a musical about Tallulah Bankhead, titled Tallulah who?.
Quatro also hosted two popular rock and roll radio shows on BBC Radio 2: Rockin' With Suzi Q and Wake Up Little Suzi. In 2007, she published her autobiography, Suzi Quatro Unzipped. Suzi continues to tour, doing over sixty shows per year. She is estimated to have sold 50 million records during her career.
In 2011, the Quatro sisters issued 2 retrospective CDs in an attempt to finally document the history of the two bands they were involved in in the 60's and early 70's. "The Pleasure Seekers: What A Way To Die" covers the singles on Hideout and Mercury along with unreleased cuts from 1964 to 1969. "Cradle: The History" is a live collection of unreleased original material recorded at the Grande Ballroom in Detroit.
Suzi Quatro was voted into Michigan Rock and Roll Legends Hall of Fame in 2011.
MRRL Hall of Fame: https://www.michiganrockandrolllegends.com/mrrl-hall-of-fame
Video: Watch Suzi Quatro perform her first big British hit single, "Can The Can" https://www.youtube.com/watch?v=xYoogY-UGio
Dr. J. Recommends:
"Suzi Quatro Greatest Hits" EMI CD. This excellent import collection of 20 songs has all her hits, including the duet with Chris Norman.
"Suzi Quatro" Bell Records LP. Suzi's debut album is my personal favorite. It contains the early Chapman-Chinn singles, some interesting covers, and five original compositions by Suzi and her guitarist and first husband, Len Tuckey.
On The Bookshelf:
Suzi Quatro…Unzipped, Hodder Publishing. 2007. Suzi's autobiography covers her life on and off stage. You can read excerpts at https://www.dailymail.co.uk/femail/article-474614/Suzi-Quatro-unzipped.html