MRRL Hall of Fame
TED NUGENT
Details

Category: Inductees
Created: Friday, 30 September 2011 07:08
Written by Gary Johnson
Ted Nugent's solo career began after the last version of the Amboy Dukes had ground to a halt in 1975. Frustrated and burned-out from assuming responsibility for every aspect of the Amboy Dukes, Nugent decided close down the band and to take a year off from Rock and Roll. Following a three-month hunting vacation in Colorado, however, Ted felt rejuvenated and ready to embark on a new course for his career. The first step came when he signed a solo recording contract with Epic Records in 1975
With the release later that year of his solo debut, "Ted Nugent" , things started to change. Nugent got new management and began working with producer Tom Werman. His exhaustive touring schedule of playing 200 -300 shows per year earned him the respect and admiration of a generation of working class kids who loved this bare-chested, loincloth-wearing, guitar slinger whose songs extolled the virtues of hunting both game and "poontang". Ted's new songs, "Just What The Doctor Ordered" and "Motor City Madhouse", started to get some airplay. Nugent's passion for conservation and hunting, along with his highly quotable opinions and somewhat cartoonish stage image, were good print for the national press and the emerging rock magazines; and they helped make "Ted Nugent" a Top 40 album hit.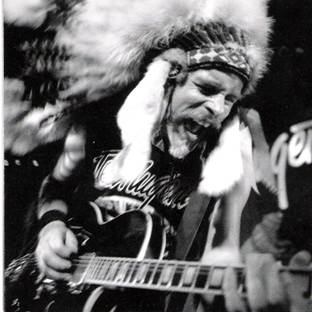 Ted Nugent
Ted released "Free-For-All" in 1976 and enjoyed his first charting singles as a solo artist with "Hey Baby" and "Dog Eat Dog". The album featured vocals from Meat Loaf and also made Billboard's Top 40 album charts.
But it was the release of Nugent's signature tune "Cat Scratch Fever", from the album of the same name in 1977 that turned him into a major arena rock act. Ted got the title from an antique medical journal that his wife was reading that mentioned "Cat Scratch Fever", and he mated it with one of his most infectious guitar riffs.
The song became Nugent's only Top 40 single, peaking at # 30, and remains popular to this day. "Cat Scratch Fever" is currently being used to fire up the fans at the home football games of the University of Cincinnati Bearcats.
Nugent also released Double Live Gonzo" in 1977; it was a double album that showcased Ted at his most untamed and outrageous. The album reached # 13 on the charts and included Nugent classics like "Wang Dang Sweet Poontang", "Yank Me Crank Me", and an updated take on his classic Amboy Dukes' showstopper, "Baby Please Don't Go".
Ted followed "Double Live Gonzo" with another million-seller, "Weekend Warriors" in 1978. Stern Electronics honored Nugent at this time by issuing a Ted Nugent pinball game. Ted's next album, "State Of Shock" was also a big hit and was highlighted by the popular album cut, "Paralyzed". Nugent's popularity during the late Seventies had made him the top grossing rock and roll tour act of 1977, 1978, and 1979.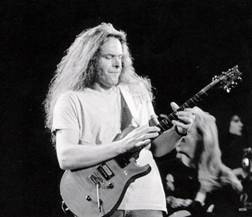 Nugent on stage
In 1980 Ted released "Scream Dream" it and reached # 13 on the album charts. "Wango Tango" was released as a single from the album and it would be Nugent's final solo entry into Billboard's Hot 100. Epic then released Ted's greatest hits album "Great Gonzos" in 1981.
During the early Eighties, Nugent also served as a Michigan county deputy sheriff and spoke at a host of gatherings for gun owners, hunters, conservationists, and law enforcement officials. Ted is the author of Blood Trails: The Truth About Bowhunting and the publisher of Ted Nugent World Bowhunters Magazine. He is a lifetime member of the NRA and has been active in several anti-drug organizations including D.A.R.E.
Ted signed with Atlantic records in 1982, but his self-produced album, "Nugent" was a sales disappointment. "Penetrator" and "Little Miss Dangerous" also failed to crack billboard's Top 40 album charts. Ted was a fan of the hit TV series Miami Vice, and he liked the way the producers used rock and roll as part of the sound track. Nugent thought some of his songs would be perfect for the show and sent a tape containing "Angry Young Man" and "Little Miss Dangerous". Both songs were used in an episode entitled Little Miss Dangerous.The director thought Ted might be perfect for one of the lead roles, so he read for the part and then made his acting debut on the program.
In 1989, Nugent formed a heavy metal super group with Tommy Shaw from Styx and Jack Blades of Night Ranger along with drummer Michael Cartellone. Calling the band Damn Yankees, they signed with Warner Bros. Records and released their self-titled debut in 1990. "Damn Yankees" was a major album hit and the group also charted three singles by meshing Nugent's guitar crunch with the more melodic pop metal of Styx and Night Ranger. The band's biggest hit single was the power-ballad "High Enough" that reached # 3 on the charts.
The band's second album, "Don't Tread", was also a Top 40 album hit and it produced another big single with "Where You Goin' Now". The band's last charting single was "Silence Is Broken" from the movie Nowhere To Run starring Jean-Claude van Damme in 1993.
In 1994 Ted put another backing band together and made his first solo album in six years called "Spirit Of the Wild".The album contained Nugent's great rock and roll song about hunting, "Fred Bear (The American Hunter's Theme Song)".
In recent years, Ted has been a popular speaker on conservative issues and has done a lot of television work including a number of hunting related programs. Ted Nugent was inducted into the Michigan Rock and Roll Legends Hall of Fame in 2006. In 2012, "Cat Scratch Fever" was voted a Legendary Michigan Song.
MRRL Hall of Fame: https://www.michiganrockandrolllegends.com/mrrl-hall-of-fame
Dr. J. Recommends: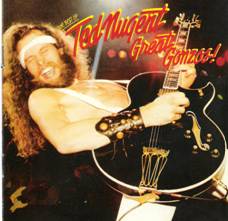 "Great Gonzos! The Best Of Ted Nugent. Epic Legacy. This newly remastered version of Ted's 1981 collection contains three additional tracks, "Yank Me Crank Me", "Homebound", and a new track called me "Give Me Just A Little". This is a good sampling of Nugent's solo work on Epic.
"Ted Nugent & The Amboy Dukes: The Ultimate Collection". Dunhill Compact Classics. Despite the somewhat misleading title, this is an excellent collection of 18 tracks from The Amboy Dukes' first three albums, along with the non-album single, "You Talk Sunshine, I Breathe Fire".