MRRL Hall of Fame
TOM BERT
Details

Category: Inductees
Created: Friday, 30 September 2011 08:43
Written by Gary Johnson
In the age of CDs and music downloads it's easy to forget the power, appeal, and overall importance of Rock and Roll photography as a vehicle to sell records, especially albums. Tom Bert, the first Honorary Inductee in Michigan Rock and Roll Legends, shot quite a few album covers in his all-too-short career but he is best remembered around these parts for the work he did with Bob Seger.
Tom was born in Bay City, Michigan in 1944, the first son of Mr. and Mrs. Erwin Bert, a working-class family living in the section of town known to locals as the 'South End'. Tom expressed an interest in art at an early age, drawing cartoons and painting in watercolor. He also loved making homemade decorations for Christmas and other holidays. Tom excelled in his art classes at every level in the parochial schools he attended in Bay City although he did not receive any formal training there.
Like most teens growing up in the 50's, Tom was fascinated by the new sounds of Rock and Roll. His younger brother Terry remembers Tom bringing home new 45's of Elvis Presley, Ricky Nelson, Jerry Lee Lewis, and other favorites to play in the Bert household. Tom had a record player with an automatic changer and shut-off. But if he didn't set the changer arm above the 45, it would play over and over again. Tom would commonly listen to one of his new records 25 or 30 times in a row driving everyone in the house to distraction. At this time in his life it would have been unlikely for Tom to even dream that he would eventually meet and photograph many of his early Rock and Roll idols.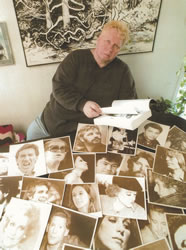 Tom Bert
Following his graduation from St. Stanislaus High School in 1962, Bert enrolled in a Fine Arts program at Delta College. It was there that he received his first formal art lessons, and he worked in the library and helped assemble a fine arts file for the college.
His first public attention came from works that were displayed at Bay City's Studio 23. In 1963, Tom was awarded a scholarship to the Society of Arts and Crafts in Detroit, and there he concentrated on painting. It was at Detroit A&C that one of his instructors advised him to take photographs of his work, and Tom bought an inexpensive camera to do so.
At the school, Tom had befriended Mary Fisher, the daughter of Max Fisher of Fisher Body fame. Mary asked Bert to photograph some Fisher family events. When Tom explained that he didn't have the high quality equipment needed, the Fisher family bought him an ultra-expensive Japanese camera as payment for doing the shoots. As a result of his connection with the Fishers, Bert soon became the "in" society photographer, and his work was regularly featured in Detroit's newspapers.
This led to an offer to do some automobile photography and this would soon become his primary occupation. Up until his untimely death in 2002, Tom was one of the auto industry's busiest and most highly regarded commercial photographers. Bert's list of clients over the years included Chevrolet, Toyota, Lincoln-Mercury, Nissan, Chrysler, Mitsubishi, Pontiac, Mazda, GMC, Honda, Buick, and Ford. Tom's success was the result of the effort he put into his shots. He was a perfectionist, and since he had little standard photography training, he had developed his own style. One of Tom's favorite techniques was to shoot the cars at sunset when there were no shadows.
Bert got into Rock and Roll photography almost by accident. A friend got him a backstage pass to a Neil Diamond show in 1972. Tom had taken some shots at previous concerts for his own enjoyment, but after shooting a number of photos at the show in Detroit, he decided to mail some to Diamond's representative.
Neil was impressed with Tom's work and used one of his photos for the cover of his 1972 live album, "Hot August Night". It would be the first of over a dozen covers that Bert would shoot for Neil Diamond, and the two became close friends over the years.
Tom had already established himself as a photographer in the Rock and Roll field when he was hired to do the cover for Bob Seger's "Beautiful Loser" album in 1975. By this time, Tom had brought his younger brother Terry into the photography business as an assistant on his shoots. Bert had Bob Seger seated in formal wear complete with a top hat and cane for the cover shot. Not satisfied, Tom had his brother Terry light up a cigarette and puff smoke behind Seger to give the shot a little more atmosphere and, as a result, a classic cover was born.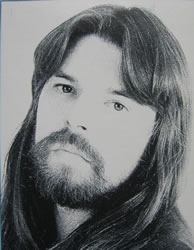 Grammy winning Bob Seger photo
Bert also did the cover of Seger's first Top Ten album, "Night Moves" in 1976. It was the album that established Bob Seger as a major recording star. Tom's work also graced Seger's first # 1 album, "Against The Wind" in 1981. Tom earned a Grammy for Best Recording Package for his photographs of Bob and the rest of the Silver Bullet Band on the record's inner sleeve. Bert's final cover with Seger was for 1983's acclaimed album "The Distance".
Tom has also done several album covers for Gordon Lightfoot, as well as covers for Ringo Starr, George Benson, Jerry Lee Lewis, Tanya Tucker, Andy Williams, David Allan Coe, Peter Yarrow, War, Iron Butterfly, and even Telly Savalas.
Bert filmed hundreds of celebrities. The secret of his success was that he was very low-key and never pushy. Tom always treated everyone with respect, but what attracted some of the best known stars of film, television and music was his unique style of portrait photography. This led to publicity shots for Burt Lancaster, Bette Davis, Jeff Goldblum, Drew Barrymore, and many others.
Duane Eddy's 1987 album "Duane Eddy" featured a cover photo taken by Tom. Duane was quoted in the magazine article Shooting For Stars by Jack Mathews as saying "Tom's talents are just awesome. He does fantastic portraits, but everything he does is fantastic. I have never met a better photographer". Bert and Eddy became friends and Duane even traveled with Tom to Bay City in 1987 to help him celebrate his 25th class reunion with his former St. Stanislaus classmates.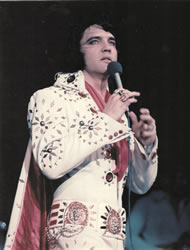 One of Tom Bert's photos of Elvis Presley
One of the highlights of Tom's career in photography was meeting and taking photos of Elvis Presley. One of Bert's shots of Elvis became a T V Guide magazine cover in 1977. Tom also had the unique experience of a 30-minute one on one conversation with Elvis at Graceland.
Tom was an avid music collector right up to the end of his life. He had a catalogued vinyl record and CD collection that numbered in the tens of thousands. Bert lamented the demise of the record album cover with the emergence of the CD. He was quoted in the Bay City Times in 1997 as stating, "It deprives a whole generation of the art". Tom was also a poet. He had been writing for almost 35 years and had plans to publish a book of his poetry before his death.
Bert loved Michigan and returned here often to visit his mother and his friends. He enjoyed giving back to the community where he grew up. In that regard, Tom used local people in some of his work. When he shot magazine ads for the GM Venture van in Bay City, he used a group of non-models from the area for his photographs, including yours truly.
Tom was taking pictures right up until his unexpected death from a pulmonary embolism in 2002 at his home in California. Tom loved what he did, and he considered his writing, painting, and photography as being on a permanent vacation rather than working. He was truly a Renaissance man.
Tom Bert was selected as the first Honorary Inductee into Michigan Rock and Roll Legends in 2008.
MRRL Hall of Fame: https://www.michiganrockandrolllegends.com/mrrl-hall-of-fame