MRRL Hall of Fame
WILSON PICKETT
Details

Category: Inductees
Created: Thursday, 29 September 2011 20:48
Written by Gary Johnson
Wilson Pickett moved with his family from his hometown in Prattville, Alabama to Detroit in 1955. Wilson acquired his first vocal training during his childhood as part of a Baptist church choir. As a teenager in the Motor City, Wilson formed a gospel-harmony group called the Violinaires that was popular in local churches.
In 1960, Pickett was recruited by bass singer Willie Schofield to join his R&B singing group, the Falcons after he heard Wilson playing guitar and singing on his porch. The Falcons, which also included Eddie Floyd and Bonny "Mack" Rice, had scored a major hit the previous year with "You're So Fine" featuring Joe Stubbs (brother of the Four Tops' Levi Stubbs) on lead vocal. In 1962, Wilson provided the Falcons with their second and last charting single when he wrote and sang lead on "I Found A Love".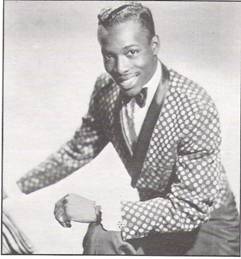 Wilson Pickett
The Falcons' producer, Robert Bateman, suggested that Pickett should go solo and in 1963 he left the group. Pickett's initial release on Correc-tone Records, "My Heart Belongs To You/ Let Me Be Your Boy", did not chart and he moved on to Double-L Records.
His new label, owned by singing star Lloyd Price, was where Wilson wrote and recorded his first solo hit, "If You Need Me", in 1963. Unfortunately, "If You Need Me" was quickly covered by Atlantic Records' R&B star Solomon Burke and it was his version that became the bigger chart hit.
Pickett recorded the self-penned "It's Too Late" as his follow-up. When that song outdid "If You Need Me" on both the R&B and Hot 100 charts, Pickett became attractive to Atlantic Records. Wilson charted one more single for Double-L, "I'm Down To My Last Heartbreak", before signing with Atlantic in 1964.
After his first two Atlantic singles, "I'm Gonna Cry" and "Come Home Baby", failed to chart, producer Jerry Wexler brought Pickett to Memphis to record with the multi-racial soul band, Booker T. & the MG's.
Wilson and guitarist Steve Cropper wrote and recorded one of the great soul music songs, "In The Midnight Hour", at that first session. Cropper had listened to some of Wilson's early recordings before the session began and he noticed that Pickett had sung the phrase, "in the midnight hour", at the end of several of them. When the two sat down to write some songs, Cropper suggested that Wilson use the phrase. Within an hour the pair had written the soul music classic that would make Wilson Pickett a star.
"In The Midnight Hour" had a delayed backbeat that made it perfect for a popular new dance called "the jerk" that was currently sweeping the country. "In The Midnight Hour" was not only a # 1 hit on the R&B charts in 1965, but it was also Wilson Pickett's first Top 40 hit. Also a popular number with garage bands, a Motor City group called the Wanted had a # 1 hit on WKNR in 1967 with their rocking cover of "In the Midnight Hour" on Detroit Sound Records.
Pickett and Cropper also wrote "Don't Fight It", the follow-up that reached # 4 on the R&B charts at the end of 1965. Eddie Floyd, Pickett's old friend from Detroit, then wrote the dance floor hit "634-5789 (Soulsville U.S.A.)" with Cropper and it became Wilson's biggest hit single yet in early 1966. Seven months later, Eddie Floyd would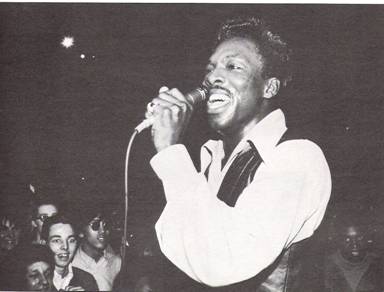 "Wicked" Pickett on stagerecord his first big hit, "Knock On Wood" for the Stax label and would chart nine more songs in the Hot 100 through 1970.
Steve Cropper's and Wilson Pickett's last collaboration was on the churning "Ninety-Nine And A Half (Won't Do)". The song was a chart disappointment, however, and Wilson would switch recording studios and musicians for his next release.
Meanwhile, Wilson's old Detroit singing partner Bonny "Mack" Rice was also pursuing a solo singing career. In 1965, recording under the name Sir Mack Rice, he had an R&B hit with his composition "Mustang Sally". The Mustang was a popular new sports car manufactured by the Ford Motor Company, whose headquarters were located in the Detroit area. Rice scored a # 15 R&B hit with "Mustang Sally" on the Blue Rock label.
In May of 1966 Wilson began recording with producer Jerry Wexler at the Fame Studios in Muscle Shoals, Alabama. His first single was a speeded-up version of "Land Of 1,000 Dances", a song originally written and recorded by Chris Kenner. The song became his third # 1 hit on the R&B charts and the highest charting pop hit of his career.
When Wilson Pickett was looking for a follow-up to "Land Of 1,000 Dances", he chose to cover Rice's "Mustang Sally". Pickett again recorded the song at the Fame Studios. "Mustang Sally" had the same funky backbeat as "In The Midnight Hour", and it was a major hit at the end of 1966.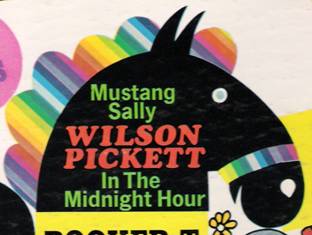 Pickett's Legendary Michigan Songs
It was interesting that the musicians who played behind many of the black soul singers who recorded in Muscle Shoals were mostly white. These artists from different races worked together to produce some of the greatest soul music of the time and enjoyed a special relationship that differed from the racial tension that gripped the United States throughout the 1960's.
Pickett himself stated that he was not political and that there weren't any messages in his music. He claimed that his songs were for "all the people" and that "soul is from within, no matter what color you are".
Wilson Pickett covered Solomon Burke's "Everybody Needs Somebody To Love" for his first hit single of 1967. He then cut a new version of his old Falcons' hit "I Found A Love Pt. 1" and the two-sided hit, "Soul Dance Number Three/You Can't Stand Alone".
Pickett's fourth # 1 R&B single came with the release of "Funky Broadway" in the summer of 1967. The song also crossed over to become a # 8 hit on the pop charts.
Pickett returned to Memphis in 1967 and began working with producer Tom Dowd. The partnership produced the two-sided hit, "Stag-O-Lee/I'm In Love". After "Jealous Love" was a chart disappointment, Wilson came back with the big hits "She's Looking Good" and "I'm A Midnight Mover" in 1968.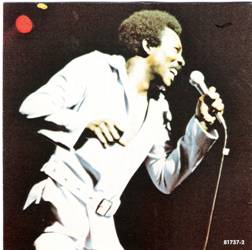 Wilson then went back to Muscle Shoals to record "A Man And A Half" and an interesting cover of the Beatles' "Hey Jude" that featured a guitar solo by Duane Allman.
After the tragic assassination of Dr. Martin Luther King in 1968, however, that special kinship between black and white artists that existed at Muscle Shoals seemed to change and the great era of soul recordings there came to an end.
Nevertheless, Pickett continued to chart singles through 1973. Besides writing many of his own hits, Pickett could be counted on for interesting covers of such songs as the Supremes' "You Keep Me Hanging On", the Archies' "Sugar Sugar", and Free's "Fire And Water".
Wilson Pickett's first significant chart hits of the Seventies were cut at the Sigma Sound Studios in Philadelphia with the production team of Kenny Gamble and Leon Huff. Wilson had a 1970 hit with the Gamble-Huff composition, "Engine Number Nine". He followed it in early 1971 with "Don't Let The Green Grass Fool You". Pickett then once again returned to Muscle Shoals to record what would be his last # 1 R&B hit, "Don't Knock My Love Pt. 1".
In 1972, Wilson left Atlantic Records to sign with RCA. His records such as "Mr. Magic Man" and "Take A Closer Look At The Woman You're With" were still doing pretty well on the R&B charts, but he was no longer a factor on the pop charts.
In 1975, he began recording for his own Wicked label, coined from the nickname "Wicked Pickett" that was given to him for his uninhibited and boastful singing style. "The Best Part Of A Man" was a minor R&B hit single from that time.
In 1978, he charted two more minor R&B hits on the Big Tree label and another two on EMI America in 1980. Wilson Pickett's last appearance on the R&B charts was "Don't Turn Away", recorded for Motown in 1987.
Wilson continued to tour over the years and to be an inspiration for soul music singers all over the world. He was inducted into the Rock and Roll Hall of Fame in 1991, the same year he was the invisible figure and role model in the award-winning soul music film, The Commitments.
Pickett also went through some rough times during the decade. In 1991, Wilson was arrested for allegedly yelling death threats while driving his car over the mayor's property in Englewood, New Jersey. The following year Pickett was charged with assaulting his girlfriend.
Things got worse in 1993 when he was convicted of drunk driving and sentenced to a year in jail and five years probation after hitting an elderly man with his car. In 1997, Wilson was given two years probation and fined $1,000 for carrying a loaded shotgun in his car.
Pickett did appear in the 1998 film Blues Brothers 2000 in which he performed his old hit "634-5789" with Eddie Floyd and Jonny Lang.
In 1999, after having struggled through his alcohol and drug-related problems, Pickett recorded his first album in twelve years, "It's Harder Now". He also appeared in the acclaimed 2002 documentary on the surviving members of the Memphis soul music scene, Only The Strong Survive.
Wilson Pickett was voted into Michigan Rock and Roll Legends Hall of Fame in 2005.
MRRL Hall of Fame: https://www.michiganrockandrolllegends.com/mrrl-hall-of-fame
Pickett died of a heart attack on January 19, 2006. Fellow Detroiter Aretha Franklin stated after learning of his death that "Wilson Pickett was one of the greatest soul singers of all time. He will absolutely be missed".
In the spring of 2007, Wilson Pickett's recording of "Mustang Sally" was voted one of the Top Ten Legendary Michigan Songs. "In The Midnight Hour" was voted a Legendary Michigan Song in 2010.
Video: Check out Wilson Pickett's great performance of "Land Of 1,000 Dances" on Late Night with David Letterman in the 1980's https://www.youtube.com/watch?v=0U8CDzRk2WE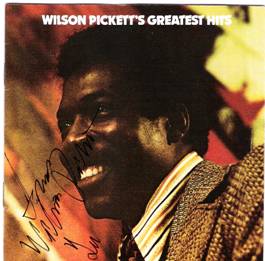 Dr. J. Recommends:
"Wilson Pickett's Greatest Hits" Atlantic CD. This excellent 24 song collection includes all the key Atlantic singles plus two Double L solo singles and "I Found A Love" with The Falcons.
"Man And A Half: The Best Of Wilson Pickett", Wea Atlantic/Rhino 2 CD. This is a great collection that has 44 soul music classics from "Wicked" Pickett.