MRRL Hall of Fame
NOLAN STRONG AND THE DIABLOS
Details

Category: Inductees
Created: Friday, 17 May 2019 16:20
Written by Gary Johnson
Recording for Detroit's independent Fortune label, Nolan Strong and The Diablos only charted one song on the Billboard R&B chart, despite being one of the Motor City's most popular and influential vocal groups. The unique sound of the Diablos, centering primarily on the high tenor voice of Nolan Strong, produced over two dozen singles for the family-owned record company; but Fortune's lack of distribution hurt the group's chances of achieving national chart success.
According to Grit, Noise, and Revolution, David A. Carson's book about the birth of Detroit rock and roll, Nolan Strong founded the group in 1950 at Detroit Central High. He named the five-man group the Diablos, after a book he was reading in school called El Nino Diablo. The other group members included tenor Juan Guiterriez, baritone Willie Hunter, bass Quentin Eubanks, and guitarist Bob "Chico" Edwards.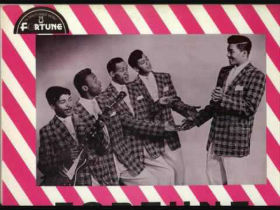 Nolan Strong (right) and The Diablos
In the fall of 1953, the group came into Fortune Records, located at that time on Linwood Avenue, to record a demo. Owners Jack and Devora Brown were impressed with Strong's high tenor and signed the Diablos to a recording contract. In the spring of 1954, the group recorded "Adios My Desert Love", a song written by Devora Brown, and it became a big Detroit R&B hit. A romantic, up-tempo number, driven by Latin rhythms under Strong's lilting lead vocal and a spoken part by bass singer Eubanks, the song was recorded under the musical direction of pianist George Annis in Fortune's small studio, located in the Brown's record shop.
In August, the Diablos returned to Fortune and recorded their self-penned masterpiece, "The Wind". Maurice King, bandleader at The Flame Show Bar and later of Motown, directed the musicians at the session. Nolan Strong's silky falsetto evoked memories of a lost love that were brought back like a dream by the wind. The haunting, mesmerizing arrangement featured Strong not only on the melody but also on a talking bridge spoken over the background of the group, who continued to half-sing, half-chant "Blow wind." Listen to "The Wind" https://www.youtube.com/watch?v=UikYboldB6U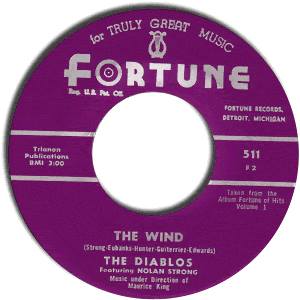 Released in September of 1954 as The Diablos featuring Nolan Strong, "The Wind" became not only a huge R&B hit in Detroit, but also in a number of other important markets such as Chicago, Cleveland, Pittsburgh, and New York. Sadly, Fortune's spotty distribution prevented the classic recording from reaching the national R&B charts.
Following the release of "The Wind", both Guiterriez and Eubanks left the group. They were replaced by Nolan's brother, Jimmy Strong, on tenor and George Scott on bass. The first Diablos' recording with this new lineup was "Route 16". In the spring of 1955, the Diablos scored another regional hit with Nolan's jumpin' and slightly risque composition, "Daddy Rockin' Strong."
Buoyed by their successful recordings, the Diablos were popular performers at Detroit nightspots such as the Warfield Theater, the Gold Coast Theater, and the Madison Ballroom on Woodward. "No one could touch them, and the girls would just go crazy for Nolan," said Gary Banovetz, a member of a white fan club that called itself the Diablo Dukes. According to Banovetz, Jack Brown had been "happy to find out that there were potential white record buyers for his R&B recordings."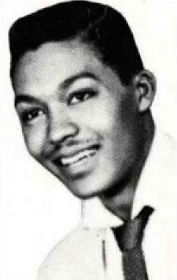 Nolan Strong
Nolan Strong, who had been born in Scottsboro, Alabama, on January 22, 1934, and moved with his family to Detroit when he was very young, also wrote the group's next release, "The Way You Dog Me Around". Released in the fall of 1955, the searing bluesy ballad managed to climb to # 12 on Billboard's R&B chart despite Fortune's inadequate distribution network. It would prove to be the group's lone hit on the national charts. Listen to "The Way You Dog Me Around" https://www.youtube.com/watch?v=itKkxHmqN60
The group went on the road to support their hit, playing one-nighters in Ohio and Pennsylvania along with a spot on a tour of the northeastern theater circuit which included an appearance at New York's famed Apollo Theater.
Nolan Strong and The Diablos' follow-up, "You're The Only Girl, Delores", came out in early 1956. It wasn't a big hit, but the group shared a bill with Ray Charles on a big package show in Chicago. On Labor Day weekend they were back in Detroit and appeared in a holiday show across the river in Windsor, Canada, with jazz great Stan Kenton and his orchestra.
By late 1956, there was another change in the Diablos' lineup. George Scott decided to leave the group and join Hank Ballard & The Midnighters. He was replaced as the bass singer by Jay Johnson, who was introduced to Nolan Strong by fellow Fortune artist Andre Williams. Although not quite 17 at the time, Johnson was already a veteran performer, having sung bass on "Bacon Fat", "Mean Jean", and "Just Because Of A Kiss" with Andre Williams and His New Group.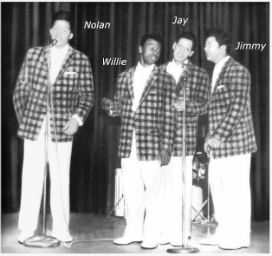 Nolan Strong, Willie Hunter, Jay Johnson, Jimmy Strong
Shortly after the release of the Diablos' new single, "A Teardrop From Heaven", and just when things seemed to be rolling for the group, Nolan Strong was drafted. At around the same time, Fortune Records moved its location to a small, long, and narrow building on Third Avenue in Detroit. As before, there was a record store in front, then a series of small offices and a storage room. The small cinder block recording studio and its tiny control room were located at the back of the building.
While Nolan Strong was in the service, Fortune released "The Mambo Of Love" in 1957 that was put together from previous recording sessions with Nolan. They also released two new songs, "Harriet" and "Come Home, Little Girl", in 1958 as simply 'The Diablos' with Willie Hunter singing lead, but the single lacked Nolan Strong's magic and didn't sell.
Nolan Strong returned from his stint in the Army later in 1958. Early in 1959, he and the Diablos released their first single of new material in two years with "Goodbye Matilda" backed with a cover of "I Am With You", an old Dominoes' song that featured Clyde McPhatter – one of Nolan's vocal influences. The early doo wop sound of the Diablos was fading in popularity at this point, however, and the new single didn't do much business outside of Detroit.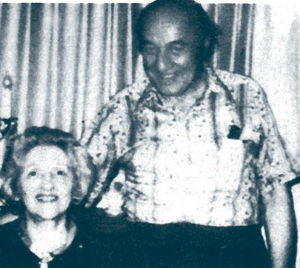 Devora and Jack Brown of Fortune Records
There were other changes as well. Strong, whom Devora Brown dubbed the "King of Fortune Records", had returned from his two-year hitch in the service with a taste for liquor and pills. In an interview with Dan Nooger in Goldmine magazine, Brown claimed that Strong started using while in the Army and his use had a negative effect on his career. "We didn't have an easy time with him," Brown told Goldmine. "He was sweet and nice, but he had his problems. Sometimes he wouldn't want to record when we wanted him to, or he'd not come around at all. Or he'd come in but he wouldn't be in the best shape to sing," Brown recalled. "You either had to go along with him or get rid of him."
Releases by Nolan Strong and The Diablos become somewhat spotty from this point on. "If I Could Be With You" backed by "I Wanna Know" was the only other single issued by the group in 1959. The following year, the single "Since You've Gone" backed with "What Are You Gonna Do" was the only release of new material by the group. To fill the gap, Fortune re-released "The Wind" later in the year. Besides not having a new record by the Diablos, Fortune also hoped to take advantage of a successful cover of "The Wind" by the Jesters, a doo wop group based in New York City. The Jesters' version reached # 110 on the Billboard chart in 1960.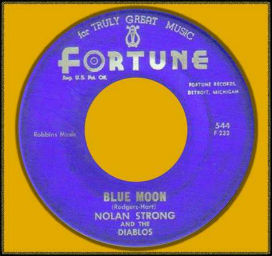 It wasn't until 1962 that Fortune released the next new single by Nolan Strong and The Diablos. The group's excellent cha cha arrangement of "Blue Moon" was probably hurt by the fact that the Marcels' million-selling version had hit # 1 on the Billboard Hot 100 in the summer of 1961. Listen to "Blue Moon" https://www.youtube.com/watch?v=H6qmgYlhXaQ
In 1962, Devora Brown wrote a song especially for Nolan called "Mind Over Matter (I'm Going To Make You Mine)". Although it was recorded with the other Diablos, only Nolan Strong's name appeared on the label. In his book David A. Carson describes it as "an irresistible mid-tempo dance record full of sudden stops, starts, and vocal acrobatics, as Nolan sang about putting a hex on a girl to win her love. The tough, raw guitar licks that seemed to dual with Nolan's vocal throughout the song were laid down by a white rock musician named Chuck Chittenden because Diablos' guitarist Bob Edwards had left to play jazz in New York."
According to her Goldmine interview cited in Carson's book, Devora Brown was so confident about the release that she bought Nolan six hundred dollars' worth of clothes for a big appearance with WXYZ radio station deejay Lee Alan at his popular Walled Lake Casino record hop. Strong failed to show up for the heavily promoted appearance. Brown was upset but couldn't stay angry with the singer: "He always apologized," Brown recalled. "He'd look at me with those big eyes and say, "I won't do it again." It wasn't that he was so irresponsible, it was because of his drinking."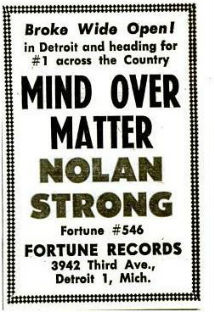 As "Mind Over Matter", backed with a cover of the Swallows' ballad "Beside You", was racing up the charts in Detroit, Berry Gordy Jr. decided to have his young Motown vocal group, the Temptations, cover "Mind Over Matter" under a new name, the Pirates. The cover paled in comparison to the Fortune original, however, and the Pirates' version sank without a trace. It also ended any thoughts Motown might have had about permanently changing the Temptations' name.
Fortune Records had enjoyed their first national charting hit earlier in 1962 when the label leased "Village of Love" by Nathaniel Mayer to United Artists Records for wider distribution. Thinking about the money they had been forced to split with United Artists on "Village Of Love", the Browns opted to try and take "Mind Over Matter" national by themselves. Unfortunately, their distribution was not up to the task and Nolan Strong's most commercial recording only became a hit in a few Midwestern cities outside of Detroit. Although "Mind Over Matter" managed to reach # 82 on the Cashbox chart, it failed to make the more prestigious Billboard Hot 100. Listen to "Mind Over Matter" https://www.youtube.com/watch?v=RGko6th_7ko
Jim Dunn wrote in the All Music Guide: "Just as Nolan Strong had been influenced by Clyde McPhatter, he would be influential to Smokey Robinson. Smokey knew all of the Diablos' songs and was very good at emulating Nolan's style. "Smokey and I used to see Nolan all the time at the Warfield Theater on Hastings," Bobby Rogers of the Miracles was quoted as saying. "He was a great singer. I don't know, some people are just ahead of their time."
Berry Gordy Jr. was also very impressed with the group and wanted to bring Nolan Strong and The Diablos into his fast growing Motown complex. Gordy reportedly offered $5,000 for the Diablos contract but the Browns countered with $15,000 and the deal never transpired, much to the disappointment of the majority of the group members who felt that Motown could have done a better job of recording and promoting them.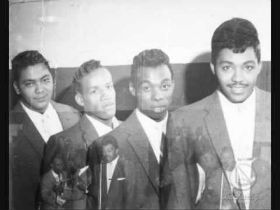 Nolan (right) and The Diablos
In the meantime, Jimmy Strong left the group and Bob Calhoun and Cy Iverson joined the Diablos. This new lineup's first release was "I Really Love You" backed with "You're My Love" in 1963. It was followed during the same year by two more singles: "If I Oh I" backed with "I Wanna Know" and then "(Yeah Baby) It's Because Of You" backed with "You're Every Beat Of My Heart". Some of the latter singles were issued as by Nolan Strong, again failing to list the Diablos on the label.
1964 saw Nolan Strong and The Diablos cover Nathaniel Mayer's "Village of Love" backed with "Real True Love". The single was issued on Fortune with a rare picture sleeve. The group's final two singles before its demise were also issued in 1964. The first of these, "Are You Making A Fool Of Me" backed with "You're My Happiness", featured backing by Tony Valla & The Alamos. The final single was the novelty song: "(What did The Genie Mean) When He Said Ali Coochie Ca La Moochie Cu Cu Monga Cha La Chunga" backed with a ballad with an equally unlikely title, "(You're Not Good Looking) But You're Presentable".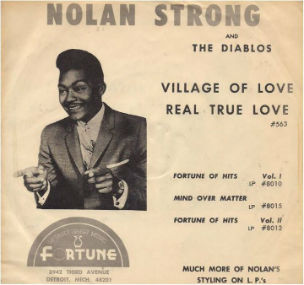 The new sounds of the British Invasion along with the meteoric rise of Motown pretty much rang the death knell for the popularity of doo wop records by the end of 1964. In addition, the lack of recognition on singles credited solely to Nolan Strong along with financial inequities in the form of lack of royalties and unequal pay to the group members versus Nolan, led to the Diablos dissolving.
Following the break-up of the Diablos, Johnson, Hunter, Calhoun, and Iverson formed a new group. They named themselves the Velvet Angels to describe their smooth, velvety harmonies. The Velvet Angels performed a cappella at clubs around Detroit and across the border in Windsor, Canada, while perfecting their material.
The group then moved to New Jersey in search of greater opportunities. Soon after setting up residence in Jersey City, they entered and won a talent show at the Tender Trap club in Fairview, New Jersey. Club owner Frank Sheldon took over as the manager of the Velvet Angels and booked them regularly at the Tender Trap. Nolan Strong had remained friends with Johnson and Hunter, and he came to New Jersey and spent some time with the group, rehearsing and even appearing with them at the club.
Some of the Velvet Angels' rehearsals were recorded on a basic home tape recorder at their residence at the Madison Hotel in Jersey City. A young fan of the group named Angelo Pompeo became acquainted with some members of the group and purchased some of the rehearsal tapes. Jay Johnson was not there during the tape transaction and was not aware of it until after the fact. The tapes soon found their way to Eddie Gries, who issued some of the recordings as singles on his Medieval label in 1964 and 1965.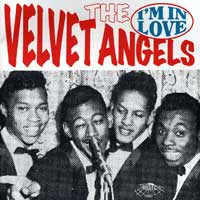 The Medieval label issued "I'm In Love" backed with "Let Me Come Back" in 1964. Both sides prominently featured the bass singing of Jay Johnson. As a follow-up, Medieval released a second single, "Baby I Want To Know" with "Since You've Been Gone" as the flipside. Both singles were well received at the time by a subculture of doo wop collectors that had developed in the New York metropolitan area but garnered little notice elsewhere. Nolan Strong is heard on the singles, but only as a background singer. He did sing lead on "Fools Rush In", which appeared on the "Acappella Showcase Presents The Velvet Angels" LP that Eddie Gries put out on the Relic Records label. Listen to "I'm In Love" https://www.youtube.com/watch?v=-A-KnLZvBfM
The Velvet Angels disbanded after the singles were released. Calhoun went south and did some work with Stax Records, and Iverson and Hunter returned to Detroit. Johnson stayed on for a time in New Jersey and performed solo at the Tender Trap before also returning to Detroi
Nolan Strong met the members of Joey Day and The Dares shortly after the Dearborn group signed with Fortune Records in 1965. Nolan had recently returned to Detroit from New Jersey and happened to stop by the Fortune studio while the young band was rehearsing.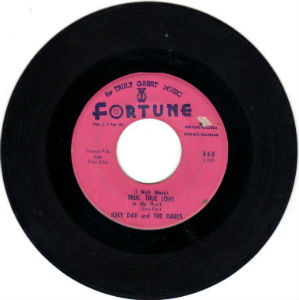 "True True Love" by Joey Day and The Dares
After their debut Fortune release, "True, True Love", started getting some airplay, Joey Day and The Dares started playing gigs with Nolan in Detroit and Canada and, according to Joey Cyers, that's where the members of the band really got to know him. In a recent interview, Cyers recalled that he and Nolan just clicked. "We had the same sense of humor, and it seemed like we had known each other for years," Cyers said.
Nolan was appearing solo at this time, and Cyers said that many of the appearances at venues, including Soul City and the 20 Grand, were lip-synched performances to promote their records. These gigs often included national acts like Smokey Robinson & The Miracles and Cannibal & The Headhunters.
Besides jamming at Fortune, the band also had informal sessions with Nolan at Joey Cyer's home in Dearborn. Joey had constructed a small studio in the basement and Nolan would either ride with the band to Dearborn or drive there himself. Cyers said that his parents were both fond of Nolan, and that his mother would often bring food downstairs for the musicians while they were playing. Cyers remembered Nolan as being unfailingly polite and said that he never saw any evidence of alcohol or pill abuse in the dozen or so times that he and the other Dares jammed with him.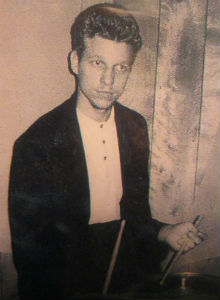 Joey Cyers
The band recorded a number of songs with Nolan in Cyers' basement studio, including a version of "Beside You", one of Nolan's favorite ballads. In his interview, Cyers recalled that when he discovered that Nolan's cousin was Barrett Strong, he asked him why he didn't sign with Motown. Nolan shrugged his shoulders and said that Fortune was "his home".
He also claimed that Nolan was interested in recording one of Cyers' compositions at Fortune. Before that could happen, Joey Day and The Dares decided to leave Fortune because they weren't making any money at the label. The band lost contact with Nolan soon after.
Nolan Strong's recording career tapered off after 1965. According to Sheldon Brown, Jack and Devora's son, the singer drank heavily during the late 1960s. "My mother would try to tell him to stop, and sometimes he would stop for a while" he recalled. "Nolan was a guy with a real persona. He was a tall, handsome guy, completely in control of the Diablos. They would do anything he wanted, and he had a special way of singing. I can't say he was the greatest singer of all time," Brown said, "but he was one of them. I got the idea that he was really a solitary guy, all he wanted was music. He kept on recording till five years before his death. That's what broke his heart; he knew he wasn't the same singer he was before."
Strong remained contracted to Fortune Records, but little is known about the reasons for his lack of recordings or his life during his final years. There is a rumor that he worked as a janitor at a Ford plant the last years of his life and that his voice was shot. Other opinions regarding Nolan's career decline blame the unprofitable contract that Fortune Records had him locked into as the reason for his lack of recordings in the late 60s and the 70s.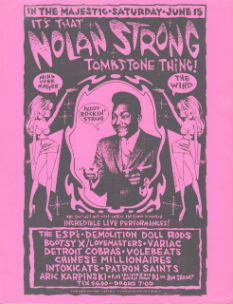 Flyer for the Nolan Strong memorial concert
Nolan Strong passed away from what is believed to be heart failure on February 21, 1977, at the age of 43. He was buried in an unmarked grave in Detroit. Some thirty years later, a dedicated fan named Wayne Pritchard mounted a successful campaign, which included a memorial concert, to purchase a grave marker for the singer at the Westlawn Cemetery in Wayne, Michigan. Nolan was predeceased by his brother Jimmy Strong on January 29, 1970, at the age of 34. Willie Hunter, Bob "Chico" Edwards, and Quentin Eubanks are also deceased.
Jay Johnson went on the sing bass with the Five Monarchs and the Four Sonics. In recent years, he formed a new Diablos group and performs all the old hits under the name "Nolan Strong's Diablos".
Nolan Strong and The Diablos were inducted into the United In Group Harmony Hall of Fame in 2003. In March 2008, they were inducted into the Doo-Wop Hall of Fame of America. A tribute to Nolan Strong and The Diablos, titled "Daddy Rockin' Strong", was issued on Wind Records in 2010. The album contained 13 covers of the Diablos' classic recordings by a variety of artists including MRRL Hall of Fame inductees Andre Williams and Cub Koda. Listen to Cub Koda's version of "You're The Only Girl, Delores" from the Nolan Strong tribute album https://www.youtube.com/watch?v=owMFDrkyU_I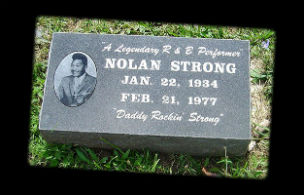 Because of their enduring influence on Michigan music, Nolan Strong and The Diablos were honored as Historical Inductees to the Michigan Rock and Roll Legends Internet Hall of Fame in 2019.
MRRL Hall of Fame: https://www.michiganrockandrolllegends.com/mrrl-hall-of-fame
Main Sources:
Grit, Noise, And Revolution: The Birth of Detroit Rock 'N' Roll by David A Carson. University of Michigan Press 2005
Nolan Strong and The Diablos by Steve Walker and Ken Gordon www.rockabilly.nl
Nolan Strong by Jim Dunn www.allmusic.com
Nolan Strong & The Diablos www.soulfulkindamusic.net
Devora Brown: The Fortune Teller Speaks by Dan Nooger.
Goldmine magazine, 1986.
2019 Interview with Joey Cyers.