MRRL Hall of Fame
WAS (NOT WAS)
Details

Category: Inductees
Created: Thursday, 22 October 2020 06:45
Written by Gary Johnson
By Mark Deming – All Music Guide
It would be hard to name a band more willfully strange that scored two Top 20 hits in the 1980s than Was (Not Was). Pairing bent but danceable funk/disco rhythms with surreal lyrics that found humor in everything from accidentally strangling a friend to a quickie wedding in Las Vegas, the group also had a knack for lining up unusual collaborators. Throughout their discography, one can find guest appearances from Leonard Cohen, Ozzy Osbourne, Doug Feiger, Mel Torme, Kris Kristofferson, Wayne Kramer, Frank Sinatra Jr., among many others.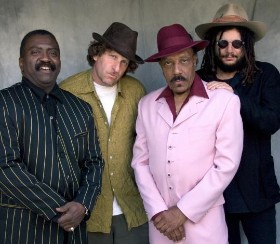 (L to R) Sir Harry Bowens, David Was, Sweet Pea Atkinson, Don Was
Was (Not Was) was not so much a group as a blanket name for the music of Don Was and David Was, Detroit-area songwriters and producers who used a constantly shifting cast of musicians on their recordings, though vocalists Sweet Pea Atkinson and Sir Harry Bowens were in many ways the public face of the group, giving a personality and continuity to their body of work.
The group earned a rabid cult following and great reviews for the off-kilter dance tracks of their self-titled 1981 debut; and their second LP, 1983's "Born to Laugh at Tornadoes", gave them the opportunity to work out their ideas and ambitions on a major-label budget. But it was 1988's "What Up, Dog?" that briefly made them stars with the singles "Walk the Dinosaur" and "Spy in the House of Love," whose grooves finally caught the ears of the radio audience.
Was (Not Was) was masterminded by Don Was (born Don Fagenson) and David Was (born David Weiss), longtime friends who grew up in the Detroit suburb of Oak Park, Michigan. Misfits with an offbeat sense of humor, Don and David began writing songs in high school, often with an eccentric perspective. One of their first compositions was "(Oh My) I Forgot My Wallet" which uses the growling of a dog as a lyrical counterpoint.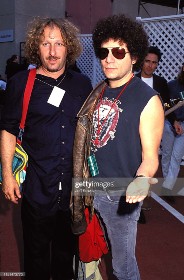 David and Don Was
Don and David both studied at the University of Michigan in nearby Ann Arbor. After graduating, David moved to Los Angeles and pursued a career as a jazz critic, while Don, who had dropped out of college, settled in Detroit, working as a producer, playing on sessions, and assembling bands for bar gigs.
In 1979, Don was short on money and turned to David, hoping to launch a new recording project. They started writing songs, and after David borrowed seed money from his parents, Don booked time at a studio in Detroit, recruited local R&B vocalists Sea Pea Atkinson and Sir Harry Bowens, and cut a kinetic dance track titled "Wheel Me Out."
Ze Records, a label that specialized in smart and edgy dance music, released "Wheel Me Out" as a single. Don and David dubbed their project Was (Not Was), the name inspired by a word game David played with his young son.
Positive press and plenty of dance club spins in the United States and England turned "Wheel Me Out" into a minor hit, and a follow-up single, "Out Come the Freaks," was another dance floor success. Ze had Was (Not Was) return to the studio to cut a full-length album, and 1981's "Was (Not Was)" included contributions from jazz trumpeter Marcus Belgrave, former MC5 guitarist Wayne Kramer, and keyboard player Luis Restro, who later became one of Eminem's key studio collaborators.
1982 saw the release of a Sweet Pea Atkinson solo album, "Don't Walk Away," with the Was (Not Was) crew serving as his backing band.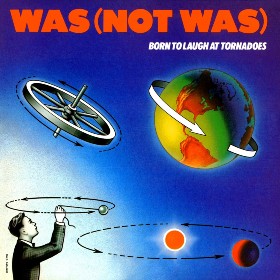 Born to Laugh at Tornadoes
Was (Not Was) earned enough press attention that they scored a more lucrative record deal with Geffen, and their next LP, 1983's "Born to Laugh at Tornadoes", was considerably more polished. They punched up the eccentricity of the lyrics, and aimed for a more diverse sound, with Ozzy Osbourne taking the lead vocals on "Shake Your Head (Let's Go To Bed)," and Mel Torme crooning "Zaz Turned Blue."
Geffen had trouble marketing the album, and it failed to live up to sales expectations, while the label reportedly urged Don and David to drop Atkinson and Bowens in favor of more pop-oriented singers. They refused, and Was (Not Was) was in limbo for several years until the European Fontana label picked up their option, while Chrysalis Records signed them in the United States.
The first album for the new label, "What Up, Dog?," was a somewhat more straightforward effort with fewer guest stars (though Frank Sinatra Jr. did "Wedding Vows in Vegas"), and radio embraced the singles "Walk the Dinosaur" and "Spy in the House of Love", the former at # 7 and the latter topping out at # 16 on Billboard's Hot 100. Watch the video for "Walk the Dinosaur" https://www.youtube.com/watch?v=zYKupOsaJmk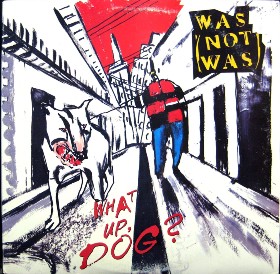 What Up, Dog?
After finally earning mainstream success, Was (Not Was) indulged themselves on 1990's "Are You Okay" with Iggy Pop, Leonard Cohen and the Roches joining their roster of guest vocalists. While "How the Heart Behaves" and a cover of the Temptations' "Papa Was A Rollin' Stone" earned some R&B radio and dance club play, the LP produced no pop hits and was a sales disappointment, despite strong reviews.
Weiss and Fagenson had begun to drift apart, and Was (Not Was) quietly broke up after the release of the 1992 compilation album "Hello Dad…I'm in Jail".
In 2004, the group reformed for a two-month club tour through the United States. In 2008, Was (Not Was) reunited again, with the Was brothers releasing the album "Boo!". The set received little notice, and Was (Not Was) soon went back on hiatus.
David Was has been involved in a wide variety of outside projects over the years. He produced two soundtrack albums for the X-Files TV show, as well as supervised features for Fox and Disney. In addition, his theme music introduced Fox Sports' NFL Pregame Show for many years.
He has also been a regular contributor to National Public Radio's Day to Day and All Things Considered, where David writes and records culturally themed features. As a journalist, he has had bylines in the New York Times, Wall Street Journal, Detroit News, Seattle Post, and Entertainment Weekly. David Was also writes a column for Newsweek and contributes to Men's Journal and the LA Daily News.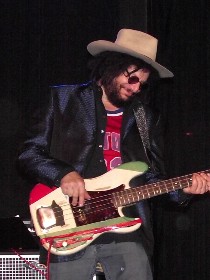 Don Was
Don Was has gone on to become a major force in the music business. Was produced the B-52's 1989 album "Cosmic Thing", which included their smash hit "Love Shack". He has received four Grammy Awards including the 1994 Grammy for Producer of the Year. He produced several albums for Bonnie Raitt, including her "Nick of Time" album that won the 1989 Grammy for Album of the Year.
Was, who is a fan of the Rolling Stones and saw them in concert in Detroit when he was 12 years old, produced their albums, "Voodoo Lounge", "Stripped", "Bridges to Babylon", "Forty Licks", "Live Licks", and "A Bigger Bang". He also produced the Stones' 2016 album "Blue and Lonesome" which won the Grammy for Best Traditional Blues Album. In addition, Was worked on the reissues of the Rolling Stones' "Exile on Main Street" in 2010 and "Some Girls" in 2011.
In 1995, he directed and produced the acclaimed documentary, I Just Wasn't Made for These Times, about former Beach Boy Brian Wilson. Was also served as music director and/or consultant for several motion pictures including, Thelma and Louise, The Rainmaker, Hope Floats, Tin Cup, Honeymoon in Vegas, and The Freshman. In 2014, Was won an Emmy Award for Outstanding Music Direction for his work on the CBS TV special The Beatles: The Night That Changed America.
Writing in Detroit's Metro Times, Brian J. Bowe described Was (Not Was) as "an endearing mess…a sausage factory of funk, rock, jazz, and electronic dance music, all providing a boogie-down backdrop for a radical (and witty) political message of unbridled personal freedom and skepticism of authority." In that spirit, Was (Not Was) were inducted into the Michigan Rock and Roll Legends Hall of Fame in 2021.