MRRL Hall of Fame
99.) No More Mr. Nice Guy - Alice Cooper
Artist Name:

Alice Cooper

Year Inducted:

2015
Details

Category: Legendary Songs
Created: Tuesday, 19 May 2020 08:59
Written by J McCallum
"No More Mr. Nice Guy" (A. Cooper, M. Bruce) – Alice Cooper; Warner Bros. label, # 25 Billboard Hot 100 – 1973. Inducted in 2015.
The third charting single from Alice Cooper's # 1 album, "Billion Dollar Babies", was built around The Who's song "Substitute". In the CD booklet for "The Best Of Alice Cooper", Cooper recalled: "The funny part of this song was that we had all of this horrific publicity, and then we came out and declared, 'All right, everyone…now it's no more Mr. Nice Guy time. The gloves are off.' People were going, 'Huh?!? What? Now they're going to get worse?!?' Also, I wrote the lyrics out of anger because of how my parents were treated by some of the press. It was particularly hard because of my dad being a minister. Fact is, my parents were the only ones who knew I was a nice guy."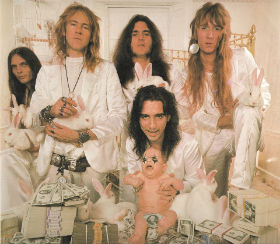 Strangely enough, "No More Mr. Nice Guy" was a bigger hit in Great Britain, reaching # 10, than in the U.S. where it peaked at # 25.
The song has had an interesting history over the years. "No More Mr. Nice Guy" was played in the classic stoner film Dazed and Confused. The scene from the movie was later parodied on the Family Guy TV show in the episode titled Jungle Love.
"No More Mr. Nice Guy" was later re-recorded by Alice Cooper and used in the video game Guitar Hero: Warriors of Rock and also used in The Simpsons' episode Love Is A Many Strangled Thing. In addition, Cooper made a cameo appearance while performing the song in the film adaptation of the TV series Dark Shadows.
YouTube Video:

https://www.youtube.com/watch?v=TyCAZOGjYD0