MRRL Hall of Fame
101.) Boom Boom - John Lee Hooker
Artist Name:

John Lee Hooker

Year Inducted:

2016
Details

Category: Legendary Songs
Created: Tuesday, 19 May 2020 09:10
Written by J McCallum
"Boom Boom" (J. Hooker) - John Lee Hooker; Vee Jay label, # 60 Billboard Hot 100, # 16 Billboard R&B – 1962. Inducted in 2016.
Hooker wrote "Boom Boom" during an extended engagement at the Apex Bar in Detroit in 1961. He was always a little tardy for his performances and got the idea for the song from the female bartender at the Apex who would say to him "Boom boom – you late again" on a nightly basis.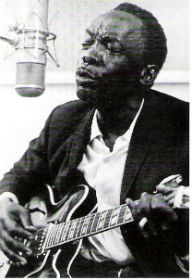 Although Hooker was primarily a solo performer or accompanied by only a second guitarist on his early recordings, he often recorded with a small band while on the Vee Jay label. On "Boom Boom", Hooker used several of Motown's Funk Brothers including pianist Joe Hunter, bassist James Jamerson, drummer Benny Benjamin, and sax players Hank Crosby and Andrew "Mike" Terry.
"Boom Boom" was John Lee Hooker's only Hot 100 hit. In 1965, The Animals also charted with their cover of the song.
YouTube Video:

https://www.youtube.com/watch?v=WS7_e9LdvDI