MRRL Hall of Fame
59.) I Wanna Be Your Dog - The Stooges
Artist Name:

The Stooges

Year Inducted:

2011
Details

Category: Legendary Songs
Created: Monday, 18 May 2020 20:59
Written by J McCallum
"I Wanna Be Your Dog" (D. Alexander, R. Asheton, I. Pop, S. Asheton) – The Stooges; Elektra label, Did not chart nationally - 1969. Inducted in 2011.
One of The Stooges' most famous songs, "I Wanna Be Your Dog", appeared on the band's self-titled debut album on Elektra Records. It was also released as the B-side to "1969" on the first Stooges' single.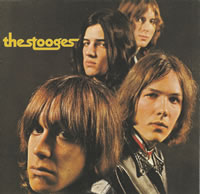 Stooges 1st LP
Ron Asheton's relentless guitar riffs and producer John Cale's pounding piano set the stage for Iggy Pop's snarling vocals. It's not exactly clear what the song is about, but no matter. "I Wanna Be Your Dog", as well as most of the songs on their debut, set the stage for both the punk rock movement of the 70's and the grunge rock movement of the 90's.
Although both the single and the album sold modestly at best, "I Wanna Be Your Dog" has achieved an exalted status over the years. The song has been covered by a multitude of artists including Joan Jett and the Blackhearts, Nirvana, Sonic Youth, and The White Stripes. In 2007, R.E.M. performed the song with Patti Smith during their induction into the Rock and Roll Hall of Fame.
The song has also been featured on the soundtrack of several movies including The Crow: City Of Angels, Sid and Nancy, Transporter 3, and The Runaways.
YouTube Video:

https://www.youtube.com/watch?v=vwmU343eBu0