MRRL Hall of Fame
65.) I Cannot Stop You - The Cherry Slush
Artist Name:

The Cherry Slush

Year Inducted:

2012
Details

Category: Legendary Songs
Created: Tuesday, 19 May 2020 08:03
Written by J McCallum
"I Cannot Stop You" (D. Wagner) - The Cherry Slush; U.S.A. label, # 119 Billboard's Bubbling Under Singles - 1968. Inducted in 2012.
"I Cannot Stop You" was originally intended to be the second single for a Saginaw, Michigan, teen band called The Bells Of Rhymny. The tune was written by Dick Wagner of The Bossmen and was recorded at the tiny Audio Sound studio, located in the basement of an office building in downtown Cleveland, Ohio.
By the time the record was released on the small Coconut Groove label based in Mt. Morris, Michigan, the band had lost one original and added two new members, and changed its name to The Cherry Slush. The radio-friendly "I Cannot Stop You" was a big regional hit, and was quickly in heavy rotation on Top 40 AM stations like WKNX, WSAM, and the highly influential WTAC out of Flint.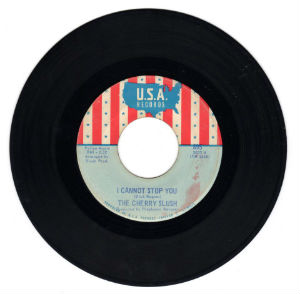 In order to get the record distributed nationally, the band signed and the master tape was leased to U.S.A., a small Chicago label that had a # 1 hit in 1967 with "Kind Of A Drag" by The Buckinghams. "I Cannot Stop You" also had all the signs of also being a national hit upon its release. It got airplay in major markets, was a pick hit in both Billboard and Cash Box magazines, and entered Record World magazine as # 93 in the nation.
Quite unexpectedly, however, the record stalled and failed to reach the Billboard Hot 100. The Cherry Slush would go on to record one more single for the U.S.A. label before the company filed for bankruptcy.
YouTube Video:

https://www.youtube.com/watch?v=jU83MOGwLzA