Doug Fieger's Rolling Stones Connection
Details

Category: Dr. J's Blog
Published: Friday, 07 October 2011 11:03
Written by Gary Johnson
Doug Fieger passed away in Woodland Hills, California after a long battle with brain and lung cancer on February 14, 2010. The Michigan-born rocker was best-known as the lead singer and principal songwriter for The Knack.
Because he first achieved national acclaim in Los Angeles, many people might not know that the dawn of his music career and first important recordings took place while Fieger was still a resident of Michigan. The early recordings, which include the two albums completed with his band Sky, also involve a rather unique connection with The Rolling Stones.
Doug, his older brother Geoffrey, and his sister Beth grew up in Oak Park, an affluent suburb of Detroit located in Oakland County. All the Fiegers attended Eleanor Roosevelt Elementary School, Clinton Junior High, and Oak Park High School.
Listening to his mother's record collection piqued Doug's interest in music at a very early age. He claimed in a 2004 interview that he learned to speak by trying to sing along with the Peggy Lee and Dean Martin records that she would play in the house. Fieger started piano lessons when he was five. He played trumpet at school but when the British Invasion hit, Doug picked up the guitar.
Inspired by The Beatles, Fieger started his first band, The Royal Jammers, in junior high. Richard Fishman, one of his band mates, recounted in an interview in the Detroit News that Fieger was a Beatles fanatic who kept a box of Fab Four paraphernalia under his bed and insisted that his first guitar be an expensive Gretsch Country Gentleman, because that's what George Harrison played.
Several other people who grew up and went to school with Doug Fieger remember him as a fashion trendsetter, a charismatic leader, and very determined to achieve stardom. His first big step towards that goal came when he teamed up in high school with a very talented multi-instrumentalist named John Coury. Because he was younger, Fieger was required to start playing bass while letting Coury play his Country Gentleman in order to join Coury's band. Their first professional gigs were playing Detroit-area teen clubs.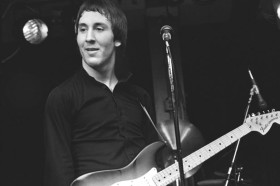 Doug Fieger
In 1966 they entered the Vox Band of the Land contest. Fieger's group, which at this time played covers of Byrds, Animals, and Yardbirds songs, did not perform any original material. They came in second in the semi-finals and fifth in the final show which was held at the Michigan State Fairgrounds and featured the Lovin' Spoonful as the headlining act. In the finals, Fieger's band played right before The Woolies, who won the competition.
Coury and Fieger then teamed with drummer Bob Greenfield, another Oak Park native, to form Sky. Sky's sound, British inspired three-part harmony pop, was quite a bit different from the heavier Detroit rock of the MC5, the Bob Seger System, Savage Grace, and The Stooges, but the Motor City music scene in the 60's was wide open and accepting of a variety of different musical approaches.
Sky was an opening act for many of the well-known local bands as well as high-profile touring acts playing in Detroit including Traffic, The Who, Joe Cocker, Jethro Tull, and The Jeff Beck Group. Fieger began to write some original songs at this time. He was inspired by British songwriters; Ray Davies, Lennon and McCartney, as well as Pete Townshend, who he had spoken to backstage on the two occasions that Sky had opened for The Who.
Fieger and Coury even began to make a list of producers they would like to work with on what they hoped would be Sky's first album. They set their sights high. Besides Townshend, the list included George Martin – producer of The Beatles, Shel Talmey - producer of The Who and The Kinks, and Jimmy Miller – producer of Traffic and The Rolling Stones.
Never shy about his musical ability, Fieger wrote a letter to Jimmy Miller saying "If you're ever in Detroit, come and hear my band". Incredible as it sounds, Miller not only answered Fieger's letter, he also came to his house in Oak Park and signed Sky after hearing them perform in the basement of the Fieger home.
Five days after Doug graduated from Oak Park High School, Jimmy Miller flew Fieger, Coury, and new drummer Rob Stawinski to London. There, he helped them record their debut album at Olympic Studios, right next door to where Miller was producing The Rolling Stones' new album "Sticky Fingers". Because Miller was busy working with the Stones, additional production on the Sky L.P., "Don't Hold Back" was done by the Stones' engineer Andy Johns as well as Gary Wright.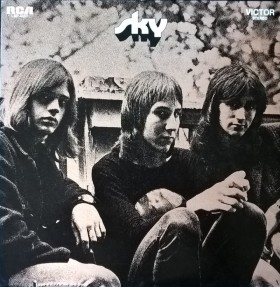 Sky's "Don't Look Back" album
If that wasn't enough, Sky's debut featured a guest appearance from Bobby Keys who was in town adding his saxophone to some tracks on "Sticky Fingers". Miller also recruited Chris Wood of Traffic to play flute on one of Sky's album cuts, and recording artists Pat Arnold and Doris Troy to provide some of the backing vocals.
"Don't Hold Back" was released on RCA in the late fall of 1970. Doug Fieger wrote or co-wrote all ten of the album's songs. The record label chose not take advantage of the link with The Rolling Stones in its rather skimpy promotion for the L.P. As a result, Sky's debut was a sales disappointment.
Undaunted, Jimmy Miller brought the trio back to London six months later to record a follow-up album. Titled "Sailor's Delight", the L.P. was recorded at Mick Jagger's house using the Rolling Stones mobile studio while Jagger and the Stones were touring Europe.
While working on the album, Miller suggested that the band and its British-influenced sound would have a better chance at success if they moved to either London, Los Angeles, or New York, rather than stay in Detroit. Fieger opted for Los Angeles because of the warmer weather.
"Sailor's Delight" was released in 1971, again without RCA taking advantage of the Stones connection in its promotion. After the album failed to make a ripple on the charts, Sky disbanded.
After the break-up, Fieger decided to stay in Los Angeles rather than return to Detroit's cold winters. Playing guitar again, Doug first started jamming with drummer Bruce Gary, and then met up with guitarist and songwriting partner Berton Averre and bassist Prescott Niles to form The Knack.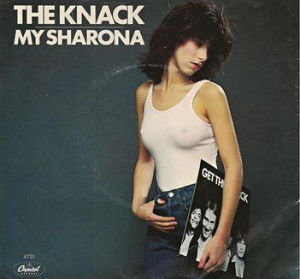 In 1979, The Knack topped the Billboard Hot 100 for 6 weeks with Averre and Fieger's infectious hit "My Sharona", an ode to Doug's girlfriend of the time, Sharona Alpern. A photo of Alpern on the single's picture sleeve with her nipples prominently displayed through a white cotton top while she held a copy of the band's debut album, "Get The Knack", caused a stir among the band's male fans both young and old. The album was also a giant hit spending 5 weeks at the top of the Billboard album chart.
Fieger wrote "Good Girls Don't", The Knack's # 11 follow-up single in the fall of 1979. But after their sophomore album, "But The Little Girls Understand", peaked at # 15 and its lead single, "Baby Talks Dirty" barely scraped into the Top 40, The Knack quickly faded from the charts.
The Knack broke up in 1982. The band reunited in 1986 but enjoyed very little chart success. The Knack's last entry onto the Hot 100 came in 1994 when a remixed version of "My Sharona" was issued as a single after it was used in the popular movie Reality Bites starring Winona Ryder and Ethan Hawke.
During his early years in Los Angles, Fieger became a victim of the temptations that abound for a musician living in the fast lane. After a very rough stretch, he overcame his addiction to cocaine and had been sober for the last twenty-six years of his life. Just as important, Fieger became a strong advocate for sobriety for fellow musicians and others by encouraging people at meetings and even working with those who were still using drugs.
Fieger's six-year battle against brain and lung cancer was a courageous one. It was reported that Doug had a piece of his lung removed two years ago and underwent three craniotomies as well as whole-brain radiation in an attempt to fight off the disease. Despite his ordeal, Fieger kept a positive attitude and was an inspiration to others right up until his death.
Although he and Sharona Alpern eventually went their separate ways, they remained friends throughout Doug's life. She is currently a successful real estate agent in Los Angeles.