Lennon: Through A Glass Onion
Details

Category: Dr. J's Blog
Published: Saturday, 01 November 2014 17:19
Written by Gary Johnson
Lynn-J and I had the opportunity to attend the 2014 opening night performance of Lennon: Through A Glass Onion at the Union Square Theatre in New York City. Being a major fan of John Lennon, going to the show was a mixture of excitement and trepidation. I knew that I would enjoy the music but would the presentation do justice to one of rock and roll's most interesting and talented individuals?
In 2005, a $7 million bio-musical dud titled Lennon lasted just 49 performances at the Broadhurst Theatre on Broadway. That production, in which Yoko Ono was actively involved, had the role of Lennon played by performers of both sexes, and different ages and skin colors. This approach was inspired by the Beatles' song "I Am The Walrus" where Lennon wrote "I am he, as you are he, as you are me, and we are all together". Despite drawing on that song, the show focused on Lennon's solo work and used very few of his compositions from his years in The Beatles. Even after undergoing several rewrites and casting changes, the musical was torched by the New York critics and closed after only a six-week run.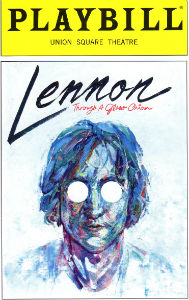 Lennon: Through A Glass Onion
I was hopeful that Lennon: Through A Glass Onion would do a much better job in presenting an entertaining and informative look at its fascinating subject, and I'm happy to report that I was not disappointed. Created and performed by Australian actor/musician John R. Waters, the show's stated intent was to celebrate the genius, music, and phenomenon of John Lennon, and Waters along with pianist/singer Stewart D'Arrietta did an outstanding job in achieving those goals.
Waters performed the original version of the musical in Sydney, Australia in 1992. He has toured the world with his production for the past two decades, including an extended engagement at London's West End, but the opening in New York represented its American premiere. After Lennon moved to Manhattan in 1971, it became his adopted home for the remainder of his life; so it made perfect sense for the show to open in New York City.
Lennon: Through A Glass Onion utilizes a barebones production. There is none of the razzmatazz associated with a typical Broadway musical. Waters takes the stage dressed in black jeans, t-shirt and leather jacket, carrying only an acoustic guitar. The only props are a microphone and a grand piano. Anthony Barrett's "less is more" lighting is subtle and effective throughout the 90-minute show.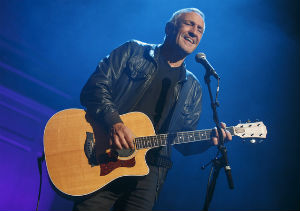 John R. Waters
The performance, which has no intermission, begins with the sound of five gun shots, letting you know that we are seeing Lennon on December 8, 1980. Is the playwright presenting what was going through Lennon's mind as his life passed before his eyes during that tragic event? Or is he showing what might have happened if Lennon had appeared for an "unplugged" performance at the Union Square Theatre that fateful night rather than working on new material in the studio? This would have been nine years before the popular MTV Unplugged series came on the scene, but it seems likely that Lennon would have enjoyed presenting and talking about his songs in that format. Either way, Waters' show clearly attempts to gives us a glimpse of Lennon's state of mind as he reflects back on his life, career, and music at the age of 40.
John R. Waters singing voice is not like Lennon's, and he wisely does not try to imitate his singing style or his appearance. His many years as actor has enabled him to do a remarkably good job of capturing Lennon's speaking voice, however. This fact works very well in the show because the songs have been selected to illustrate what Lennon was thinking, feeling, or going through at the time they were written.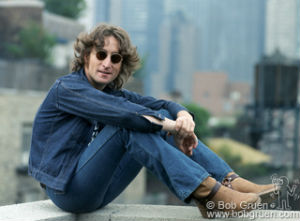 John Lennon
Thirty-one songs that are associated with John Lennon are performed whole or in part during the show. Eighteen of these songs were co-written with Paul McCartney in The Beatles, but these are all "John" songs, primarily written and sung by Lennon. Several of the big hits are included, but only if they reflect something significant in Lennon's life and career. We hear "All You Need Is Love", "Nowhere Man", "Come Together", The Ballad Of John And Yoko", and "Revoluton", along with a slowed down version of "Help" that makes clear Lennon's desperation at being overwhelmed by the Beatles' fame. I especially enjoyed the acoustic version of "Strawberry Fields Forever". It was like hearing that beautiful song anew.
Many of the other Beatles' songs used in the show are album cuts that might be unfamiliar to the casual listener but are important in Lennon's story. The beautiful ballad "Julia" is played as Lennon discusses his mother, "You've Got To Hide Your Love Away" when he reveals the influence of Bob Dylan, "Norwegian Wood" describes one of his many affairs, and "Sexy Sadie" his ultimate disappointment in the Maharishi Mahesh Yogi.
Lennon's solo material is treated the same way. Hits like "Imagine", "Woman", "Whatever Gets You Through The Night", and "Watching The Wheels" are played and discussed, but the majority of the solo songs presented are album cuts that deal with his relationship with Yoko ("Jealous Guy"), their involvement with political activism ("Working Class Hero"), the birth of their son ("Beautiful Boy"), and Lennon's successful battle against the Nixon administration's attempt to deport him ("Crippled Inside").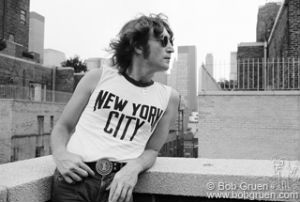 Lennon in New York City
The Union Square Theatre is an excellent venue for Lennon: Through A Glass Onion. Like many New York theatres, it is intimate with excellent views of the stage from all of the seats. Although it is not located in the Theatre District, it is a quick subway ride and is just a one block stroll from the Union Square station. The theatre is located in a nice part of the city that features a host of stores, bookshops, bars, and restaurants.
John R. Waters is excellent as Lennon and Stewart D'Arrietta's piano and backing vocals are every bit as good. The show, which runs until February 22, 2015, is very reasonably priced and has gotten glowing reviews by both critics and fans. If you are going to be in New York City during that time, or if Waters takes the show on the road, I would highly recommend purchasing a ticket for Lennon: Through A Glass Onion.
If you'd like to read more about John Lennon and find out about a cool new way to listen to the "Sgt. Pepper's" album click here: https://www.michiganrockandrolllegends.com/dr-js-blog/130-remembering-john-lennon