Ch. 1 "We're Gonna Rock"
Details

Category: Dr. J's Blog
Published: Monday, 22 June 2020 06:21
Written by Gary Johnson
Michigan's Rock and Roll History

Ch 1 - "We're Gonna Rock"
My goal is to write about the important role that Michigan played in the history of rock and roll. The first chapter will include some information about the term "rock and roll" and how it was used over the years. It will also cover some early recordings by artists that were the roots of that music, and you will have the opportunity to enjoy a couple of recordings by Michigan artists that are considered by some music historians to be among the first rock and roll songs.
In addition, this and subsequent chapters will explore how and why Michigan became an important rock and roll center. This will be done by examining a number of early artists associated with our state and, in so doing, also look at the record labels, songwriters, recording studios, and backing musicians that helped make it all happen.
One only has to look at the inductees in the Rock and Roll Hall of Fame in Cleveland to see the importance of Michigan artists. Of the first 51 Performing Artists inducted into the Hall, 12 were connected to Michigan: Bill Haley, Aretha Franklin, Marvin Gaye, Smokey Robinson, Jackie Wilson, The Supremes, The Temptations, Stevie Wonder, Hank Ballard, The Four Tops, John Lee Hooker, and Wilson Pickett. That means that in 1991, Michigan-related artists occupied over 23% of the Rock Hall. Pretty impressive, don't you think?
Over the years, 11 more Michigan artists have been inducted: Al Green, Martha and The Vandellas, Little Willie John, Parliament-Funkadelic, Del Shannon, Bob Seger, Madonna, The Stooges, Alice Cooper, The Midnighters, Eminem, and The Miracles.
In addition, Motown founder Berry Gordy Jr. and the famed songwriting and production team of Holland-Dozier-Holland have been inducted in the Non-Performer category, while two Funk Brothers, drummer Benny Benjamin and bassist James Jamerson, have been inducted into the Sideman category.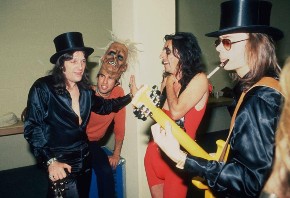 Dick Wagner (far left) with Alice Cooper and Steve Hunter
Impressive as that total is, there is a fairly large group of Michigan artists who have been inducted into the Michigan Rock and Roll Legends Hall of Fame but have been overlooked or snubbed by the Rock and Roll Hall of Fame in Cleveland. The list includes Jack Scott, Marv Johnson, Mary Wells, The Marvelettes, Jr. Walker & The All Stars, The MC5, Mitch Ryder & The Detroit Wheels, Edwin Starr, Grand Funk Railroad, Tommy James & The Shondells, Dick Wagner, ? & The Mysterians, Ted Nugent and the Amboy Dukes, Rare Earth, The Spinners, Suzi Quatro, The Funk Brothers, and the solo careers of Diana Ross and Iggy Pop.
The importance of Michigan artists having been established, let's look back at the early history of the term "rock and roll", and how the music developed. Rock and roll emerged as a defined musical style in the United States in the early to mid-1950s. Louie Jordan and Sister Rosetta Tharpe were important early influences to this new style. It derived most directly from the rhythm and blues music of the 1940s, which itself developed from earlier blues, boogie-woogie, jazz and swing music. It was also influenced by gospel, country and western, traditional folk, as well pop and Latin sources, along with beats derived from both African and Native American musical traditions.
The phrase "rocking and rolling" was first used in sea shanties in the 16th century to describe the movement of a ship on the ocean. By the early 20th century, however, the term was also used to describe a spiritual fervor and, as the term referred to movement forwards, backwards and from side to side, it acquired sexual connotations as well.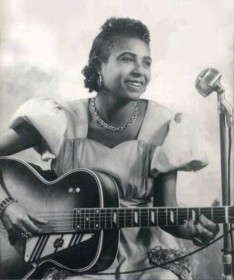 Trixie Smith
Various gospel, blues and swing recordings used the phrase before it became used more frequently – but still intermittently – in the late 1930s and 1940s. In 1922, blues singer Trixie Smith recorded "My Man Rocks Me (with One Steady Roll)," the first recording featuring the two words in a secular context. Although it was played with a backbeat and had one of the first "around the clock" lyrics, this slow minor-key blues was by no means "rock and roll" music as we understand it today.
The terms "rocking", and "rocking and rolling", were increasingly used through the 20s, 30s, and 40s especially, but not exclusively, by black secular musicians. Usually it was used to refer to either dancing or sex, or both, on recordings and in reviews of what became known as "race music", later called "rhythm and blues", aimed at black audiences.
By the late 1940s, the term "rocking" was not only being used in record lyrics but also to describe the music of performers such as Roy Brown. In 1947, Brown wrote and recorded "Good Rockin' Tonight". His song parodied church music by appropriating its references, including the word "rocking" and the gospel call "Have you heard the news?", and then related them to very worldly lyrics about dancing, drinking, and sex. The song became much more successful the following year, however, when recorded by Wynonie Harris, whose version reached the top of the newly christened Rhythm and Blues charts. Listen to "Good Rockin' Tonight" by Wynonie Harris: https://www.youtube.com/watch?v=hTu6Hn0bn48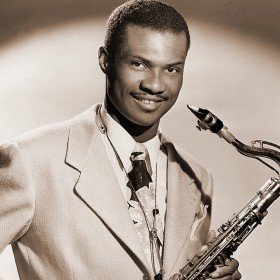 Wild Bill Moore
The craze in the rhythm and blues market for songs about "rocking", included "We're Gonna Rock" recorded by Detroit-born sax player and singer Wild Bill Moore. It was one of the first commercially successful "honking" sax records, and it is considered by some music historians to be among the very first rock and roll records.
Moore was born in Detroit where he learned to play the alto saxophone at an early age. In late 1947, he recorded "We're Gonna Rock" in Detroit, and it became his only hit when it was released on Savoy Records in 1948 and reached # 14 on the R&B charts. It is also significant for being one of the first records played by Alan Freed on his Moondog radio shows in 1951. Listen to "We're Gonna Rock, We're Gonna Roll" https://www.youtube.com/watch?v=dFnTg2THWFY
"Boogie Chillen", which was written and recorded in Detroit by John Lee Hooker, is also in the discussion of early rock and roll songs. Although Hooker is generally considered to be a blues artist, he developed a distinctive, driving-rhythm boogie guitar style that has influenced countless rock and roll guitar players over the years.
The story of John Lee Hooker's life and career is a good example of a Southern-born musician moving North to find work and bringing his music with him. Why and this happened is important in understanding how Michigan became an important rock and roll center.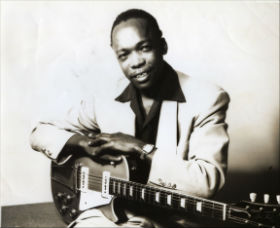 John Lee HookerMost sources believe that Hooker was born in 1917 in Mississippi, the son of a sharecropper, and that was where he learned his unique, droning, one-chord guitar style. He left home as a teenager and traveled to Memphis where he found work and began playing in local beer joints and honky-tonks. He then moved to Cincinnati in the late 30s, and finally to Detroit in 1943 during WW II where he found a good paying job with the Ford Motor Company.
He soon formed his own group and began playing at the Apex Bar, Henry's Swing Club, and a host of other music venues on and around Hastings Street in Detroit's Black Bottom entertainment area. Hooker made his first recordings at United Sounds Systems in Detroit, and "Boogie Chillen" became the biggest R&B hit of 1949 when it was released by Modern Records. The song's lyrics are autobiographical and mention Hastings Street and also Henry's Swing Club. Listen to "Boogie Chillen" https://www.youtube.com/watch?v=G4pp02_GN9A
Although the Michigan recordings of "We're Gonna Rock4rt" and "Boogie Chillen'" are mentioned as being examples of early rock and roll songs, music historians agree that rock and roll was born in the South. In fact, the first 10 Inductees into the Rock and Roll Hall of Fame all had roots in the region. Elvis Presley and Sam Cooke were born in Mississippi, Buddy Holly in Texas, Fats Domino and Jerry Lee Lewis were from Louisiana, Ray Charles and Little Richard were born in Georgia, James Brown in South Carolina, Chuck Berry in Missouri, and the Everly Brothers were from Kentucky.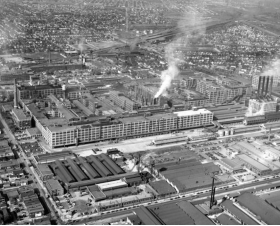 Detroit's Dodge Plant 1940's
How did Michigan, located so far north, become a rock and roll hotspot? To answer that we have to go back in history a bit to look at the development of the automobile industry in the state, and how it brought people to Michigan.
The automotive factories, and the industries connected to it, made Detroit a destination point for those southerners, like John Lee Hooker, who were migrating north to find greater economic opportunities. No technology has had a greater impact on American everyday life than the automobile. Where we live, how we work, how we travel, and our environment have all been profoundly shaped by the car. And no place better demonstrates the social, economic, geographic, and political changes wrought by the automobile industry than the Motor City.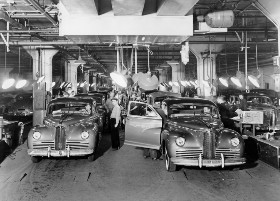 Packard assembly line - Detroit 1941
Detroit rose with the automobile industry. Before the invention of the motorized, self-propelled auto car, Detroit was a second-tier industrial city with a diverse, largely regional manufacturing base. Over the next thirty years, the auto industry took off. By the onset of the Great Depression, car manufacturing completely dwarfed other manufacturing concerns in Detroit.
As a result, many more of the city's companies became related to the auto industry, from machine tool manufacturers to auto supply companies to parts suppliers. The rise of the auto industry utterly transformed Detroit, attracting over a million new migrants to the city. Both through its demographic and its technological impact, the automobile reshaped the Motor City in enduring ways, including its music.
Next up - Chapter 2 "Michigan Hillbillies" https://michiganrockandrolllegends.com/index.php/blog/394-ch-2-michigan-hillbillies