Ch. 2 "Michigan Hillbillies"
Details

Category: Dr. J's Blog
Published: Monday, 22 June 2020 06:36
Written by Gary Johnson
Michigan Rock and Roll History
Ch. 2 - "Michigan Hillbillies"
Because of the auto industry, Detroit's population had expanded to 1.6 million by 1940, making it the fourth largest city in the United States. Detroit continued to be a magnet for newcomers until the early 1950s, when the city's population peaked at nearly two million. Some of the newcomers were attracted to the city's emerging hillbilly music scene, a term that was commonly used to categorize a wide variety of styles including country and western, bluegrass, and even some forms of gospel.
George and Leslie York were born and raised in a musical family in Kentucky. As teenagers they had experienced the often-dangerous work as miners, so the brothers traveled to Detroit in the late 1930s for new opportunities. Their distinctive brand of country boogie and close harmony singing became very popular in the many country music taverns which had sprouted up around town because so many Southerners were now employed in the Michigan auto plants.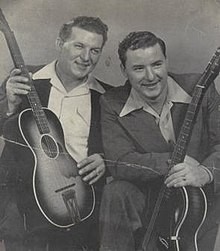 George and Leslie York
Recording as the York Brothers, they paid homage to their new home on several of their recordings including, "Hamtramck Mama", "Highland Park Girl", and "Detroit Hula Girl" on Universal Records, a small Detroit label. The York Brothers' style, which combined elements of hillbilly music and blues, was a precursor to rockabilly. Their sibling harmony can be directly traced to the Everly Brothers who later covered the York Brothers' 1942 song "Long Time Gone".
The York Brothers' biggest early hit was "Hamtramck Mama" which reportedly sold nearly 300,000 copies by 1942 after it had been issued on four different Detroit labels – Universal, Hot Wax, Mellow, and Fortune. The song's popularity might have been helped by the controversy generated by some Hamtramck politicians who criticized what they felt were bawdy lyrics: "She shook it last night and the night before, got up this morning wanted to shake it some more".
"Hamtramck Mama" was a prime example of what was known as a "party record". Because of their content, these types of recordings were sold under the counter at record shops. Despite not being openly displayed, "Hamtramck Mama" became a massive jukebox hit in the Midwest, and it left little to the imagination with its attractively bluesy rhythms and suggestive lyrics.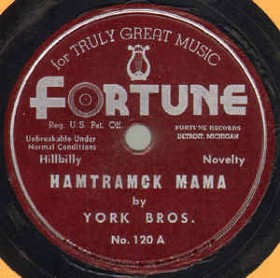 The duo's recording career was derailed during WW II's shellac shortage which led to record companies cutting back on releases. Both brothers enlisted in the Navy and, after the war ended, they relocated to Nashville and recorded yet another version of "Hamtramck Mama" on the city's Bullet label. The York Brothers then signed with King Records out of Cincinnati where they recorded "Motor City Boogie" and dozens of other songs throughout the 1950s. Listen to "Hamtramck Mama" https://www.youtube.com/watch?v=VP_nTmatjW4
In the late 1940s and early 50s, Earl and Joyce Songer also played the hillbilly music that catered to white migrant Southern auto workers. Earl Songer was born in West Virginia and came to Detroit in the late 1930s to work at the Ford Motor Company. He played as a one-man band at company functions, and that is where he met Joyce Goode.
Joyce was born in Tennessee, one of 15 children. She learned to play guitar while growing up and moved to Dearborn, Michigan, to join her sister and work at Ford. She was impressed by Earl Songer's one-man show and they became musical friends. They remained in touch when Earl served during World War II and married following his discharge in 1945.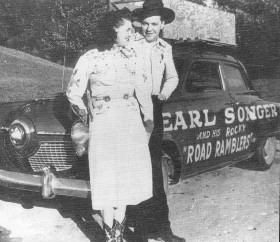 Joyce and Earl Songer
The couple practiced together for the next four years before turning professional in 1949. They signed with Fortune Records in Detroit and released the first of seven singles on the label. Their love of music enabled them to survive their divorce later in 1949. "We're Satisfied" includes their band, the Rocky Road Ramblers, and features Joyce's pre-rockabilly guitar solo. https://www.youtube.com/watch?v=We2fdR0STSk
Earl and Joyce remarried in 1953. They went on to record for the Coral and Imperial labels before divorcing for a second time in 1955 because of Earl's drinking and subsequent unreliability. Earl Songer eventually quit music and went to work as a car salesman while Joyce continued in the music business and teamed up with former Fortune hillbilly artist, Rufus Shoffner.
Following World War II, there was a significant rise in the number of independent record labels. The country's three major labels, RCA, Columbia, and Decca, still dominated the recording industry but they existed to sell music coast to coast. Having a record that was a hit among people who liked hillbilly music in Detroit, polka music in Frankenmuth, or blues from Chicago didn't generate the kind of profits the major labels demanded. As a result, there emerged a wave of independent labels, like Fortune Records, that thrived on the more modest profits derived from a country and western, gospel, or rhythm and blues hit.
Fortune Records was started by Jack and Devora Brown in 1946 in Detroit. By 1951, they had rented a store front location in a mostly black and Jewish neighborhood and installed their own studio. Devora did most of the actual recording in the tiny studio located in the rear of their record store. Jack did the field work, selling their Fortune releases to distributors on the road.
The Brown's first national hit came in 1952 with a country music recording of "Jealous Love" by the Davis Sisters. Skeeter Davis was born Mary Frances Penick in 1931 in Kentucky. She got her "Skeeter" nickname from her grandfather because she had a great deal of energy for a young child, and he thought she buzzed around like a mosquito. While attending high school, she became friends with Betty Jack Davis over their shared love of music and singing. They began singing in local talent contests as the Davis Sisters, with Skeeter adopting Betty Jack's last name despite their being unrelated.
Their appearances on a local daytime radio show in Kentucky led to an opportunity to be on WJR's radio program Barnyard Frolics in Detroit. The girls relocated to the Motor City after graduating from high school in 1949. The duo made their first recording on the tiny Fortune label in Detroit, and their song "Jealous Love" became a local hit in 1952. Listen to "Jealous Love": https://www.youtube.com/watch?v=hy03s9rNwN4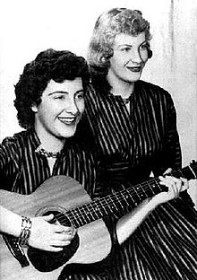 The Davis Sisters
The success of "Jealous Love" led to the Davis sisters being offered a recording contract by Steve Sholes of RCA who was impressed with their harmonies. They recorded the hit single "I Forgot More Than You'll Ever Know" for RCA in 1953, and it became a # 1 country hit. While on tour in Virginia, the car they were riding in was hit head-on by a driver who fell asleep at the wheel, killing Betty Jack and seriously injuring Skeeter.
After recovering from her head injuries, Skeeter Davis would go on to perform in a new version of the Davis Sisters with Betty Jack's older sibling, Georgia. The pair did not record any hits, but they toured with Elvis Presley while he was on Sun Records. In 1957, she left the Davis Sisters and went on to pursue a career as a solo artist.
Skeeter Davis eventually became one of the early women, along with Patsy Cline, to achieve stardom in country music as a female solo artist. She first achieved crossover success on the Billboard Hot 100 with two answer songs that became Top 40 hits: "(I Can't Help You) I'm Falling Too" and "My Last Date (With You)". More significant, however, were her Top Ten smashes from 1963, "The End Of The World" (# 2) and "I Can't Stay Mad At You" (# 7). Skeeter Davis had been a member of the Grand Ole Opry for 45 years when she passed away from breast cancer in 2004.
In 1950, shortly after his high school graduation, another country music legend left his family's farm in Arkansas to look for factory work in Michigan. A very young Johnny Cash found a good-paying job running a press at a Fisher Body plant in Pontiac, Michigan. On his own with no friends, he lived in a crowded boarding house filled with older, rougher men. Lonely and homesick, Cash only lasted three weeks in Michigan before hitching a ride back home. It's interesting to speculate how music history might have changed had Johnny Cash found a life in Pontiac.
Piano man Roy Hall was born in Virginia in 1922. After forming a band called Roy Hall & His Cohutta Mountain Boys, he moved to Detroit. Hall and his group recorded their first three country-boogie singles for Fortune, and they also played on the "Jealous Love" single by the Davis Sisters. Hall later moved to Nashville and played piano on some of the early recordings of country stars Webb Pierce and Marty Robbins.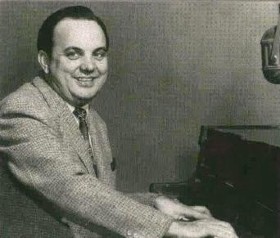 Roy Hall
In 1954, on a fishing trip to Florida, Hall co-wrote a song with a black musician named David C. Williams. Hall used the pen name of Sunny David, and he and Williams called their composition "Whole Lotta Shakin' Goin' On." It was first recorded by Big Maybelle in the spring of 1955, and Roy Hall recorded his own version four months later. Listen to Roy Hall's version of "Whole Lotta Shakin' Goin' On" https://www.youtube.com/watch?v=I_IrqRhAwlQ
Jerry Lee Lewis covered "Whole Lotta Shakin' Goin' On" in 1957 for Sun Records, and it became a # 1 hit on both Billboard's Country and R&B charts, while hitting # 3 on the Billboard Pop chart. It made Jerry Lee a star, but Roy Hall didn't profit from the big hit. He was going through a divorce at the time, and his ex-wife was awarded the royalties in the settlement. Hall continued to play music around Nashville until his death in 1984 at the age of 61.
Detroit had a wealth of other hillbilly artists that recorded on small local labels that helped pave the way to the rockabilly genre. These included a number of acts that also recorded for Fortune Records: Ford Nix and The Sunnysiders, Hubert Friar & His Hillbilly Hicks, Jimmy Myers & His Happy Highway Gang, and Forest Rye with His String Band.
Other hillbilly artists that recorded in the Motor City included Chuck Oakes and His Chuck Wagon Gang, May Hawks with Chuck Hatfield and The Treble-Aires, Leon Benson and His Rhythm Ramblers, and Chief Redbird. Some of these recordings contained some humorous sexual innuendo. One of the prime examples of a humorously risque Michigan party record is "She Won't Turn Over For Me" by Floyd Compton and His Western Troubadours. It features Tommy Odim on lead vocal, and it was released on Detroit's tiny Renown label. Listen to "She Won't Turn Over Me" https://www.youtube.com/watch?v=ZOmTVA_u-1c
Next up – Ch. 3 "Rockin' Around The Clock" https://michiganrockandrolllegends.com/index.php/blog/395-ch-3-rockin-around-the-clock