Ch. 5 "Pop Goes Detroit"
Details

Category: Dr. J's Blog
Published: Monday, 29 June 2020 09:11
Written by Gary Johnson
Michigan Rock and Roll History
Ch. 5 - "Pop Goes Detroit"
Pop music has always been a part of rock and roll. In 1956, it was common to see pop singers like Perry Como and Patti Page side by side with Elvis Presley and Little Richard on the Top 40 charts. Many popular songs from decades past including ""Where Or When", "Deep Purple", "Heart And Soul", "Blue Moon", "My Prayer", "Who's Sorry Now" and "Mack The Knife" became hits all over again in Michigan and all over the country during the rock and roll era's first decade.
Johnnie Ray was born in Oregon in 1927. He began playing piano at an early age and began singing professionally at Portland radio stations at fifteen. Inspired by rhythm singers Ivory Joe Hunter and Kay Starr, Ray developed a unique singing style that combined early rhythm and blues with a more conventional pop music approach. Ray was completely deaf in one ear, and some music scholars have theorized that his hearing disability contributed to his singular style.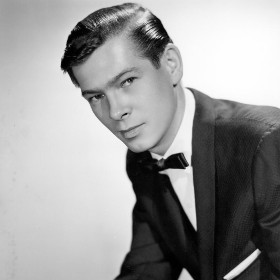 Johnnie Ray
After relocating to Detroit, Ray began performing regularly at the Flame Show Bar, an African American nightclub. Ray's somewhat over-the-top performances included theatrics later associated with rock and roll, including tearing at his hair, falling to the floor, and even crying on stage. His idiosyncratic style began attracting a local following at the Flame Show Bar, and it was there that he was discovered by Robin Seymour, a popular disc jockey at radio station WKMH.
Seymour was born in Detroit and became a very popular radio personality on Dearborn's WKMH. He was the first deejay to play rhythm and blues records on a primarily white pop music station and the first to do sock hops in Detroit. Seymour was also a talent spotter, and he is credited with bringing Johnnie Ray to the attention of Columbia Records in 1951.
Robin Seymour
Ray recorded a test record at United Sound Studio in Detroit and was signed to Okeh Records, a subsidiary of Columbia. His first record, "Whiskey and Gin" was only a minor hit, but his second release, a two-sided smash, made him a star. Released in the fall of 1951, his 78rpm single of "Cry" was a monster hit, reaching # 1 on both Billboard's Pop and R&B charts. It's flipside, "The Little White Cloud That Cried", was also a big hit, reaching # 2 Pop and # 6 R&B. Ray's two-sided hit sold over two million copies and helped make him a teen idol. Watch a performance of "Cry" https://www.youtube.com/watch?v=5FO07LN72ek
When Coumbia's executives saw that Ray had developed a large fan base of white record buyers, he was moved from Okeh to Columbia Records. Ray continued to produce big hits in 1952 with "Please Mr. Sun", "Here I Am Broken-Hearted" (with the Four Lads), and "Walkin' My Baby Back Home". His impassioned singing style earned several nicknames including "Mr. Emotion", "The Nabob of Sob", and "Thre Prince of Wails".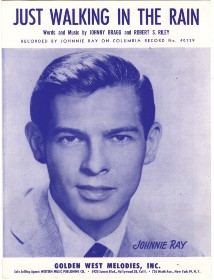 Johnnie Ray's last big hit
Ray's string of Top 40 hits continued into 1954 and included his cover of "Such A Night", a big R&B hit for Clyde McPhatter and The Drifters. Ray's record sales started to decline in 1955, however, and his last big single was his 1956 cover of "Just Walking In The Rain', which peaked at # 2. The song, which was first recorded by The Prisonaires with Sam Phillips on Sun Records, became Ray's biggest hit in England where it reached # 1 and spent 19 weeks on the U.K. charts.
By 1960, Ray was no longer charting hits and his popularity had declined considerably in the United States. He remained popular overseas, however, headlining a European tour with Judy Garland in the 1960s. Ray battled alcoholism throughout his life, however, and it contributed greatly to his health problems in his later later years. He died of liver failure in 1990. Tony Bennett, his former Columbia labelmate, paid tribute to his influence when he called Johnnie Ray "the father of rock and roll."
One of the biggest pop hits by a Michigan-born artist in the 1950s was "Singing The Blues" by Guy Mitchell. He was born Albert Cernik in Detroit in 1927, the son of Croatian immigrants. After his family moved to California in 1938, he auditioned and was signed by Warner Brothers Pictures to be a child star. When his movie career failed to materialize, his family moved to San Francisco and Cernik began singing on Dude Martin's country music radio program.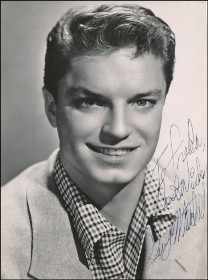 Guy Mitchell
Cernik served in the U.S. Navy for two years during World War II. After his discharge, he sang with Carmen Cavallaro's big band and made his first recordings in 1947. After moving to New York in 1949, Cernik's solo performance as a solo artist won the Arthur Godfrey's Talent Scouts radio show.
The big band era was ending at the dawn of the 1950's, and the rage was now directed towards solo singers like Perry Como, Rosemary Clooney, Teresa Brewer, and Eddie Fisher. Al Cernik was signed to Columbia records in 1950 by Mitch Miller. It was Miller who changed Cernik's name to Guy Mitchell before releasing his first single.
Guy Mitchell's debut single on Columbia was composed of two novelty songs that had been turned down by Frank Sinatra. It resulted in a big two-sided hit for the label in 1950 with "My Heart Cries For You" peaking at # 2 and its flipside, "The Roving Kind", reaching # 4.
Mitchell recorded a string of Top 40 hits from 1951 to 1953, including duets with Rosemary Clooney and Doris Day. He also appeared in some Hollywood films: Those Redheads From Seattle, the first 3-D musical, with Rhonda Fleming in 1953, and Red Garters, co-starring Rosemary Clooney in 1954.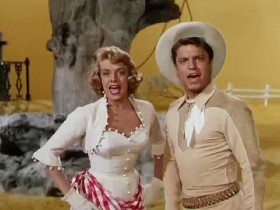 Rosemary Clooney and Guy Mitchell
He was even more popular in England than in the United States. In 1952, Mitchell sold out a two-week engagement at the London Palladium in less than 24 hours. Two years later, he was invited to sing for Queen Elizabeth II at the Royal Command Performance. So great was his popularity in the U.K., Mitchell had two # 1 hits there before he had his first in this country.
His singing career had sagged with the rise of rock and roll, so Mitch Miller had him cover a # 1 country music hit by Marty Robbins called "Singing The Blues". Released in late 1956, it became a # 1 hit on the Billboard Hot 100 and one of the biggest singles of the decade. Mitchell's "Singing The Blues" replaced Elvis Presley's "Love Me Tender' at # 1 the week of December 8, 1956, and would not surrender it for the next ten weeks. It was finally bumped off the top spot by Presley's next single, "Too Much", the week of February 9, 1957.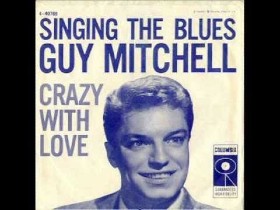 Although he was basically a crooner and not a rock and roll singer, Mitchell had two more sizeable hits with a cover of Robbins' "Knee Deep In The Blues" and a Top Ten single with a song called "Rock-A-Billy", both in 1957. He then embarked on a television career with The Guy Mitchell Show, a half-hour variety show on ABC. Listen to "Singing The Blues" https://www.youtube.com/watch?v=eGgTdJeCzLE
After a string of non-charting singles, Mitchell would top the charts one last time in 1959 with a cover of Ray Price's country hit, "Heartaches By The Number". He continued his singing career with great success from the 1960s into the 1990s playing the nostalgia circuit. Guy Mitchell died in Las Vegas following surgery in 1999 at the age of 72.
Delloreese Early, known professionally as Della Reese, was born in 1931 in the historic Black Bottom neighborhood of Detroit to parents of African American and Native American heritage. She began her singing career in the church choir and, by the age of thirteen, she was hired to sing in Mahalia Jackson's gospel group. After graduating Detroit's Cass Technical High School at the age of fifteen, Delloeese formed her own gospel group, the Meditation Singers.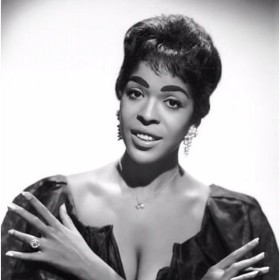 Della Reese
She gave up her group and dropped out of Wayne State University to care for her mother, and she took on a variety of jobs to help support her family. After she started performing in clubs, including the Flame Show Bar, she became influenced by jazz vocalists such as Ella Fitzgerald, Sarah Vaughn, and Billie Holiday. Shortly thereafter, Delloreese Early shortened her name to Della Reese.
Reese signed with Jubilee Records in 1953, but her only significant hit for the label was "And That Reminds Me" in 1957 that reached # 12 on Billboard's Hot 100.
In 1959, Reese signed with RCA Records; and in the fall released her first single, "Don't You Know", which was adapted from Giaccomo Puccini's music from the opera La boheme. It became her biggest hit, peaking at # 2 on the Hot 100 and reaching # 1 on the Billboard R&B chart. Her follow-up single, "Not One Minute More", was also a sizeable pop hit at # 16 in early 1960. Listen to "Don't You Know" https://www.youtube.com/watch?v=N86nxxZW6UY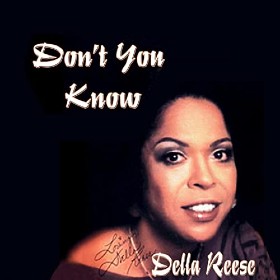 Her most successful album, "Della" was also released in 1960. Although it did not contain either of her hit singles, it reached # 35 on the Billboard album chart and was nominated for a Grammy Award. Her next charting single, "Someday (You'll Want Me To Want You)" was taken from the album.
Reese continued to release pop and jazz singles and albums throughout the 1960s, but did not enjoy any further hits. Motown's Martha Reeves cites Della Reese as a major influence, and has claimed that she named her group The Vandellas after Van Dyke Street in Detroit and Della Reese.
By 1969, Reese had embarked on a career in acting which would eventually lead to even more recognition. She was a regular on the series Chico and the Man and co-starred with her old friend Redd Foxx in the series, The Royal Family. Sadly, Foxx died of a massive heart attack while rehearsing a scene for one of the episodes.
Her biggest success in television, however, was with the series Touched By An Angel. After a shaky start, the series went on to become an enormous hit, running from 1994 to 2003. Sadly, Della Reese developed type 2 diabetes which contributed to her declining health in her later years. She died in 2017 in her home in Los Angeles.
Next up: Ch. 6 – Rockabilly Cats https://michiganrockandrolllegends.com/index.php/blog/399-ch-6-rockabilly-cats