Ch. 6 "Rockabilly Cats"
Details

Category: Dr. J's Blog
Published: Wednesday, 01 July 2020 12:19
Written by Gary Johnson
Michigan Rock and Roll History
Ch. 6 - "Rockabilly Cats"
Rockabilly is a musical blend of hillbilly/country and rhythm & blues that is most associated with the recordings at Sun Records in Memphis and the sexy image of Elvis Presley singing with his guitar. Writer Greil Marcus went on to explain: "Most significantly, the image was white. Rockabilly was the only style of early rock 'n' roll that proved white boys could do it all – that they could be as strange, as exciting, as scary, and as free as the black men who were suddenly dominating America's airwaves."
Michigan's first important rockabilly artist was Jack Scott. He was born Giovanni Scafone Jr. in Windsor, Ontario, in 1936. He was given his first guitar at the age of eight and was taught to play by his father, who was an accomplished guitarist. Two years later, the family moved to the Detroit suburb on Hazel Park where young Giovanni became a fan of country music and started singing while idolizing Hank Williams.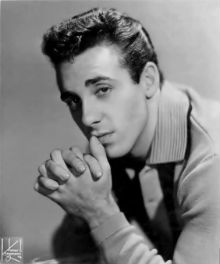 Jack Scott
He changed his name to the easier to pronounce "Jack Scott' when he began performing on a country music radio show on WEXL called Sagebrush Memories. In 1954, Jack formed his own band called the Southern Drifters and began to play Saturday night dances at Bill's Barn in Utica and, later on, he became a regular attraction at a huge venue called the Dance Ranch in Troy. Although his heart was still in country music, by 1956, Jack Scott and his band become influenced by the rockabilly records of Elvis Presley and Carl Perkins.
Scott signed with ABC-Paramount Records in 1957, and his debut rockabilly single, "Baby, She's Gone", was a hit in Detroit but missed the national charts. His ABC producer was Joe Carlton, and when Carlton left the company to form his own label in 1958, he bought out Scott's contract from ABC and signed him to Carlton Records.
"Greaseball" was a rocking song that Scott had written about a Detroit friend who had a knack for getting in trouble, and he wanted to record it for his Carlton debut. Because of possibly being perceived as being negative to Hispanics, the title was changed to "Leroy", and Jack lip-synched his single on American Bandstand. Listen to "Leroy" https://www.youtube.com/watch?v=jQWkxFGxMDM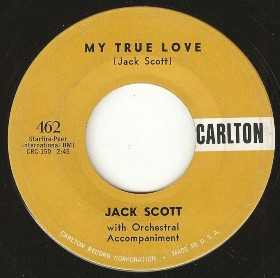 "Leroy" became a Top 20 hit, but DJs increasingly began flipping the record over and playing the B-side ballad, "My True Love", which ended up reaching # 3 on the Hot 100. "My True Love" earned him a gold record, and made Jack Scott the first white rock and roll star to be directly connected to Detroit.
Scott wrote another ballad called "With Your Love" as the follow-up, but it wasn't as successful as "My True Love" and only reached # 28 on the Hot 100. Its flipside, a rockabilly tune called "Geraldine", also charted.
A couple of months later, in early 1959, Scott was back in the Top Ten with his song "Goodbye Baby", written about his feelings about leaving his girlfriend after he received his draft notice. It's B-side, the revved-up gospel tune "Save My Soul", also charted. It gave Scott three two-sided hits in a row - a feat only regularly accomplished by major rock and roll stars like Elvis Presley and Ricky Nelson.
Scott had been impressed with Presley's use of the Jordanaires as background singers on his records, and he was able to find a vocal group called the Chantones in his hometown of Windsor to sing backing on his recordings. Although they were not as smooth and subtle as the Jordanaires, they added an important ingredient to all of Scott's hit singles.
His next charting single, "I Never Felt Like This", was recorded before he went into the Army. Scott's stay in the service was short-lived, however. He had suffered for several years from a recurring ulcer condition, and it caused him to be granted an honorable discharge in the spring. That summer he performed his hits, including his newest rockabilly classic "The Way I Walk", at the Michigan State Fair in Detroit as part of Dick Clark's Caravan of Stars. Listen to "The Way I Walk" https://www.youtube.com/watch?v=XqWpf0TxaPE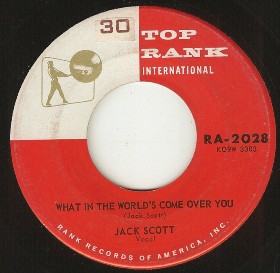 Scott's first single on Top Rank
Later in the year, he inadvertently got in the middle of a dispute between Carlton Records and Starfire, the company that he had signed to for publishing and management. It resulted in Starfire buying out his contract with Carlton and signing him to a new label called Top Rank. His first release was the Top Ten ballad "What In The World's Come Over You" in early 1960.
Scott followed it up with another two-sided hit single, "Burning Bridges" and "Oh, Little One". He was now headlining his own tours as well as Caravan of Stars tours with Dick Clark. Following his next hit, Jack had a falling out with Dick Clark after he left the bus tour for a few days when he became homesick for his family and girlfriend. Jack did not have another Top 40 single after that, and he felt that Clark might have blacklisted him and hurt his career.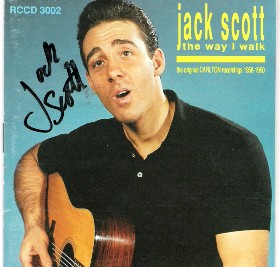 After Top Rank went out of business in 1961, Scott's contract was picked up by Capitol Records and later Groove Records, a subsidiary of RCA; but he had no more charting singles after 1961. Blessed with a voice as distinctive as Johnny Cash, he continued to perform into his 80s. Of all of Michigan's early rockers that have been over looked by the Rock and Roll Hall of Fame, Jack Scott seems the most deserving of induction.
Scott charted 19 songs between 1958 and 1961, most of which he composed. Sadly, he passed away in December of 2019 at the age of 83. Jack Scott was voted into the Michigan Rock and Roll Legends Hall of Fame in 2007, and his recordings of "The Way I Walk" and "Leroy" have been voted Legendary Michigan Songs. Scott was inducted into the Canadian Songwriters Hall of Fame in 2011.
By the late 1950s, Fortune Records started issuing some rockabilly singles by the likes of Dell Vaughn, Don Rader, Eddie Jackson, and George Young. One of the most interesting rockabilly artists to debut on Fortune was Johnny Powers. Born John Pavlik, he started his career in country music at 15, but switched to rockabilly after hearing the records of Elvis Presley and Carl Perkins. He got his 'Powers' stage name from Devora Brown after she saw him eating a Powerhouse candy bar in the studio prior to recording his first single on Fortune, "Honey Let's Go (To a Rock and Roll Show)".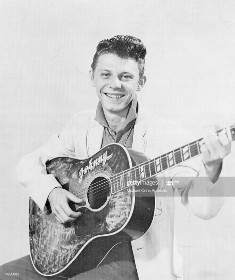 Johnny Powers
Johnny Powers went on to record two singles with Fox Records, another small Detroit label, and he had a regional hit with "Long Blond Hair, Rose Lips"" in 1958. When Fox went out of business in 1959, Powers was signed by Sun Records. The famed label released one single that included fellow Sun artists Charlie Rich on piano and Billy Lee Riley on bass. It was the last session produced by Sam Phillips at the original Sun Studio at 706 Union before opening his new studio in Memphis. Listen to "Long Blond Hair, Rose Lips" https://www.youtube.com/watch?v=N0V3hxK-a5k
In the 1960's Powers signed with Motown, and he became the only artist in history to be signed by both Sun and Motown. His music wasn't a good fit at Motown, however, and he only released one single on Motown's V.I.P. subsidiary. It was a British Invasion-styled release issued under the name 'The Hornets' in 1964 at the height of Beatlemania. Powers spent most of his time at Hitsville driving Stevie Wonder to recording sessions and providing handclaps and foot stomps on a number of Motown hits.
By 1965, Powers had left Motown and moved into record production. He worked with many Michigan artists including Frijid Pink, Capreez, and Tim Tam & The Turn-Ons. Powers eventually moved to Nashville where he continues to do production work and sometimes performs at rockabilly revival shows.
Fox Records was started in the late 50s in Troy, Michigan, by realtor George Braxton who saw an opportunity to make money with rock and roll. He had a local hit in 1957 with "Bad Bad Guitar Man" by The Larados, a group that formed at Edsel Ford High School in Dearborn. Fox also had a local hit with "Fine, Fine Baby" by The Romeos, featuring lead singer, and future Motown songwriter/producer, Lamont Dozier.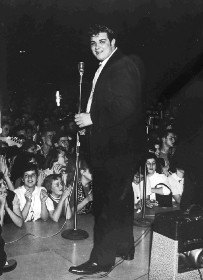 Danny Zella
The only Fox release that charted nationally was "Wicked Ruby" by Danny Zella and His Zell Rocks. The single spent 5 weeks on Billboard's Hot 100 early in 1959, peaking at # 71. Sax player Danny Zella was a large and imposing figure onstage while fronting his band, and he sang the lead vocal on "Wicked Ruby". The flipside was an instrumental titled "Black Saxs" and, as a promotional gimmick, Zella performed on stage with a saxophone he'd painted black. Listen to "Wicked Ruby" https://www.youtube.com/watch?v=DVwCv0GVZHI
Zella was a popular attraction in the Detroit area and, after Fox went out of business, he had a local hit with "Sapphire" in the summer of 1959. It featured backing vocals by The Larados, and was released on the small Dial label in Detroit. Zella recorded a few more singles but nothing else charted. By the mid-1960s, he was working as a promoter in the Detroit area. Danny Zella passed away in 2003 at the age of 64.
Dennis Coffey was born in the Upper Peninsula town of Copper City, a small town on the Keweenaw Peninsula. He moved to Detroit with his sister when their recently divorced mother came to the Motor City to find a good job. Coffey had learned to play guitar from his relatives in Copper City and was influenced by guitarists Scotty Moore and James Burton.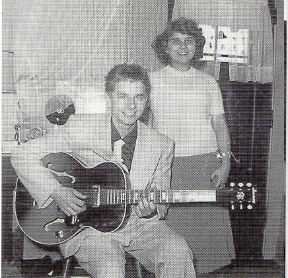 Dennis Coffey and sister Pat
Coffey made his onstage debut at a school assembly while attending Mackenzie High in Detroit. Billed as "The Rock and Roll Kid", his performance of Carl Perkins' rockabilly classic, "Blue Suede Shoes", was cut short by the teacher in charge of the assembly who pulled the plug on his amp mid-song and accused him of putting on an obscene demonstration.
Undeterred, Coffey formed a band in high school. That led to a phone call from a singer and factory worker named Vic Gallon who wanted record a rockabilly song. Coffey made his recording debut at the age of 15 when he was hired to play on two songs with Gallon at $15 per song. The session was held in a small basement studio in Detroit and was released on the tiny Gondola label. Despite being a great little rockabilly song, "I'm Gone" only got a few spins on WEXL, a Detroit country music station. Listen to "I'm Gone" https://www.youtube.com/watch?v=1OVlvDufWHQ
While still in high school, Coffey went on to play guitar with The Pyramids, a local band that played teen dance clubs on Fridays and weddings on Saturdays. Following a two-year hitch in the Army, Coffey started work as a session musician in Detroit, and this led to an offer to join The Royaltones. Coffey and the Royaltones would go on to provide the instrumental backing on several of Del Shannon's hits in the 60s, including "Little Town Flirt", Handy Man", and "Keep Searchin'".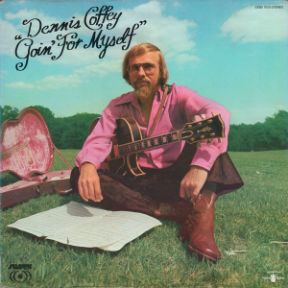 Dennis Coffey 1970's
After the Royaltones disbanded, Coffey began working with the Funk Brothers at Motown; and his guitar was prominently featured on the psychedelic soul recordings produced by Norman Whitfield for The Temptations. Following Motown's move to Los Angeles, Coffey released a number of successful singles and albums as Dennis Coffey and the Detroit Guitar Band in the 1970's. The single "Scorpio" was a # 6 hit on the Hot 100 in early 1972.
Dennis Coffey is still playing and recording. He performs every Tuesday night at the Northern Lights Lounge in Detroit. Coffey was inducted into the Michigan Rock and Roll Legends Hall of Fame in 2018.
Formed in Ironwood, a mining town located in in the northwest corner of Michigan's Upper Peninsula near the Wisconsin border; The Galaxies became the first rock and roll band to emerge from that iron-rich mining region. The group's debut single was one of the earliest productions by Jimmy Bowen, a Top 40 recording artist from the 1950's who would go on to greater fame as a Grammy-winning record producer in Los Angeles and Nashville.
Lead singer Danny Sullivan put the band together while he was still in high school. Calling themselves the Halfbeats, the young band played a few teen dances, before recruiting DJ Dick 'Night Train' Williamson to be their manager. Williamson suggested the band change its name to the Galaxies. He got the idea from the new Ford Galaxie that the company had put out in early 1959 in a marketing attempt to appeal to the excitement surrounding the Space Race between the United States and Russia.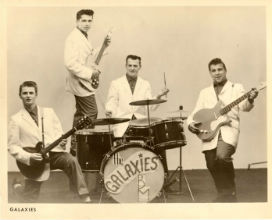 (L to R) Greg Winn, Danny Sullivan, Bernie Michelli, Andy Abraham
Williamson was a well-known radio personality and often brought in national recording acts to Ironwood. The Galaxies got their big break when they opened for Jimmy Bowen, who had charted four singles in the Hot 100 in 1957 and 1958, including his big hit, "I'm Sticking With You". Bowen was impressed with the Galaxies, told them about the Kay Bank Studios in Minneapolis, Minnesota, and gave the band the phone number and address. Bowen was very anxious to get into record production and encouraged the band to record with him.
Kay Bank was the same studio that Bobby Vee used to record his first hit single, "Susie Baby". The Galaxies recorded four songs there with Jimmy Bowen, and the Danny Sullivan-penned rocker, "If You Want To Be My Baby", was chosen as the A-side of their first single. The band had 500 45s pressed and released it on their own Darbo label, named after Jimmy Bowen's wife, Darlene Bowen. Listen to "If You Want To Be My Baby" https://www.youtube.com/watch?v=5ZsBXFEMn_Y
Dick Williamson advised the band to change their name to 'Danny and the Galaxies' on the "If You Want To Be My Baby" side of the record. He felt that it would be easier to sell the band if one of the members was highlighted. Since Danny Sullivan was the singer and also had a very good stage presence, he was the logical choice.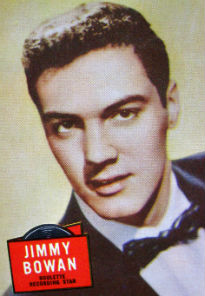 Unfortunately, Jimmy Bowen seemed to lose interest in the Galaxies after the session. He didn't use his music industry contacts to help the band get signed to major record label that could have promoted and distributed the single. Instead, Bowen joined a new record label and continued his singing career for a few more years before signing with Frank Sinatra's Reprise label as a record producer. At Reprise, Bowen produced hits by Dean Martin, Sammy Davis Jr., Dino, Desi and Billy, and also Sinatra's "Strangers In The Night" which won three Grammys, including a Record of the Year Grammy for Bowen.
While Bowen went on to fame and fortune, things were quite different for the Galaxies. In 1960, Williamson helped get the Galaxies signed to Guaranteed Records in New York. The label was a subsidiary of Carlton Records, the label that released Jack Scott's early hits. The Galaxies returned to Kay Bank Studios in Minneapolis to record a single. Unfortunately, "My Tattle Tale" was not as strong as their Darbo single, and when it failed to chart, the band was dropped by Guaranteed.
Throughout 1960 and most of 1961 the Galaxies got a lot of gigs in Northern Michigan, Wisconsin, and Minnesota based on the fact of their being a national recording group. The problem was that they weren't making much money and, with three members now married and with children on the way, the Galaxies came to an end in early 1962.
Although there is only one surviving member, the Galaxies are fondly remembered in Ironwood to this day, and the band was voted into the Michigan Rock and Roll Legends Hall of Fame in 2017.
Next up: Ch. 7 – "Record Men" https://michiganrockandrolllegends.com/index.php/blog/400-ch-7-record-men