Ch. 7 "Record Men"
Details

Category: Dr. J's Blog
Published: Saturday, 04 July 2020 08:02
Written by Gary Johnson
Michigan Rock and Roll History
Ch. 7 - "Record Men"
Michigan was blessed with a large number of other small independent record labels that, like Fortune, provided opportunities for Michigan artists. Fox, Lucky Eleven, A-Square, Lu Pine, Flick, Twirl, Fenton, Golden World, Impact, Carla, and most importantly Tamla-Motown, were just a few of the record labels that opened the doors to a vast array of Michigan vinyl recordings. The people who established and ran these labels played an important role in providing us with an audio history of the development of the rock and roll movement in our state.
Harry Balk was one of the early movers and shakers in the Detroit music scene as a manager, producer, and label owner. Balk was born in Detroit in 1925, the son of Russian Jewish immigrants. After his father became ill, Balk dropped out of school to work a variety of jobs and hustle at local pool halls to earn money to help support the family.
Balk had a reputation as a ladies' man, and he loved to hang out in the jazz clubs in the neighborhood where he lived. He embraced the black culture of Detroit in his walk, talk, and mannerisms to the point that the hipsters in his neighborhood referred him as a "brother turned inside out."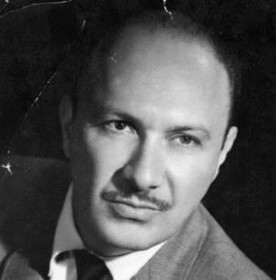 Harry Balk
His uncle owned several movie houses, and one of the jobs that Balk had growing up was running movies in the projection booths. At the age of 30, Balk bought one of his uncle's theaters in the predominantly black area of Detroit. To bring in customers on slow nights, Balk began running amateur talent shows at this theater on Tuesday and Thursday nights.
The talent shows were an immediate hit with lines around the block on the nights they were held. A young singer named Willie John seemed to win every contest, and his success gave Balk the idea that he might be able to make some money in the music business. Balk signed the teenager to a management contract and was able get John a record deal in 1955 with King Records out of Cincinnati.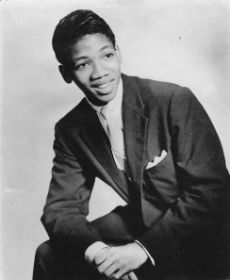 Little Willie John
Little Willie John was born in Arkansas in 1937. He moved with his family to Detroit when he was four so that his father could find factory work. In the late 1940's. Willie and three of his siblings, including sister Mabel, formed a gospel singing group called the United Four; and they often performed on the same circuit with Sam Cooke and the Soul Stirrers. Willie got his nickname from his small stature – he was only 5' 3" as an adult – and his impish face. He had a compelling voice, and he could really get the girls and women worked up during the gospel shows.
His first release on King, "All Around The World", made an immediate impact, reaching # 5 on Billboard's R&B chart in late 1955. His next single was a two-sided hit, with both "I Need Your Love So Bad" and its flipside, "Home At Last" reaching the R&B Top Ten. John would go on to chart 17 R&B hits during his career, 15 of which made the Top 20.
Willie's next release, "Fever", made him a star. It became his first and only # 1 R&B hit in 1956, and it would also be the first of his 14 records to reach the Billboard Hot 100. "Fever" became a bigger pop hit two years later for Peggy Lee, and it has been covered by many other artists over the years including Elvis Presley, The McCoys, and Madonna. Listen to "Fever" https://www.youtube.com/watch?v=szz27BuDgeU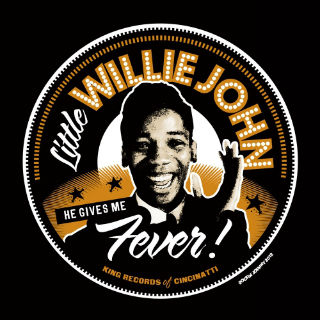 Little Willie John had a temper, however, and frequently abused alcohol. He always carried a gun, and he would often use it to shoot up hotel rooms and frighten people. Harry Balk parted company with Willie in the late 1950's after having to deal with too many problems on the road. Harry Balk would go on to success with Johnny and The Hurricanes and Del Shannon, run two record labels, and play an important role at Motown during his storied career.
Despite his many scrapes, Little Willie John continued to headline R&B shows throughout the early 60's. In 1966, five years after John's last charting hit, he got involved in a barroom fight and stabbed a man to death. Convicted of manslaughter, John was sent to prison. He appealed his conviction and was released while his case was reconsidered. While free, he recorded an album that was to be his comeback but it went unreleased when his appeal was denied.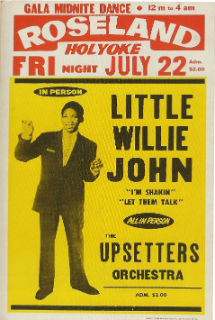 Sent back to prison, he died in 1968 from a heart attack according to his death certificate, but rumors persisted that he was actually strangled. Little Willie John was inducted into the Rock and Roll Hall of Fame in 1996. He was inducted into the Michigan Rock and Roll Legends Hall of Fame in 2016, and his recording of "Fever" was voted a Legendary Michigan Song in 2017.
Robert West was an important influence and also a rival of Berry Gordy Jr. during his years in the music business. Born in Alabama in 1912, West moved to Detroit in 1935. In 1955, he began managing and producing The Falcons, a mixed-race singing group containing his nephew Eddie Floyd.
This first version of the group focused on supper club and modern harmony material with some gospel added to round out their repertoire. They released a non-charting single before both of the group's white members left and were replaced by Joe Stubbs (brother of Levi Stubbs of the Four Tops) and Mack Rice. Now focused on the gospel and R&B side of the Falcons, West formed Silhouette Records and released the group's single, "Sent Up" in 1957.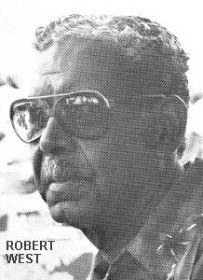 Robert West
After his Silhouette label went out of business, West formed Kudo Records and released several singles. The recordings included "This Heart Of Mine" by the Falcons and a couple of debut recordings by future Motown stars: "(Where's The Joy) In Nature Boy" by Brian Holland and "Baby-O" by Marv Johnson. Despite West's knack for discovering talent, his Kudo Label proved to be as short-lived as its predecessor.
In 1959, West founded both the Bumble Bee and Flick labels, and this time he hit pay dirt. When the new Falcons' single "You're So Fine", emerged as a local smash on Flick, West licensed the master to the United Artists subsidiary UnArt. During the summer of 1959, "You're So Fine" became a # 2 R&B hit and also crossed over to the Hot 100 where it peaked at # 17. Listen to "You're So Fine" https://www.youtube.com/watch?v=J8HNDaPV7Cc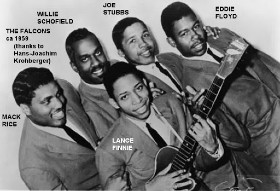 The Falcons
Unfortunately, West could not come up with a follow-up hit for the group, and after four consecutive non-charting singles on UnArt and one on Anna, the label owned by Gwen Gordy and Billy Davis, the group underwent an important lineup change. Joe Stubbs left the Falcons in 1960 to pursue a solo career. His replacement was Wilson Pickett, who had been born in Alabama in 1941, but moved to Detroit in 1955 to live with his father.
Pickett joined The Violinaires gospel group shortly after arriving in Detroit, and he developed his forceful and passionate style of singing during his four years with the popular gospel-harmony group. Shortly after Pickett joined the Falcons, Robert West retired the Bumble Bee and Flick labels and started two new ones, Contour and Lu Pine.
One of the first recordings on Lu Pine was a 1960 single by The Primettes, a year before they signed with Motown and changed their name to The Supremes. Their Lu Pine release featured Diana Ross singing lead on "Tears Of Sorrow" and Mary Wilson singing lead on "Pretty Baby". The record did not chart, however, as the girls needed the right material and further training before they would eventually achieve success as recording artists at Motown. Listen to "Tears Of Sorrow" https://www.youtube.com/watch?v=-lrqtZ0JMp4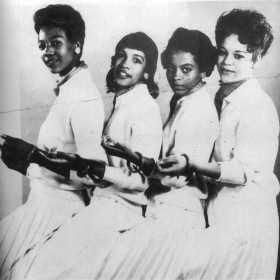 The Primettes
Robert West signed a contract with Atlantic Records to distribute selected singles for national distribution, but the only hit under this agreement was Betty LaVette's "My Man – He's A Lovin' Man" which was placed with Atlantic Records in late 1962 where it peaked at # 7 on the Billboard R&B chart in early 1963.
Later in the year, "I Found A Love" by The Falcons became Lu Pine's biggest hit. It featured the lead vocal of Wilson Pickett, and it was distributed nationally by United Artists. The song was a # 6 R&B hit and also reached # 75 on the Hot 100 in 1963, but the Falcons broke up later in the year. Listen to "I Found A Love" https://www.youtube.com/watch?v=TkQa2n3bHnw
During its run, Lu Pine released singles by an impressive roster of artists including Joe Stubbs, Eddie Floyd, Mack Rice, the Ohio Untouchables (later renamed the Ohio Players), and Betty LaVette, but the label's success paled in comparison to Motown. Despite his obvious eye for talent, Robert West lacked Berry Gordy Jr.'s business acumen and charm. He had extensive record company experience, but he had a hard-boiled personality and sometimes out-of-control temper as well. West also carried a handgun and didn't hesitate to draw and point it at others during arguments.
By 1964, the Lu Pine label had folded, Motown was on the rise, and it looked as though Robert West's music career was coming to an end. He was thrown a lifeline, however, when he was approached by Mary Wells and her ex-husband, Herman Griffin, who were in the process of disaffirming her contract with Motown and signing with another record label. Wells and Griffin felt that West, because of his contacts with New York labels like United Artists and Atlantic, could help Wells get a better deal than she had with Motown.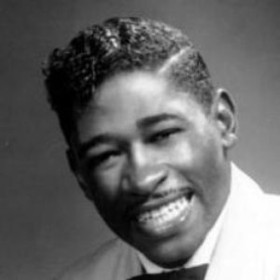 Herman Griffin
West saw it as an opportunity to make some money and also a chance to stick it to his old rival, Berry Gordy Jr., who was about to lose his biggest female star to another record company. During a trip to New York to negotiate with record labels, West and Griffin got into an argument following a bout of heavy drinking. The dispute was over whether Wells should sign with Twentieth Century Fox Records or Atlantic Records. West had been given some money by Atlantic to have him help persuade Wells to sign, but she favored Twentieth Century Fox because they were offering film roles as well.
The disagreement with Griffin got so heated that West pulled his gun. Griffin lunged at West, pushed his hand back, and the gun discharged with the bullet entering West's skull just above his left eye. West was taken to the Roosevelt Hospital in New York City where he survived, but he was blinded in his left eye for the rest of his life. Griffin was originally charged with assault and brought before a Manhattan Grand Jury, but he was eventually cleared of the charge by the jurors.
After recovering from the gunshot wound, Robert West moved to Las Vegas and worked at various jobs, occasionally sending out material from his musical career via post office box, until his death from natural causes in 1983.
Next up: Ch. 8 "No Words (The Instrumentals)" https://michiganrockandrolllegends.com/index.php/blog/401-ch-8-no-words-the-instrumentals