Ch. 9 "Berry Gordy Jr. and Jackie Wilson"
Details

Category: Dr. J's Blog
Published: Monday, 06 July 2020 07:52
Written by Gary Johnson
Michigan Rock and Roll History
Ch. 9 - "Berry Gordy Jr. and Jackie Wilson"
Both of Berry Gordy Jr.'s parents were born in Georgia. Berry Gordy Sr. and Bertha Fuller were married after he returned from serving in World War I. The Gordy's moved with their three children to Detroit in 1922 to start their own business. Berry Gordy Jr. would be born in Detroit on November 28, 1929, the 7th of 8 children.
The Gordy family was close-knit, and hard work was stressed. The children were expected to work in either the family-owned grocery store or its plaster contracting business in Detroit's Eastside. Berry would always remember being taught by his parents that the family should operate as one. His mother's favorite saying was "There is strength in unity" while his father's was "The customer is always right."
Berry was taught to play the piano by his uncle. After he learned a few chords, he began constructing little melodies of his own and was able to play songs he heard on the radio by ear. It wasn't long before he created his first song, a boogie-woogie number that he called "Berry's Boogie".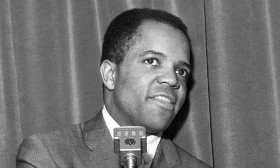 Berry Gordy Jr.
Considered somewhat of a 'black sheep' in the family because of his lack of success in school, Berry Jr. grew up near Hastings Street, an exciting area on Detroit's Eastside and a center for black music, nightlife, gambling, and street hustling of every type. Young Berry was inspired by the success of black stars like Nat King Cole, Billy Eckstine, and the Mills Brothers. He dreamed of making it big in music rather than spending his life working in one of the family businesses.
Gordy also idolized Detroit boxing champ Joe Louis who was demonstrating yet another way for a young black man to get out of the slums and into a world of fame and fortune. Berry dropped out of high school and started boxing at the Brewster Center, a city-run recreation facility for inner-city youth located near the Black Bottom area, close to the Detroit River. There, Berry began working with the soon-to-be-famous trainer Eddie Futch. Boxing mostly as a featherweight (126 pounds), Gordy had fifteen fights and posted a very respectable record of ten wins, three losses, and two draws.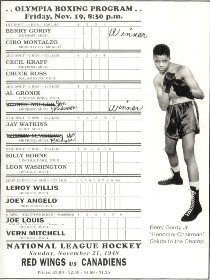 Gordy fight card 1948
Music, however, was Gordy's greatest love and he quit boxing because he had dreams of becoming a professional songwriter. His plans for a music career, however, were interrupted by the Korean War. Gordy was drafted in 1951 and served overseas until his discharge in 1953.
Upon returning stateside, Berry decided to open a jazz record store in Detroit. He borrowed money from his father and also convinced his older brother George to invest in the store. Berry quickly discovered that there weren't enough jazz fans in the area to keep the business afloat. He was trying to sell jazz platters when most of his potential customers wanted blues records. Even though he eventually lost the business, Gordy learned an important lesson – 'give the people what they want'.
Berry married his first wife, the former Thelma Coleman, in late 1953. By the next year, Berry and Thelma had their first child. With a family to support, Gordy landed a job at the Lincoln-Mercury assembly plant. He fastened upholstery and chrome strips on car frames being pulled on large conveyer belts. Once he became skilled at his tasks, Berry found that he had some extra time before a new frame came along. He began using those breaks to work on writing songs.
After two years on the assembly line, Gordy left to become a full-time songwriter. His sister Gwen owned the photo concession at Detroit's popular Flame Show Bar, and she provided Berry with his first important music business contact when she introduced him to Al Green, the white manager of the club.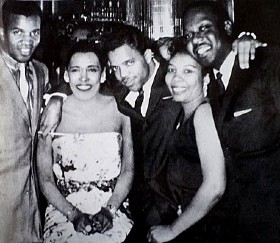 Gordy (center) Flame Show Bar
Green also managed music stars including Johnnie Ray, Della Reese, and LaVern Baker; and he had just signed a new singer from Detroit named Jackie Wilson. Wilson had recently left Billy Ward and The Dominoes to go solo. In addition, Green owned a music publishing company and was looking for new material.
Berry formed a songwriting partnership with his sister Gwen Gordy and Roquel "Billy" Davis, a childhood friend who had connections with Chess Records in Chicago. The partners started out with a bang by writing "Jim Dandy Got Married" for LaVern Baker on the Atlantic label and "All I Could Do Was Cry" for Etta James on Argo, a Chess subsidiary label. By far, however, their greatest early success was writing the first big hits for Jackie Wilson. Listen to "All I Could Do Was Cry" https://www.youtube.com/watch?v=6-mMYmdmYP4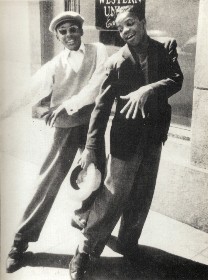 Billy Davis and Gordy
Jackie Wilson was born on the tough north side of Detroit in 1934. Because his father was an alcoholic who was rarely at home, Wilson was raised by his mother who was a major influence of his life. He started singing at a young age when he formed a gospel quartet that performed at churches in his neighborhood.
During his teen years, Wilson got involved with a Detroit gang called the Shakers. This resulted in him often being truant from school and getting in enough trouble to be sent to the Lansing Correctional Facility on two different occasions. It was there that Wilson learned to box, and he later put his skills to work as a welterweight in the Golden Gloves program.
By 1950, Wilson had dropped out of school and had begun performing in local nightclubs. In 1951, he married Freda Wood, whom he had known since he was ten, after she had become pregnant.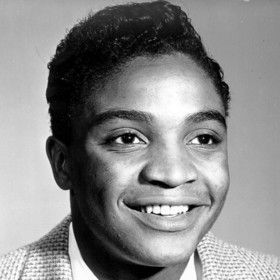 Jackie Wilson
Wilson was discovered in 1951 at a talent show by Johnny Otis who recruited him to sing in the Thrillers on a part-time basis before they changed their name to the Royals. The group signed with King Records out of Cincinnati before Wilson became a full-time member, however, and he was left behind.
Blessed with a tenor voice with a four-octave range, Wilson signed with Dizzy Gillespie's Dee Gee Records in 1952. He recorded his first version of "Danny Boy" under the name Sonny Wilson on the DeeGee label. Although it was not a hit, it was an important first step in what would become a very successful career as a recording artist.
Wilson got his big break when he auditioned to be in Billy Ward's Dominoes in 1953 and got some important tips from a singing legend. Before leaving the Dominoes to form the Drifters, lead singer Clyde McPhatter helped Wilson by coaching him on his singing style and stage presence. In addition, Billy Ward also had him use 'Jackie Wilson' as his stage name because he felt it would better fit the Dominoes' image.
In the fall of 1953, Wilson sang lead on "You Can't Keep A Good Man Down", which reached # 8 on Billboard's R&B chart. The group followed it up two months later with "Rags To Riches", a # 2 R&B hit. Wilson performed with Billy Ward's Dominoes for three years, and left to pursue a solo career after he sang the lead vocal on "St. Therese Of The Roses", the group's first hit on the Billboard Hot 100 in 1956.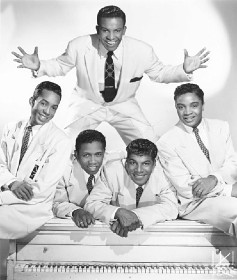 Wilson (right) with The Dominoes
By 1957, Wilson was managed by the aforementioned Al Green who went to New York and got Wilson a contract with Brunswick Records, a Decca Records subsidiary label that focused on rhythm & blues recordings. Shortly before the deal was signed, Al Green died suddenly. Upon his death, Nat Tarnopal, Green's young business associate, became Wilson's manager.
Berry Gordy Jr., Billy Davis (using the pseudonym Tyran Carlo), and Gwen Gordy wrote Wilson's debut single on Brunswick, "Reet Petite (The Finest Girl You Ever Want To Meet)". The song provided Wilson with his first solo appearance on the Billboard Hot 100 when it reached # 62 in late 1957. Listen to "Reet Petite" https://www.youtube.com/watch?v=tE46zm4yjhA
The trio also wrote Wilson's next hit, the ballad "To Be Loved", which reached # 22 on the Hot 100 and hit # 7 on Billboard's R&B chart in the summer of 1958. The best was yet to come, however, when "Lonely Teardrops" became Wilson's first #1 R&B hit as well as his first single to crack the Top Ten on the Hot 100 in early 1959. The song helped make Jackie Wilson an R&B superstar and earned him a prestigious booking on The Ed Sullivan Show.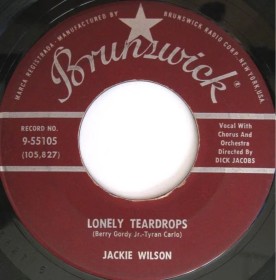 Jackie Wilson's first big hitWatch a performance of "Lonely Teardrops" https://www.youtube.com/watch?v=2nEfuE8Pw4U
Gordy Jr.and Davis also penned the follow-up, "That's Why (I Love Her So)". It was another solid hit, reaching # 2 on the R&B chart and # 13 on the Hot 100. Gordy and Carlo combined again in the summer of 1959 to provide Wilson with yet another hit single with "I'll Be Satisfied", which reached # 6 R&B and # 20 on the Hot 100.
During this time period, the royalties for the hit song were the same as the non-hit flipside of the record. Since Gordy was splitting the royalties on the hits he had co-written with Davis and his sister, he went to Nat Tarnopol and asked that they be given the opportunity to also provide the flipsides of Wilson's records. Tarnopol, who often had to record songs that were published or selected by the ultra-conservative heads of Decca Records, turned him down.
After the trio decided to end their association with Jackie Wilson over the flipside issue, it was Gwen Gordy who first put the idea of starting a record company into action. She formed a label with Billy Davis and named the company 'Anna', after her sister. Davis then used his contacts to make a deal with Chess Records to distribute their new Anna label nationally. They both wanted Berry Gordy to be a partner with them, but he decided to go out on his own and run his own record label rather than be in another partnership.
Although Gordy was short on money and had recently been divorced from his first wife, he had some things going for him. Because of the Jackie Wilson hits, his name was known in the music business and he had also made an important discovery before leaving Wilson.
In August of 1957, Nat Tarnopol, was auditioning new acts in Detroit. Gordy happened to be in his office when a young group calling themselves the Matadors performed some songs. The group failed to impress Tarnopol but they caught Gordy's ear.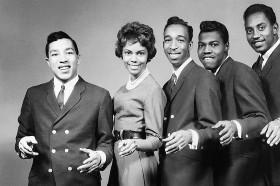 The Miracles: Smokey Robinson, Claudette Rogers, Ronnie White, Pete Moore, Bobby Rogers
Gordy complimented the Matadors in the hall following their audition, and he offered to manage them. Gordy also offered to help the group's leader, William "Smokey" Robinson, with his songwriting efforts after discovering that Robinson had a whole notebook filled with early compositions.
Following his divorce, Gordy was working out of his sisters' houses, and he signed both the Matadors, soon to be renamed the Miracles, and another vocal group called the Satintones before he auditioned a 20-year-old singer from Detroit named Raynoma Liles. Although she is often overlooked in Motown's history, Raynoma Liles became an important early member of Gordy's team.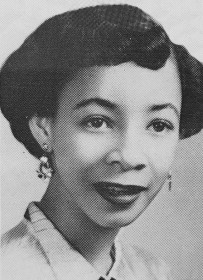 Raynoma Liles
Liles, who was desperate to make it in show business as a singer and songwriter, impressed Gordy with her perfect pitch and strong background in arranging. As a result, he brought her into his business to help him develop his young acts.
Their business arrangement soon turned romantic, and she invited Gordy to share her cramped apartment where she lived with her son from a teenaged marriage. It was that small apartment at 1719 Gladstone in Detroit that Gordy and Raynoma Liles hatched Rayber Music, a shoestring operation that offered aspiring artists an opportunity launch their songs.
Rayber Music would supply an arrangement, record the track, and try to get the master placed with a label or played on the radio for $100. A few months later, Gordy and Liles would form Tamla Records in that same small apartment. It was the beginning of what would soon become Motown.

Next up: Ch. 10 – "The Birth Of Motown" https://michiganrockandrolllegends.com/index.php/blog/403-ch-10-the-birth-of-motown