MRRL Hall of Fame
DICK WAGNER
Details

Category: Inductees
Created: Friday, 26 October 2012 11:52
Written by Gary Johnson
Although he is not an instantly recognized name to the average music fan, Dick Wagner is a Michigan rock and roll treasure. Wagner was first voted into the Michigan Rock and Roll Legends online Hall of Fame in 2008 as the leader of The Frost, one of the greatest Michigan bands of the Grande Ballroom era.
Prior to that, Wagner had been the main songwriter, producer, and lead singer of The Bossmen, Mid-Michigan's first important garage-rock band. Wagner also wrote and produced a number of other memorable singles for a variety of young Michigan bands during the 1960's before forming a highly respected, but short-lived, power trio, called Ursa Major.
For all intents and purposes, Dick Wagner's solo career began when he was still the leader of two important Michigan bands, The Bossmen and The Frost. The Bossmen were one of the first groups to become immensely popular on the teen dance club circuit around the state in the 1960's, especially at Daniel's Den, Mid-Michigan's premier nightspot for young rock and rollers. Inspired by the songwriting of Lennon and McCartney, Wagner began penning a series of Beatles-inspired and radio-friendly singles, starting with "Take A Look My Friend", that received significant airplay on stations like WKNX in Saginaw, WTAC in Flint, WLAV in Grand Rapids, and WJIM in Lansing in early 1965.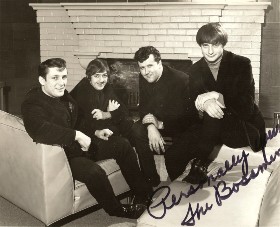 Bossmen (L to R) Dick Wagner, Pete Woodman, Warren Keith, Lanny Roenicke
Besides being the best guitarist and one of the top singers in the state, Wagner, in his mid-twenties, was something of an elder statesman to the bevy of teen bands that emerged in the wake of the British Invasion. Writing more songs than he could record with The Bossmen, Wagner started offering some of his compositions as well as his record production skills to some of these up-and-coming Mid-Michigan groups.
The first of these was The Bells Of Rhymny, a band of Saginaw high school teens who had done their first recording session in 1966 at the small Art Schiell Studio in Bay City a few weeks after ? And The Mysterians had recorded the classic "96 Tears" there. The group played the demo recordings for Wagner, who was living in Saginaw, to get his opinion. Liking what he heard, Wagner offered to produce the group's first 45 and gave them one of his songs, "The Wicked Old Witch", for one side of the single, backed with the band original "She'll Be Back". The songs were recorded in Detroit and released on Wagner's Dicto record label.
The second, and most important, single that Wagner wrote and produced for the group was "I Cannot Stop You". Released under the band's new name of The Cherry Slush, the song was recorded at the Audio Recorders studio in Cleveland, Ohio. Wagner had written a particular horn line that he wanted to feature, so he brought in two local trumpet players to enhance the band's sound. Released first on the small Coconut Groove label, "I Cannot Stop You" became a regional smash and was picked up for national distribution by USA Records out of Chicago. The horns in Wagner's production helped make the record happen, and it gave both The Cherry Slush and their producer their first single on the Billboard charts in 1968.
Wagner began working with Tonto & The Renegades from Grand Ledge, Michigan, during the early days of The Frost. The band knew Wagner from playing several gigs with The Bossmen on the teen night club circuit. He had been impressed with their first single, "Little Boy Blue", and it was agreed that he would provide two songs and produce their second 45.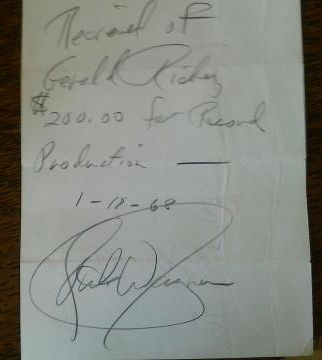 Wagner's record production receipt from Tonto & The Renegades session
"The Easy Way Out" and "Anytime You Want Some Lovin'" were recorded at Dave Kalmbach's Great Lakes Recording Studio in Sparta, Michigan. Wagner was paid $200 for his production which included writing horn parts for both songs, playing the controlled guitar feedback on "The Easy Way Out", and bringing in Donny Hartman of The Frost to play harmonica on "Anytime You Want Some Lovin'". The 45 was a big regional hit, and Columbia Records was interested in signing the band and distributing the record nationally, but the Vietnam War and the draft board quickly put an end to that dream.
The Fabulous Pack, featuring future Grand Funk founders Mark Farner and Don Brewer, also recorded two of Wagner's songs. Farner had left Terry Knight & The Pack in 1966 after a disagreement with Terry Knight. He knew Wagner and was asked to join The Bossmen. Farner was with the band when they recorded their big regional hit "Baby Boy" in Cleveland. He also sang backing vocals on "Rainy Day", a song that Wagner recorded at the same session. Wagner wrote string parts for the song, hired a string quartet from the Cleveland Symphony, and then conducted them on what would become The Frost's first single when it was released on Date Records in 1967.
Mark Farner ret
(L to R) Dick Wagner, Jim Leach, and Terry Knight at Daniel's Denurned to Terry Knight & The Pack after The Bossmen broke up. After Knight left the group to pursue a solo career, Farner and Brewer changed the name of the band to The Fabulous Pack. The renamed band's next two singles would include Dick Wagner compositions. "I've Got News For You" was the b-side of their cover of "Harlem Shuffle" in late 1967; and "Wide Trackin'", a song Wagner had written for use in an advertising campaign for Pontiac's new 'wide tracking' automobiles, was the a-side of The Fabulous Pack's first single of 1968.
After The Bossmen split, Wagner was invited to New York City to audition for the part of lead singer for Blood Sweat and Tears. Al Kooper was leaving the band, and Wagner spent a weekend in the Big Apple learning material and rehearsing with the band to be his replacement. Wagner lost out to David Clayton Thomas, however, and returned to Michigan to put together The Frost.
While Farner and Brewer would go on to incredible success in Grand Funk Railroad, Wagner's Frost would miss grabbing the brass ring despite producing three high quality albums and some seemingly 'can't miss' singles in large part because Vanguard Records seemed unable to break the band outside of the Midwest.
Wagner met a young booking agent named Dennis Arfa near the end of The Frost who convinced him to move to New York after the band's demise to form a trio with keyboardist Billy Joel and drummer Rick Mangone. Originally set to be named World War III, things changed dramatically when Joel dropped out of the project due to personal strife in his marriage. Wagner then recruited Greg Arama, former bassist for Ted Nugent's Amboy Dukes to form a more traditional power trio called Ursa Major.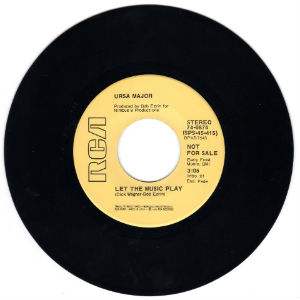 Ursa Major single
The new band signed a recording contract with RCA, and Arfa brought in Bob Ezrin to produce the band's eponymous debut LP, "Ursa Major". Wagner wrote all of the songs for the album, which received positive reviews, and they went on the road to promote it, opening first for Beck, Bogart and Appice, and then Alice Cooper. Despite the successful tour, neither the album nor the single, "Let The Music Play", got much support from RCA; but worst of all, the band could not seem to get along. Wagner ended up firing Arama and Ursa Major broke up a short time later.
In 1972, Bob Ezrin brought Wagner in to add a guitar part to Lou Reed's "Berlin" album. As a result, Wagner was asked to put together a band for Reed's European tour and he recruited Steve Hunter, formerly of Detroit featuring Mitch Ryder, as co-lead guitarist. When the tour returned to America several of the shows were recorded. The first half of these was released as "Rock n Roll Animal". The LP became Lou Reed's first American gold record and is generally considered to be one of the best live albums ever recorded, primarily due to the dueling guitars of Dick Wagner and Steve Hunter. Reed was unhappy about the attention given to the musicians on both the tour and the album, however, and fired the band before his next scheduled tour.
Alice Cooper had first met Wagner in 1969 after his band had relocated to Detroit. During the early 70s Wagner had done some session work with the group on their "School's Out", "Billion Dollar Babies", and "Muscle Of Love" albums. After Dick was fired by Lou Reed and Alice had split from his original band, Wagner was invited to write songs with Cooper and be the lead guitarist in a new backing group that would support his solo career.
The result of this collaboration was the "Welcome To My Nightmare" album. The hit single from the LP started out as a song that Wagner had originally written for the Frost in 1968 called "Keep Movin' On", but had never recorded. He played it for Cooper as they were working on song ideas, never thinking that Alice would be interested in recording a ballad. Cooper said he liked the song but not the lyrics, and proceeded to write the words for "Only Women Bleed" in under an hour. Thus, a very successful songwriting relationship was developed between the two where Wagner would write the music and Cooper would pen the lyrics.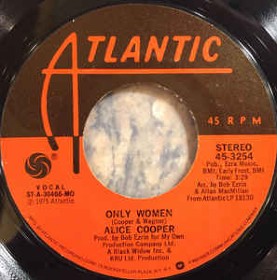 Wagner co-wrote four of Alice's biggest hits
Released as "Only Women" so as not to scare off squeamish radio programmers, the song became the first Wagner song to reach the Top 20 on Billboard's Hot 100. It also kicked off one of the largest and highest grossing tours in rock and roll history; and took the concept of theatrical performances to new heights behind basically the same band that had successfully backed Lou Reed, again featuring the twin guitar attack of Wagner and Hunter.
The tour and the # 5 hit album helped put two more Wagner-Cooper songs from the LP, "Department Of Youth" and "Welcome To My Nightmare", into the Hot 100. The popularity of the show led to a prime-time TV special called Nightmare, featuring Vincent Price, that aired in April of 1975. In September of that same year, a concert film of the tour called Welcome To My Nightmare was shot at London's Wembley Stadium and released to theatres the following year. It was Wagner's first appearance on the silver screen.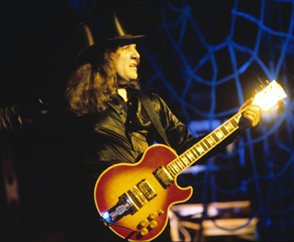 Alice Cooper Tour
The follow-up album to "Welcome To My Nightmare" was titled "Alice Cooper Goes To Hell". Wagner and Cooper wrote the songs for the album while on vacation with their wives in Hawaii, and the album was recorded at Cherokee Studios in Los Angeles. Bolstered by the hit ballad "I Never Cry", the LP peaked at # 27 on the Billboard Top Albums chart. Wagner would go on to co-write two more Top 20 hits with Cooper, "You And I" in 1977 and "How You Gonna See Me Now" in 1978.
In 1977, Wagner signed with Atlantic Records as a solo artist despite being courted by the legendary Clive Davis at Columbia. Dick wrote all the songs for the album titled "Richard Wagner"; but the humorous reference to the classical composer of the same name, insisted on by his producer and manager, was lost on the record-buying public, most still somewhat unfamiliar with the name 'Dick' Wagner, let alone 'Richard'.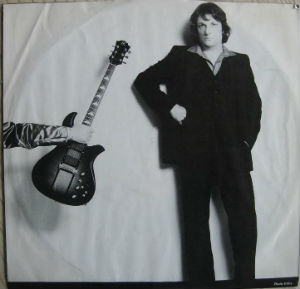 "Richard Wagner" LP
Despite being produced by Bob Ezrin and featuring some musical heavyweights like Steve Hunter on guitar, Funk Brother Bob Babbitt on bass, and Ernie Watts on sax, the project failed to get much promotion from Atlantic Records and did not chart.
That same year, Wagner produced Mark Farner's first solo album following the break-up of Grand Funk. Recorded in Toronto and composed of songs co-written by Wagner and Farner, the album veered away from what had made Farner great in his previous band. They also failed to write a radio-friendly single to push the LP, and Wagner's slick production received poor reviews in the music press.
By the time the "Lace And Whiskey" album was released, it was apparent that Alice Cooper's alcohol problem had gotten the best of him. Wagner and Cooper wrote another impressive single called "You And Me", and it became their fourth consecutive ballad hit when it reached # 9 on Billboard's Hot 100.
The "Lace And Whiskey" LP, however, only reached # 42 in Billboard. It was the first Alice Cooper album to fail to reach the Top 40 since "Easy Action" in 1970. The subsequent King Of The Silver Screen tour was something of a letdown and signaled the beginning of a change in the careers of both Alice Cooper and Dick Wagner.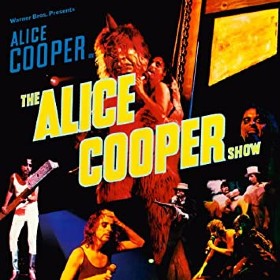 Featuring Dick Wagner
Cooper had himself hospitalized in a New York sanitarium for treatment, during which time "The Alice Cooper Show", a live album featuring Wagner, was released. As revealed in his memoir, Not Only Women Bleed, Wagner was also battling some demons. First, a sexual addiction that may have pre-dated The Frost, and also a full-blown addiction to cocaine that started in the 1970s.
After returning from rehab, Alice Cooper had begun hanging out with Bernie Taupin, Elton John's lyricist. The plan was to bring Taupin into the Cooper-Wagner songwriting partnership for Alice's new album, "From The Inside". Cooper wanted the album to reflect his feelings from being treated for his alcoholism. Wagner co-wrote seven of the album's songs with Cooper and Taupin; the standout track being "How You Gonna See Me Now", a # 12 hit single. The album only charted at # 60, however, even though Wagner still considers it one of Alice Cooper's masterpieces.
Wagner and Cooper then traveled to Toronto to write the songs for the last album on his contract to Warner Bros Records. They would write one song each day and record it the following day. Cooper was drinking again, and each night he and Wagner would gather at the piano in the hotel lounge and entertain the other guests. The album was titled "Da Da", and features Wagner on both guitar and bass. In his memoir Wagner described it as follows: "The record is an eclectic collection of songs - and one of our best albums, in my opinion". "Da Da" failed to chart in the U.S., however, and Wagner went on to write; "Although critically acclaimed, it was a commercial flop. But I attribute that to Warner's lack of interest in Alice at that point in time".
Besides working with Alice Cooper, Wagner did a good deal of session work for other artists after moving to New York City in the 1970s. He appeared on "Get Your Wings" by Aerosmith, "Destroyer" by Kiss, "Here Comes the Flood" by Peter Gabriel, "Aqua Show" by Elliott Murphy, and "Fearless" by Tim Curry. In addition, his song "Just As I Am" was the last big hit for Air Supply.
Wagner's addiction had reached the point in the 1980s to where he was now smoking crack cocaine as well as snorting it. His life as a coke addict on a death trip was interrupted, however, by a phone call from his ex-wife Judy, the mother of his two sons. She had recently become involved with the San Antonio Coalition on Child Abuse, and she asked Wagner if he would consider writing a song about the sensitive subject. Starting off with the melody of the children's song "Ring Around The Rosie", Wagner started working on the song that, in two days, would become "Remember The Child", one of his most powerful compositions. Writing about the tragic subject of child abuse helped Wagner realize that he needed do something about his self-destructive behavior.
Judy invited Wagner to come to San Antonio and live with her and the kids. It gave him the opportunity he needed to leave behind the drug-filled lifestyle he had fashioned for himself in New York. Judy also offered to pay for the "Remember The Child" recording sessions with members of the San Antonio Symphony. The song eventually came to the attention of John Bradshaw, the leading proponent of the "inner child concept" who contacted Wagner about using "Remember The Child" as the theme song for his upcoming PBS series, Homecoming.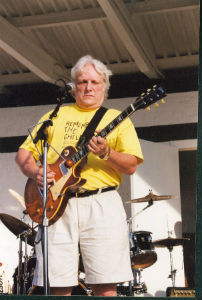 "Remember The Child"
Wagner then joined Bradshaw's national tour of his Inner Child seminars. Wagner credits Bradshaw's teachings and friendship for helping him get past his drug addiction. His song, in turn, helped Bradshaw achieve his goal of reaching people on a deeper level. Wagner is justifiably proud that "Remember The Child" is being used by therapists worldwide as a catalyst for evoking feelings from their patients.
Unfortunately, Wagner fell back into the drug scene after he relocated to Nashville to kick-start his songwriting career. Nothing much came of his time in Music City, and at one point he had to hock all of his guitars for money to live on. An invitation from Bob Dyer and Dick Fabian to travel from Nashville to Saginaw to perform a Bossmen reunion to benefit the YMCA brought Wagner back to Michigan. In the 60's, the two WKNX Deejays held regular Saturday night dances at the Saginaw YMCA, turning it into the 'Y A-Go-Go'. The Bossmen were big attractions at those dances.
For the benefit, Wagner joined up with original members Pete Woodman on drums and Lanny Roenicke on bass, but Bobby Caldwell was recruited for keyboards since Warren Keith had passed away five years prior. Wagner also reunited with Mary Ann Reynolds-Burtt, former President of the Bossmen fan club, at the event. He invited her to be his manager, and Mary Ann invited him to stay with she and her husband in Saginaw.
One of Wagner's dreams was to have his music played live with an orchestra, and Reynolds-Burtt helped make that happen by putting Wagner with Leo Najar, the conductor and musical director of the Saginaw Bay Orchestra. Najar took Wagner's songs and arranged them for a fifty-eight piece orchestra at the Remember The Child Concert at Saginaw Valley State University. The show drew three thousand people and raised money for five separate child abuse and neglect councils in the Saginaw Valley area.
In 1999, Wagner performed with original members Donny Hartman and Bobby Rigg at The Frost 30th Anniversary Concert at Saginaw's Heritage Theatre. The reformed group also recorded the single "This Band Can Rock And Roll Forever" b/w "In The Middle Of The Night" to kick off a short reunion tour.
Now based in Michigan, Wagner met Marshall Block at a songwriter's seminar and recorded a solo album of mostly acoustic versions of important songs from his career at Block's digital studio at his home in Fenton, Michigan. Wagner titled the album, "Rock HitStory".
Working with Block inspired Wagner to open his own studio in downtown Saginaw. Unfortunately, for a variety of reasons, Wagner's Downtown Digital Studios lost money, and in 2005 he closed the operation and moved to Phoenix, Arizona.
In Arizona, Wagner formed a production company called Desert Dreams Productions with partners Suzy Michelson and Alex Cyrell. The new company got off to a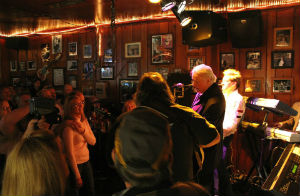 Wagner at White's Bar 2011good start, but in July of 2007, Wagner suffered a massive heart attack and nearly died. That same night while still in the hospital, he suffered a stroke that resulted in kidney failure and paralysis of his left arm.
After the blood clot was removed from his brain, Wagner had to go through a long period of therapy, which included having relearn how to play the guitar. It took over four years, but in the fall of 2011 Wagner made his triumphant return to the stage at a number of shows in Michigan, including two at White's Bar in Saginaw, located next door to where Daniel's Den once stood.
In January of 2012, Not Only Women Bleed, Vignettes from the Heart of a Rock Musician, Dick Wagner's revealing and entertaining book about his life and his rock and roll career, went on sale as an eBook. A hardcover edition of the book was issued later in the year.
In June 2012, Dick Wagner was voted into the MRRL online Hall of Fame as a solo artist. He had been previously voted into the Hall in 2008 as a member of The Frost. He has also had six of his compositions ("Mystery Man", "Rock And Roll Music", "Anytime You Want Some Lovin'", "The Easy Way Out", "I Cannot Stop You" and "Baby Boy") inducted as Legendary Michigan Songs.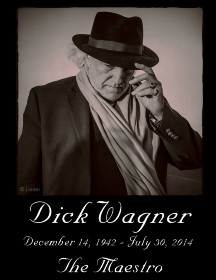 Sadly, Dick Wagner passed away at age 71 in Scottsdale, Arizona, on July 30, 2014, of respiratory failure following a cardiac procedure.
VIDEO: Watch Dick Wagner perform "Only Women Bleed" with Leo Najar and the Saginaw Bay Orchestra at https://www.youtube.com/watch?v=2uV1WT0w1xk
On The Bookshelf: Not Only Women Bleed: Vignettes from the Heart of a Rock Musician by Dick Wagner. 2012 Desert Dreams Productions, LLC
This is a great rock and roll book! Dick Wagner is very candid in recounting the ups and downs of his long and colorful career as one of rock and roll's great guitarists and songwriters. His memoir is broken into 192 short stories or vignettes that are mostly chronological and completely entertaining. Wagner's book was the main source used in the writing of his MRRL biography. The site did a more complete review of Not Only Women Bleed in 2012. You can read it at https://michiganrockandrolllegends.com/index.php/blog/245-not-only-women-bleed-sex-drugs-and-rock-and-roll-music-in-digital
MRRL Hall of Fame: https://michiganrockandrolllegends.com/index.php/mrrl-hall-of-fame